Welcome to my Maya Jackpot Pusher review!
So, you found this money game where coins can magically turn into unlimited cash rewards! 
That's what the advertisement for Maya Jackpot Pusher wants you to believe.
It's just like all those other games we've explored before – Pusher for Cash, Jackpot Master Pusher, and the list goes on. 
The app is funded solely by advertisers, meaning there's no risk of losing your hard-earned money.
What could go wrong? 
In the advert, Mr. Wallet-Full-of-Cash, boldly states there's no withdrawal limit, and you'll receive your money within 1 minute.
He even claims you can generate $300 a day. Wow! I swear I've heard this sales pitch a million times before.
Now, dear reader, you may wonder if this app is legit or fake and if it actually pays out. But fear not!
This review will explore whether this app is the real deal or another time-wasting trap. Is it legit or fake? Let's find out! 
Before you leave, click here and discover the step-by-step program that helped me build an internet business and generate over $2,000+ monthly. No special skills are required! 
Maya Jackpot Pusher Review
Name:

 Maya Jackpot Pusher

Developer: 

Vlgmauriello

Availability:

 Worldwide

Payout threshold:

 $300

Overall Rating: 0 
What is Maya Jackpot Pusher? 
Maya Jackpot Pusher is an Android game that simulates the classic coin pusher machine experience.
It revolves around dropping coins onto a platform to push them over the edge. 
As you push coins off the platform, you accumulate virtual cash, which can be withdrawn once you reach the $300 target. 
But Maya Jackpot Pusher doesn't just stop at cash rewards! 
The game also offers players the prospect of redeeming their earnings for Amazon gift cards, smartphones, PlayStations, AirPods, and more.
The game will likely attract more users and surpass the 10k installations in the coming days. 
However, there's one big red flag worth mentioning! Since the app is still in early access, there are no reviews on the Play Store yet.
This lack of transparency is troubling as many individuals rely on the experiences of others to make well-informed decisions.
How Does Maya Jackpot Pusher Work? 

The app is available on the Play Store for any Android device worldwide. 
Here's how the game works: you start with 50 gold coins that won't cost you a penny.
But don't worry if you run out of coins, as a new one appears every 3 seconds, ensuring you can keep playing indefinitely.
They will also allow you to watch the video and get 50 tokens instantly. 
How to Play? 
Tap the screen to drop your coins, pushing them off the platform's edge to collect rewards.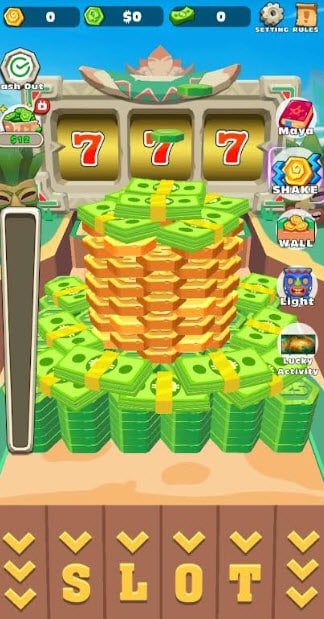 As you play, you'll push golden coins and green coins that award tokens and virtual dollars, respectively. 
For instance, if a green coin adorned with the number 25 drops fall off, you will get $0.25.
Occasionally, other items will tumble over the edge and reward you with extra coins, cash, or fabulous fragments for Samsung Galaxy, PS5, or MacBook.
Have you noticed the fever meter on the left side? The more coins you drop, the higher it climbs.
Once it's complete, you'll receive double the rewards. With so many options to grow your balance, it feels like you are swimming in cash!
And if that's not exciting enough, you can even activate the slots by lighting up every letter of the word "SLOT" beneath the machine.
If three pictures match on the reels, you'll score a prize, such as coins, items, or virtual cash. 

Need an extra boost? Use the Shake or Wall tool to unleash a torrent of coins simultaneously.
Ah, and don't forget the banknote icon with a tempting value, such as $9 or $12! 
By tapping this icon, you will trigger a sponsored video to receive the prize. How generous, indeed!
Get paid to play games with these top Android apps here!
Withdrawing Funds
Making money from Maya Jackpot Pusher might seem easier than stealing candy from a baby.

This reward platform is going viral! Cash out via PayPal, Visa, Gift Cards, and in-game currencies - Click here to find out how to generate an extra $10+ per day! 
However, appearances can be deceiving as reaching the requirements takes a very long time.
Tap the "cash out" button and marvel at the treasure trove of prizes awaiting your redemption. Here's a list of popular rewards:

$300 – Withdraw $300

3 million tokens – Redeem $300

100 Amazon cards – Redeem $300 Amazon gift cards

Collect 50 iPhone 12 Pro pieces and redeem $1000

Collect 50 Switch pieces and cash out $1000
As you frantically tap your screen, you may also stumble upon items representing several high-end gadgets and luxury items like a Chanel bag, MacBook Pro, PS5, or Samsung Galaxy.
To claim these glorious prizes, you must collect either 10 or 20, depending on the item.
Maya Jackpot Pusher Legit? Does it Pay? 
The answer, my dear friends, is a resounding NO!
The developer is merely exploiting people's time and profiting from the torrent of adverts they push down your throat. 
Reaching that magical $300 payout threshold takes an eternity.!
That's because the closer you approach that elusive goal, the less you'll earn!
I tried, but after an hour and a half, I decided to preserve my dignity! 
It's all part of a psychological technique designed to hook players into the game and expose them to sheer amounts of advertisements. 
Fake money for you, real money for them! 
To make matters worse, green coins get increasingly scarce, making it even more challenging to reach the 3 million tokens required for withdrawal.
The quicker you give up on this illusion, the better because the cash rewards are fake!
Those who are highly committed and eventually reach $300 will likely encounter another roadblock – a hidden requirement of sorts. 
Avoid jackpot Pusher at all costs because it's just another fake money game!
Serious about making money online? Check out this step-by-step training to achieve time and location freedom! 
Final Words
Thank you for delving into my Maya Jackpot Pusher review! I trust that it was helpful and eye-opening!
Should you have any insights, questions, or personal experiences with the game, please feel free to share them in the comments below.
Peace!