Welcome to my Island of Word review!
I just came across an advertisement that certainly raised my eyebrows.
It was for the app "Island of Words," a seemingly ordinary word puzzle game with a great premise:
Unlock hidden words and earn hundreds of dollars!
It starts by showing you a game simulation where the player earns lots of money while solving crosswords.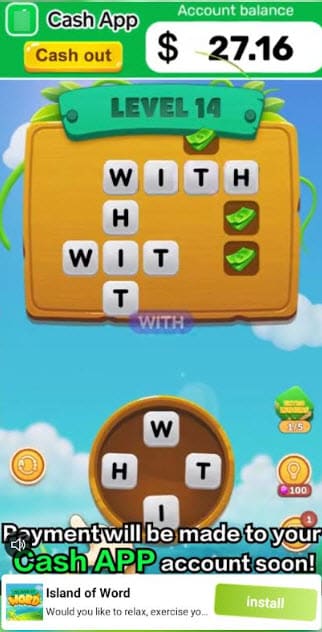 Right at the top, it claims to be 'the easiest money-making game ever.'
But it doesn't stop here! They also paint the picture of unlimited and fast withdrawals via Cash App.
It even entices the audience with an instant $100 bonus and the possibility to claim your money with the click of a button.
Of course, the ad seems to be doing its job, as over 10,000 people have already downloaded this game on the Play Store.
The allure of earning real money by simply solving word puzzles hooked them. If you are in the same boat but suspect this is nonsense, you are in the right place!
So, is Island of Word legit or a gloriously crafted hoax? Will they really transfer the money? Let's find out!

This reward platform is going viral! Cash out via PayPal, Visa, Gift Cards, and in-game currencies - Click here to find out how to generate an extra $10+ per day! 
Before leaving this post, check out the step-by-step program that helped me build an affiliate site and quit my job in 2019. It's free to join, and you don't need any previous experience.
Island of Word Review 
Name: 

Island of Word

Developer: 

Dianehurri

Availability:

 Worldwide

Price:

 Free

Overall Rating: 0 star
What is Island of Word? 
"Island of Word" is another crossword puzzle app where you collect vast sums of cash for playing.
Developed by Dianehurri, the game's concept is simple: connect letters to form valid words and complete the level by unlocking all of them.
What sets it apart from other popular classic games like Word Connect is the possibility to earn hundreds of dollars.
At the end of each level, players have a chance to scratch virtual cards, supposedly unlocking piles of cash.
Here's where it gets intriguing. The app's description doesn't shy away from claiming you can win real money for playing your favorite word puzzle game.

It's important to mention this isn't just bonus game points or virtual currency.
The game features a redemption section where you can actually enter your payment details and request your prize via PayPal, Cash App, Paytm, and other methods.
So, the developer is clearly playing with your desire for easy money. 
How Does Island of Word Work?
Island of Word is accessible to players worldwide and free to play.
The app doesn't encrypt data, which raises an eyebrow or two regarding data privacy.
However, the developer, Dianehurri, ensures no data is collected from your device. Can you trust him? I am not so confident about that! 
Press the Level 1 button to start the game, which thrusts you into a world reminiscent of "Word Connect."
The gameplay is about connecting letters and uncovering all the hidden words in each level. Here's how you do it:
You start by looking at a jumble of letters arranged on a grid.
Your mission? Slide your finger across the letters to connect them and form a valid word.
It will magically appear in the blank spaces at the top of the screen if it's a valid word.
These spaces give you a hint of how many words and letters you need to uncover at each level.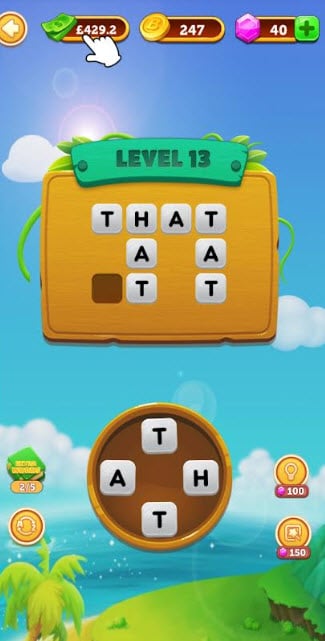 Complete the crossword, and voila, you're offered a free scratchcard for a chance to win up to $250. 
You will almost always match three banknotes to win virtual dollars or diamonds.
The catch? After tapping the receive button, prepare to be hit by a 30-second advert promoting another ludicrous money-making game.
Once you complete four levels, the scratchcard stakes increase, offering players a chance to win virtual prizes up to $500.
The first few levels provide only a few words and letters to tackle.
Yet, the challenge escalates, putting your skills to the test at higher stages. 
If you are stuck, they offer help with a bulb and a magic wand for 100 and 150 diamonds, respectively.
Don't have enough diamonds? Well, just watch a commercial! 
To earn more cash, tap the gift icon and sit through – guess what? Yet another sponsored video! 
It's important to mention the developer gets paid by advertisers every time you watch them. 

So, essentially, the expectation of earning real money is a clever tool to keep you watching a bunch of ads while solving word puzzles. 
Withdrawing Funds
The developers allow you to withdraw your virtual winnings at any given time.
However, there's an additional incentive for holding out a bit longer.
If you reach certain milestones, your winnings will get multipliers, thereby increasing your cash rewards.
Here's the breakdown:
£80 – multiply by 2 (Total: £160)

£240 – multiply by 3 (Total: £720)

£480 – multiply by 4 (Total: £1920)

£800 – multiply by 5 (Total: £4000)
Once you decide it's time to cash out, here's what you need to do:
First, select your preferred withdrawal method. There are six convenient options: PayPal, Cash App, Paytm, Tex, Coinbase, and Banco Inter. 
Then, enter your name and account information to proceed. 
Is Island of Word Legit? Does it Pay? 
Island of Word may initially seem like an attractive way to flex your brain muscles and earn cash. 
But unfortunately, the reality proves otherwise.
The game's virtual dollars and enticing cash rewards are a guise used by the developer to reel in players with the promise of easy money.
It's essential to recognize the game's primary goal is to maximize the player's exposure to in-game advertisements.
That's how the developer generates more profits for himself at the expense of your time. 
These fictitious cash rewards create an illusion of monetary gains, a solid bait for keeping users engaged in the game.
You're met with a surprising hurdle when you attempt to cash out your virtual dollars.
Instead of converting your virtual earnings into real cash, the game sets an additional task for you: complete 30 more levels to approve the order.
This is a classic example of a bait-and-switch tactic commonly used by such apps to extend your gameplay and trap you in false hope and illusion.
As you continue playing, you might find that even more requirements pop up, leading you down a rabbit hole of futile efforts and mounting frustration.
Island of Word won't pay you a dime! 
Conclusion 
If you're considering playing "Island of Word" with the intention of making real money, I would advise against it.

The game could be enjoyable for those who like word puzzles, but it's crucial to remember that cash rewards are fictitious. 
No real money is paid out by the developer, making it nothing more than a clever marketing strategy.
I recommend you invest your time in more reliable and rewarding pursuits.
For example, GPT (get-paid-to) platforms like Prizebel can be a reliable source of extra income with simple online tasks.
They connect users with survey partners and advertisers so you can earn points redeemable via PayPal and gift cards. 
Click here to read my Prizerebel review! 
I have used this site for years and never had issues trading my points for real money. Mind you; I already cashed out thousands of dollars as an affiliate! 
Final Words
Thanks for reading my Land of Words review. Have you played this game and tried to cash out? How was your experience? Let me know in the comments below! 
Peace!