Welcome to my TaskPay app review!
Chances are, you're here because you found this reward application where you can earn easy cash! 
Thousands of people are downloading TaskPay and trying to meet their requirements to cash out at least $25 via PayPal and Gift cards. 
They tempt us with unlimited scratch cards, the chance to win 100 daily and fast cashouts.
Considering the app offers no financial risk, it's easy to see why so many are drawn in. 
The problem is that the Play Store is full of tricky reward platforms trying to exploit your time, wallet, and dignity. 
Many apps that focus on helping people make money are only marketing tools that generate revenue for developers. 
You don't want to fall victim to such deceitful platforms since your time is your greatest asset.
Therefore, spending it on a platform that fails to deliver its promises is an unfortunate loss you must avoid at all costs. 
So, is TaskPay legit or fake? Will it actually reward you for simple activities from your phone? Let's find out!
Before you leave this page, don't miss out on the step-by-step program that helped me to generate $2,000+ each month and quit my job in 2019.

This reward platform is going viral! Cash out via PayPal, Visa, Gift Cards, and in-game currencies - Click here to find out how to generate an extra $10+ per day! 
TaskPay Review
Name: 

TaskPay

Developer:

 Taskpay Studio

Availability:

 Worldwide

Price:

 Free

Payout threshold:

  $25

Overall Rating: 1 star
What is TaskPay? 
TaskPay is a reward application that, on the surface, seems like a dream come true. 
The app is available on your Android phone and supposedly transforms your leisure time into cash.
It claims you can earn money simply by playing games, spinning a wheel, solving captchas, watching videos, and referring friends. Sounds almost too good to be true, right?
TaskPay has been installed over 100,000 times. That's a lot of hopeful people looking to make some easy cash! 
But if you look for reviews on the Play Store, you'll find a conspicuous absence. Not a single review, despite such a massive user base!
Why? The answer lies in the app's "early access" status! 
If you're unfamiliar with the term " early access, " it essentially means that the app is still developing.

The major catch is that users cannot leave reviews on early-access apps.
This is a massive red flag, my friends!
If the app weren't paying out as promised, we'd expect to see the review section flooded with complaints.
But with this early access status, the developer neatly sidesteps any negative comments and preserves a neutral reputation. 
How Does TaskPay Work? 
TaskPay is accessible worldwide for Android users and is 100% free to use.
As soon as you open the app, you're greeted with the Terms of Service.
It's vital to read these terms carefully as they dictate the rules of engagement between you and the app's developers.
Once you agree, sign in using your Google or email account.
The app then ushers you to a dashboard brimming with ways to earn cash, with no point system to complicate things.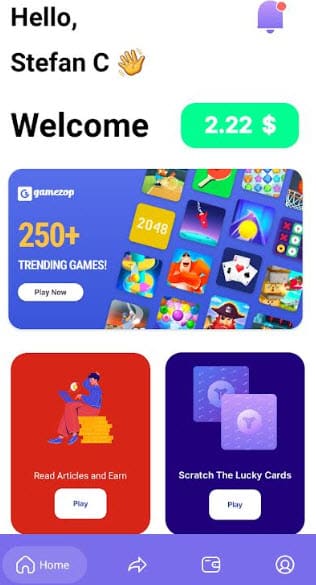 You're off to a good start with a $1 registration bonus, but the catch is you can only cash out once you've earned $25.
So, how do you hit this target?

First, there's the option of playing games via a third-party platform, Gamezop.
You're directed to their website, a veritable maze of ads, to participate in contests and potentially earn up to 50,000 coins.
Yet, knowing these coins hold no cash value on TaskPay is essential.
The second option is "Read Articles." This feature reminds me of certain apps that reward users for reading news. Buzzcash is the most popular of its kind! 
TaskPay directs you to its own blog articles, though my phone flagged one of its links as malicious.
I didn't want to proceed because these sites can install all sorts of malware or steal personal information, so beware. This task netted me a mere $0.20.
Next, we have "Scratch the Lucky Cards." It's a simple game of scratching virtual cards to reveal your cash prize, sometimes amounting to a whopping $0. 
You will be enticed to watch an advert to unlock additional cards! 
The "Spin the Fortune Wheel" option lets you tap to spin and collect more cents corresponding to the number you get. Of course, more spins come at the cost of more video views.
The "Enter Captcha Code" feature is another earning avenue inside TaskPay.
It's as simple as it sounds: it presents a captcha code. You know, those random characters you often see on websites to prove you're human.

Your task is to enter the code correctly. Then, for every captcha you solve, TaskPay claims to drop $0.05 into your virtual pocket.
Then, you have the "Play 250+ Games" section that pays a flat $0.10 despite the claim of $0.10 per 30 seconds.
Finally, "Enter to Quiz World" invites you to participate in trivia games with the same promise of $0.10 for 30 seconds.
The quizzes span six categories, from History and brand identification to cricket trivia.
Earn $5 per Referral? 
TaskPay promises a generous $5 kickback for each person you invite to the application. 
You get a referral when you recommend the app to someone else using a unique code or link connected to your account. 
Here is why this looks too good to be true. 
Legit reward apps usually pay a small cut of whatever your Referral earns, usually between 10% to 15%.
That's because it's sustainable – it depends on how much the new user engages with the app.
It turns out TaskPay dropped the reward to $4 instead of $5.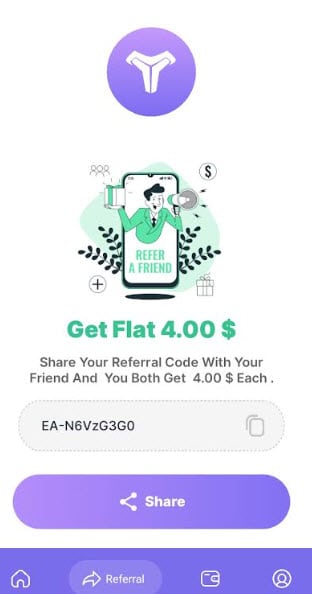 To take advantage of this, head to the referral section, conveniently located next to the wallet icon.
Then, copy your unique code and share it with your friends. As a result, both of you will get an extra $4 if they apply your code.
Now, offering a flat $4 per Referral, regardless of the new user's activity, seems too generous for this business model.
As an experienced affiliate marketer, I know what it takes to earn $5 commissions! 
This excellent GPT site offers a 30% referral commission! 
Withdrawing Funds
You can withdraw your earnings once you've reached the $25 threshold on TaskPay. Here's how it works:
First, you navigate to the 'Redeem' section of the app. Here, you'll see your accumulated funds and can withdraw them.
TaskPay offers several options for redeeming your funds. First, you can transfer the money to your PayPal account, a popular choice for many.
But if you're more inclined towards gift cards, you could opt for Amazon, Google Play, or Payco. 
Is TaskPay Legit? Does it Pay? 
Having spent much time exploring TaskPay, I believe it falls short of its claims to reward users.

No, I am confident that TaskPay doesn't pay users because of its unrealistic cash rewards and poor implementation of tasks. 
While the app's tasks are simple, the amount of money offered in return is disproportionate.
A persistent user could reach the $25 cashout threshold within just a few hours.
This is an unusually high payout for an app offering cash rewards for playing games and watching sponsored content.
Most apps in this category typically offer $1 or $2 for the same time you spend. 
Another crucial point to consider is TaskPay's classification as an "Early Access" app.
This means users are prevented from leaving reviews on the Play Store, a significant red flag.
The inability to leave reviews creates a convenient smokescreen for the app's developers.
Why? Because it prevents users from sharing their experiences, particularly if they have not received the money or gift card. 
This lack of transparency makes it difficult for others to make informed decisions and protects the developers from negative publicity.
For that reason, I would avoid any money-making application that is still in early access! 
Conclusion 
TaskPay may seem appealing due to its claims of easy cash for simple, everyday tasks.
However, the chances of receiving the rewards are extremely low.
Despite earning ten or twenty cents here and there, it's still too much money for this kind of app! 
Therefore, I advise you to avoid getting caught in the lure of potential easy cash.
Instead, focus your energy on platforms with a proven fairness and transparency track record.
Legitimate apps like JustPlay, Freecash, and MRewards have built solid reputations in this space and are known to pay their users.
Earn a Full-Time Income Online
Back in 2015, I was dreaming about being my own boss, craving that freedom to work wherever and whenever I wanted. 
Luckily, I found this fantastic step-by-step training that helped me build a niche site and change my life! 
The affiliate niche site is still thriving and generating a consistent income that allows me to enjoy the laptop lifestyle.

To be more precise, it's pulling in thousands of visitors monthly and making over $2,000! 
Imagine living on your own terms, not having to clock in and out or being stuck in traffic daily.
This isn't some far-off dream only achievable by those with high IQs and technology degrees. Heck, if I did it, so can you! 
Click here to learn more and start today!
Final Words
Thanks for reading my TaskPay review! I hope this clears up any questions you may have about this application.
I'd love to hear your feedback, so please drop a line in the comments below to help spread the message. 
Peace!