Welcome to my BuzzCash review! 
Ever find yourself lost in the Play Store, hunting for a decent rewards app?
Well, I am constantly installing and reviewing such apps to help my audience find the ones that are truly worth it! 
So, just a few days ago, I came across an app called BuzzCash. The name reminded me of the popular BuzzBreak, which pays users to read the news and watch funny videos. 
It turns out the same company operates the game, but the thing is: 
The app's description states you can make extra cash from home but doesn't spill the beans about how.
I am sure you agree that developers should be upfront about what tasks people need to do before installing the application.
But nope, they choose the path of mystery. And that, my friends, is enough to make anyone suspicious.
That's why it's essential to research before investing time and energy!  
So, Is BuzzCash legit or fake? Can you count on it to send your earnings to your PayPal? Let's find out!
Before leaving this post, check out the step-by-step program that helped me build an affiliate site and quit my job in 2019. It's free to join, and you don't need any previous experience.

This reward platform is going viral! Cash out via PayPal, Visa, Gift Cards, and in-game currencies - Click here to find out how to generate an extra $10+ per day! 
BuzzCash Review 
Name: 

BuzzCash

Developer: 

Buzzbreak

Availability:

 Worldwide

Payout Threshold:

 $0.30

Price:

 Free

Overall Rating: 3.3 stars

Enter referral code to earn extra gems: 70466832
What is BuzzCash?
BuzzCash is a reward app where you get paid for trying out other apps, mainly games.
It works like this: you pick a game from their list, play it until you hit specific goals, and boom, you earn gems.
These gems are like points; you can swap them for real cash when you collect enough.
Another great feature of BuzzCash is its referral program. By sharing your unique code with friends, you can get a 30% commission on all the gems they earn.
BuzzCash has been downloaded over 100,000 times from the Play Store and has an okay rating of 3.6 stars.
This overall rating tells me many people may be unhappy with it, possibly due to low payouts. 
We will see. But for now, let's take a closer look at how this app works, from the installation process to that much-anticipated cash withdrawal.

How Doe BuzzCash Work? 
BuzzCash provides a smooth Play Store installation process and doesn't require registration.
Plus, it gives a big thumbs-up to privacy!
The application encrypts your data and allows you to opt out of data collection, which aligns with all those important regulations.
Once you're in, you are prompted to sign up with your Google account for a welcome bonus of 50 gems. 
The main screen is pretty straightforward, showing your gem balance and all the cash-out options, ranging from $0.30 to $50.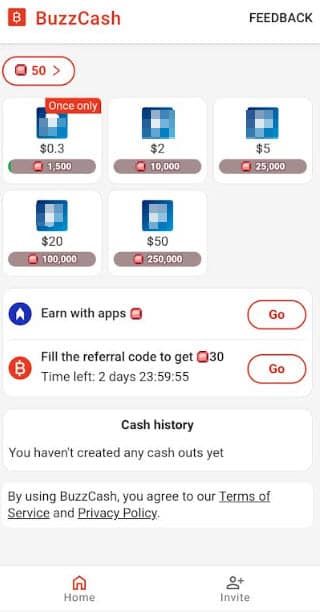 You need 1500 gems to make your first withdrawal of $0.30 via PayPal. After that, you need a minimum of 10,000 gems to cash out $2. 
Enter referral code to earn extra gems: 70466832
So, how do you start raking in all those precious gems? Tap the 'go' button next to "Earn with Apps" to open a list of offers.
But first, you must accept the Terms of Service, which is the legal agreement between you and the company OKspins Co. Limited.
Next, you must allow usage tracking so BuzzCash can track and reward your playtime.
Finally, you will see the offer list with all the apps available in your location.
I found 12 offers in the UK, which is enough to complete multiple $2 withdrawals.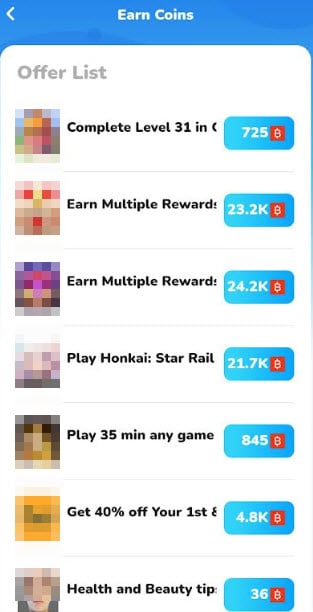 Moreover, BuzzCash refreshes its offer list every 24 hours, so there's always a chance to spot new ones.
Choosing an offer reveals the specific conditions for earning your gems. For instance, with the game 'Cooking Madness,' reaching level 21 gets you those shiny gems.
 Just a heads up, you might have to wait up to 48 hours for your gems to show up, but usually, it's quicker.
One thing to note, though: these gems are just for the new guys. So, if you've already dabbled with a game on your phone, unfortunately, you won't see any gems.
Some games, like 'Play Honkai', offer gems at multiple levels.
For instance, completing the first 5 levels nets you 217 gems, but if you persevere to level 60, you'll be rewarded with a staggering 12.1k gems!
Referral Program
BuzzCash's referral program is pretty straightforward. 
First, head to the 'invite' section and tap the 'invite immediately' button at the top. 
Then, choose your preferred platform to share your code with anyone on platforms like Messenger and WhatsApp.

When your friend enters your referral code and earns their first gem by signing up with Google, you get 100 gems.
But it doesn't stop there. You'll keep earning 30% of all your friends' gems, which is a great commission rate.
Keep in mind that earnings from BuzzCash are on the lower side. 
So even though 30% sounds like a lot, it won't make you a millionaire! 
Is BuzzCash Legit? Does it Pay? 
Yes, it does! It's legit! Many have reported receiving multiple payments, which is always a good sign.
But I've got to level with you here so you don't get your hopes sky-high.
Unfortunately, it can take quite a while to rack up enough gems and cash out even the low amount of $0.30!
But hey, if you're always looking for new games and genuinely enjoy gaming, why not earn a little extra cash while you're having fun? It's a win-win, right? 
BuzzCash's rating on the Play Store sits at a respectable 3.6. Not the top of the charts, but certainly not the bottom either.
You might wonder why it hasn't hit the big 4 or 5-star rating.
Well, it's probably down to low payouts and the odd glitch here and there.
These reward apps can be hit-and-miss sometimes. They can have errors that make it challenging for some players to gather enough points to cash out.
It's not ideal and can be frustrating, but that's the reality you must face if you want to take your chances! 
That being said, most users have a positive experience with BuzzCash. 
Conclusion 
BuzzCash is all about playing games, hitting goals, and turning those gems into real cash.
Yes, this app is legitimate, and people have reported receiving multiple payments.
It's certainly not a ticket to your early retirement, but every little bit helps, right?
So, don't set your expectations too high because you won't be earning big bucks with this application.
In fact, it can take a good while to gather enough gems for even the smallest cash-out amount.
But if you're someone who's constantly playing new games, why not rack up a few dollars as passive income? 
Overall, it's a pretty decent reward application. However, if you're looking for a way to make more substantial earnings, there are more robust platforms out there.

One such platform is PrizeRebel. This isn't just about game offers – it provides many more opportunities to earn money.
For example, you can take part in surveys, provide your opinions, and in return, you earn points.
Check out my Prizerevel review here! 
Final Words
Thanks for reading my BuzzCash review!
I hope you found this deep dive into this post valuable and informative.
If you've got anything to ask or share about the game, don't hesitate to drop your thoughts in the comments section below. 
Peace!