Welcome to my Jolly Steps review!
Just another typical day in my life, I was testing out a reward app when an advert popped up on my screen. 
The scene? A girl dressed to the nines, casually walking around as though she's on a catwalk.
With every step she takes, she's not just burning calories but also, and I kid you not, minting cash.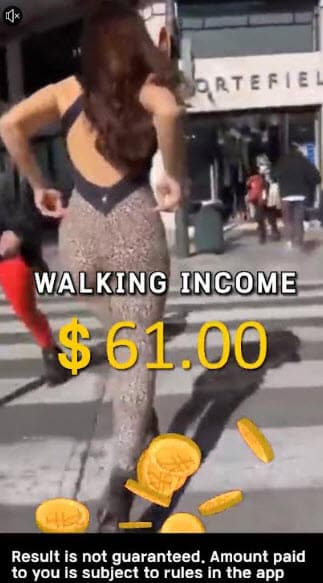 "Every step you take can be exchanged for money," the video purrs.
But, wait for it, here comes the golden punchline, "I only played for 3 days and made $500". 
OMG!
Yet another step tracker app swearing on its mother's grave that money does, indeed, grow on trees. Or, in this case, under your sneakers.
I have probably reviewed more deceitful fake cash apps than you can imagine. 
And let me tell you, these developers are getting craftier and bolder by the day! 
So, the big question is: Is Jolly Steps legit or fake? Will they actually make it rain or make you walk a thousand miles with no money to show for it? 

This reward platform is going viral! Cash out via PayPal, Visa, Gift Cards, and in-game currencies - Click here to find out how to generate an extra $10+ per day! 
Let's find out!
Before leaving this post, check out the step-by-step program that helped me build an affiliate site and quit my job in 2019. It's free to join, and you don't need any previous experience.
Jolly Steps Review 
Name: 

Jolly Steps

Developer: 

StepstoHealth

Availability:

 Worldwide

Payout Threshold:

 $35

Price:

 Free

Overall Rating: 1 star
What is Jolly Steps? 
Jolly Walk is yet another step-counting app available for free on your Android device.
It tracks your daily steps and calories burned while giving you Gold, which you can supposedly exchange for Amazon gift cards. Neat!
This app has convinced 50,000 users to download it from the Play Store, thanks to the premise of earning easy money. 
However, the cash prizes they advertise are so unrealistic compared to legit ones! 

For example, WinWalk pays only a few pennies after several kilometers. 
But Jolly Walk? They'll seduce you with the idea of earning between $35 and $135 if you earn enough Gold. 
How Does Jolly Steps Work? 
Jolly Steps is a free application available worldwide on the Google Play Store. 
They claim not to encrypt your data, which makes sense since they don't collect user information. Well, that's what they say! 
As soon as you launch the app, you're gifted a bonus of 10,000 Gold, worth $0.17.
If you hit the 'get 3x" button, the first advert is served, and your bonus magically triples! 
This is another advert promoting a dubious app that can supposedly turn you into a millionaire overnight.
They then prompt you to sign in using your Google account so that Jelly Steps can sync your step counting.
The app's built-in sensor will track your strides, and the main screen will display the step-counting, distance, calories, and time. 
How To Collect Gold? 
You'll see an orange button below the step count, showing you the Gold (fancy name for tokens) you can claim.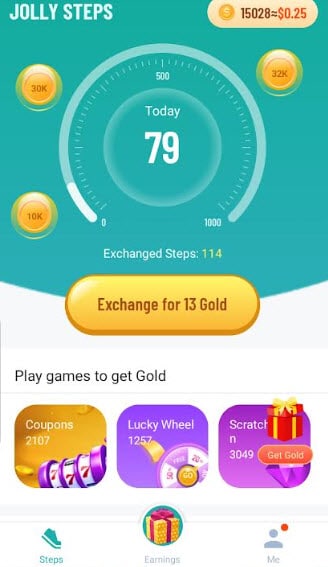 Every four steps you take equals one Gold.
You can trade up to 10,000 steps a day and 2,000 steps simultaneously.
But fair warning, you sign up for a 30-second advert every time you hit that exchange button.
Oh, and those shiny coin bubbles near the step counter? Tap on them, and you get scratchcards with a chance to rake in more Gold. 
And guess what? Yep, you've got it. More ads down your throat!
Remember, every time you watch one of these, the developer earns a small commission courtesy of advertisers. 
Now, if you're not in the mood for a stroll but still want to stockpile Gold, worry not.
You can tap on the hydrating button or play some arcade games, such as slots, 
Each tap is another attempt to suck you into another rabbit hole of fake cash games! 
Exchanging Gold for Cash
First, tap the 'earnings' tab to view your current Gold balance and its corresponding dollar value.

Then tap on 'withdraw' to explore the available options. 
The only option for me was Amazon gift cards. 
Unfortunately, it takes a substantial amount of Gold to redeem cash rewards.
Specifically, you'll need a hefty 2 million Gold to redeem a $35 Amazon gift card. 
If you're ambitious, larger gift cards are on the table, too – $50, $85, and $135.
Is Jolly Steps Legit? Does it Pay? 
I have severe doubts about receiving the Amazon gift card based on my observations.
But remember, the ultimate decision lies in the hands of the developer.
The approach taken by Jelly Steps raises some serious concerns.
They market the game as a way to earn substantial money, which is a big red flag.
Realistically, accumulating enough Gold to redeem a $35 Amazon gift card takes weeks or months of consistent walking.
This high threshold likely discourages many users from persisting long enough to reach payout.
Moreover, the app's behavior is rather aggressive with its ad display.
Users are constantly bombarded with advertisements, suggesting that the developer might prioritize profit maximization over user satisfaction.
While there's nothing wrong with developers monetizing their apps, this is a strong sign they're not keen on sharing earnings with users.
However, it's important to note that these are my assumptions. It's hard to draw a definitive conclusion without concrete evidence.
What's evident, though, is that despite boasting over 50k installations, Jolly Steps has a surprisingly scant number of reviews on the Play Store. 
And the thing is, none of these reviews reports successful earnings.
If the app was genuinely dishing out cash, I'd expect a flood of glowing reviews on the Play Store. 
Moreover, influencers and bloggers would likely be promoting it heavily. But that's not the case! 
I have reviewed many pedometer apps that don't pay a dime! Step a Lot is just one such example!
Conclusion 
I wouldn't bother downloading Jelly Steps if you want to make a quick buck while walking.

The whole 'earn while you walk' thing sounds great, but it's not that simple.
They constantly hit you with annoying adverts, and it takes ages to gather enough Gold for a $35 Amazon gift card.
And let's not forget the reviews – or rather, the lack of them. 
If people were really cashing in, wouldn't we be hearing more about it? 
Sure, the app would be featured in popular tech blogs with influencers singing its praises.
We'd see screenshots of rewards, success stories, and even tutorials on how to maximize earnings.
However, the silence surrounding Jelly Steps speaks volumes, suggesting the app's promises might not live up to reality.
Remember, there's no such thing as easy money, especially regarding mobile reward apps.
If you want a pedometer app that pays, check out WinWalk review here! 
Just don't expect to line your pockets with cash, as earnings are barely noticeable!
Final Words
Thanks for reading my Jolly Steps review!
If you've had a journey with this app, we'd be glad to hear your story. So, don't hesitate to drop your experiences in the comments below.
Peace!