Welcome to my 3D Match Land review!
As usual, I was playing a fake cash game when a familiar advert appeared.
Deja vu? You bet. It was the same old story, a clone of countless ads I've seen before, promoting a game that supposedly pays hundreds of dollars.
The scene unfolds as a guy expresses his irritation with games that pay only $0.1.
As he vents, the narrative suddenly shifts to a promise of a 'real cash game' that assures everyone who plays will receive lots of money.
Playing this game is like hitting the jackpot – no need to withdraw as it goes straight to your PayPal!
3D Match Land is all about matching 3D fruits on the board and supposedly making big money.
I've reviewed more dubious cash apps than one could count.
And trust me, these developers are constantly evolving, using new tactics, and becoming craftier!
So, is 3D Match Land legit or fake? Will developers share their revenue with you or keep everything for themselves? Let's find out!
Before leaving this post, check out the step-by-step program that helped me build an affiliate site and quit my job in 2019. It's free to join, and you don't need any previous experience.

This reward platform is going viral! Cash out via PayPal, Visa, Gift Cards, and in-game currencies - Click here to find out how to generate an extra $10+ per day! 
3D Match Land Review 
Name: 

3D Match Land

Developer: 

Dam Nhipy Life

Availability:

 Worldwide

Payout Threshold:

 $1000

Price:

 Free

Overall Rating: 0 star
What is 3D Match Land? 
3D Match Land is an engaging Android game, a twist on classic tile-matching games
The app was developed by the same folks behind cash games like Christmas Card, Pop Block Jewel, and Garden Tree. 
At its core, 3D Match Land is a game about dragging and matching identical fruits and other objects on the board.
Your goal is to strategically place three identical fruits side by side on the grid at the bottom.
As a result, they are eliminated, triggering amazing cash rewards on your screen. But only after tapping the "collect" button and watching the advert. 
You can accumulate earnings on your PayPal or Amazon balance and cash out after meeting certain conditions.
It's a game that offers a sweet blend of fun and the irresistible prospect of easy money!

How Does 3D Match Land Work? 
You can download the game on the Play Store and enjoy it for free on your Android phone.
Once you open the app, you can claim a daily reward of $20 by activating the first sponsored video.
The game also promises access to an Amazon discount mall after your first withdrawal. Sounds too good to be true?
Well, we're just getting started!
Playing the 3D Match Land is deceptively simple. All you have to do is arrange three identical fruits side by side on the game grid.
Once matched, these fruits vanish, unleashing a torrent of cash rewards that can be collected as PayPal or Amazon coupons.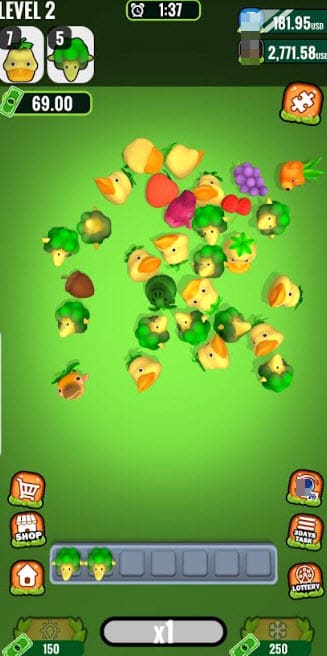 But here's the catch – to get these rewards, you're often encouraged to watch an advert, except for the first two rewards.
That first reward is a whopping $100 straight into your PayPal balance.
As for the first Amazon reward? You might want to sit down for this – it's a jaw-dropping $1450!
You can also accrue more cash rewards by matching three PayPal cubes or clearing the board of all objects.

How do You Cash Out? 
Pop open the PayPal wallet, and you'll see that you withdraw immediately once you've stacked up a total of $1000.
Alternatively, you can wait 24 hours to cash in on your earnings!
Of course, most people don't resist and try to reach $1000 like there is no tomorrow!
And what about Amazon gift cards? Hold onto your hats, folks – you can't cash out until you hit a staggering $10,000!
Now, doesn't that ring thousands of bells? It looks like hundreds of sketchy cash games I've been reviewing here in this blog for years!
Is 3D Match Land Legit? Does it Pay? 
No, it doesn't! The cash rewards are as fake as a three-dollar bill!
I wish I could say I'm surprised, but I've seen this dance hundreds of times!
Sadly, many unsuspecting victims are learning the hard way, falling headfirst into the trap without a second thought.
But here's the bitter truth, my friend. The developers are lining their pockets while you match objects and watch those annoying ads.

They keep you hooked by decreasing your rewards as you approach the payout threshold. 
As a result, they stretch your playtime to maximize revenue from advertisements. 
And just when you think you've reached the finish line, they pull out the classic bait-and-switch tactic. 
Suddenly, you're asked to watch a mind-boggling 50 and then 80 videos to activate your cash order.
It's as if they want to test your patience to the breaking point. 
If the absurdity couldn't get any worse, there are reports of people being asked to transfer a fee to receive their money.
Can you believe the audacity? It's enough to make your blood boil.
It's truly disheartening to witness this situation, especially when so many people struggle financially.
My advice? Keep your wallet firmly shut. Please don't fall for their tricks, as they won't pay a single dime! 
Conclusion 
3D Match Land is another fake cash game preying on your desire for quick money.
Your time is too precious to waste on fruitless endeavors that only benefit the cunning developers.
 It's time to put an end to their empty words and reclaim our dignity. 
Learn how to spot ludicrous money games here! 
Make Real Money Online
If you want to earn real money online, I highly recommend Prizerebel. 
This reputable GPT (get-paid-to) platform is your golden ticket to generating a side income from your phone or laptop. 
Even though it's not an app, you can access PrizeRebel from any device, anytime, anywhere, and start earning.
Trusted by millions globally, it offers paid surveys, video viewing, offer completions, daily challenges, and raffles. 
As a long-term user, I've consistently received my earnings via PayPal in less than 24 hours. Click here and read my full Prizerebel review! 
Final Words
Many thanks for delving into my 3D Match land review! I hope you found it informative and helpful.
Your opinion matters to us! Share your thoughts, questions, or any feedback you have about this game by leaving a comment in the box below.

Peace!