Welcome to My Daily Choice review!
Have you ever dreamed of taking control of your financial future?
If so, you might have come across My Daily Choice – a strong Multi-Level Marketing (MLM) industry contender.
Brought to life in 2014 by two entrepreneurial minds, Josh and Jenna Zwagil, the company offers a diverse portfolio of health and wellness products.
From nutritional sprays to CBD oil-based products, they promote a healthier lifestyle – a daily choice, if you will.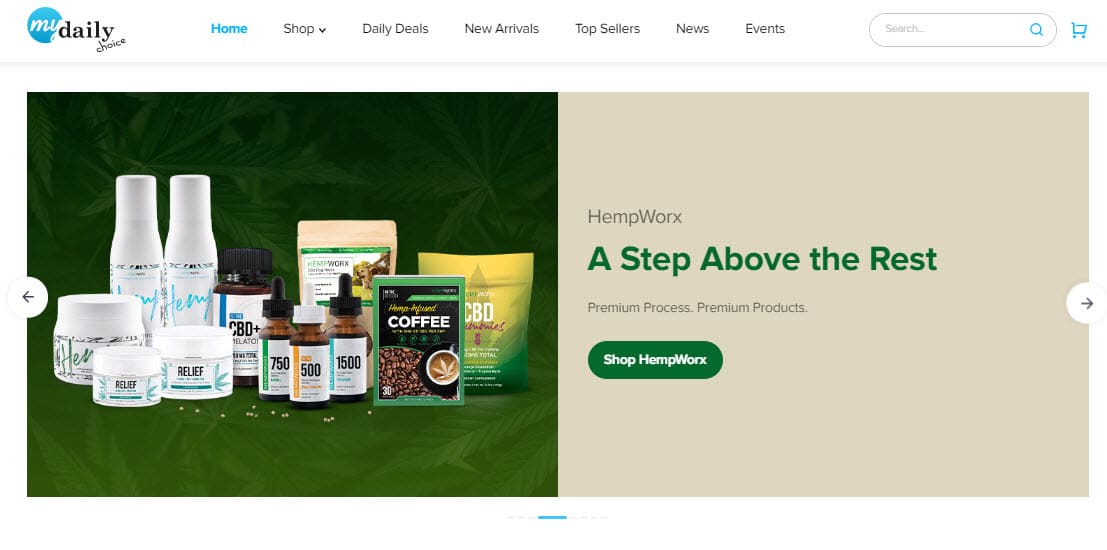 Here's where it gets interesting. My Daily Choice claims to offer a fantastic opportunity to make money!
By becoming an independent distributor, you can earn from your own sales and anyone you bring aboard the ship.
It's the heart of the MLM model – a tempting proposition of running your own business, making your own hours, and potentially reaping attractive returns.
But before you dive headfirst into this exciting prospect, it's worth learning everything you can about the company to make an informed decision.
That's where we come in!
This review will give you a comprehensive lowdown on My Daily Choice. Every piece of the puzzle, every detail – no stone will be left unturned!
Are their products worth their weight in gold or just smoke and mirrors?
Is it a fair, lucrative pathway to success or a sly, well-disguised pyramid trap? Let's find out! 
Ready to trade in your 9-5 for a laptop lifestyle? This excellent step-by-step program helped me generate $2,000+ per month and can help you do the same. Click here to find out!
My Daily Choice Review Summary
Name: 

My Daily Choice

Website: 

mydailychoice.com

Type: 

Multi-Level Marketing Program in the Health & Wellness Industry.

Overall rating:

3.5/5
What is My Daily Choice? 
My Daily Choice is a multi-level marketing (MLM) company founded in 2014 by Josh and Jenna Zwagil.
Jenna, she's been a successful network marketer and social media influencer for over a decade.
As for Josh, he started his career in network marketing, building up teams of more than 60,000 affiliates worldwide.
Josh and Jenna joined forces to create My Daily Choice, also known as the "House of Brands."
Their mission? Inspire daily choices that promote health, happiness, and the accomplishment of personal goals.

With their combined skills, the business skyrocketed, reaching over $100 million in 2018 and $170 million in 2019.
A quick stroll through their online shop reveals a rewarding House of Brands, offering a wide range of products promoting a healthier lifestyle.
They've got everything from their CBD-infused goodies to innovative nutritional sprays.
Each product is designed with superior quality and uniqueness, attracting a broad customer base.
In addition to its wide array of products, My Daily Choice presents an enticing business opportunity.
This venture comes with an attractive compensation plan, allowing you to profit not just from your own sales but also from those made by your referrals.
What is an MLM? 
MLMs, short for Multi-Level Marketing, are companies where independent contractors earn money by selling the products and recruiting others to do the same.
In essence, MLMs leverage affiliates as a primary marketing tool rather than relying on traditional advertising.
Picture it like a network where each layer of distributors gains from the layers beneath them, hence, the term "multi-level."
However, a note of caution: while MLMs can sound alluring with promises of financial freedom and flexible schedules, they often come with substantial risks.
The line between a legitimate MLM and a pyramid scheme can sometimes be a bit blurry.
A pyramid scheme rewards individuals more for recruiting new members rather than selling products or services.

It's crucial to look for these signs because pyramid schemes are illegal and unsustainable.
You see, the bigger these schemes get, the harder it becomes to keep them going.
Why? Because they need an ever-increasing number of new recruits to make any money, and at some point, there just aren't enough people to keep up the momentum.
And guess what happens then? The vast majority of people, unfortunately, end up losing their money.
And to make matters worse, they often rely on deceitful tactics like making false promises of easy, big money to draw people in.
Such dishonest behavior is a blatant violation of laws against fraud and misrepresentation.

This reward platform is going viral! Cash out via PayPal, Visa, Gift Cards, and in-game currencies - Click here to find out how to generate an extra $10+ per day! 
My Daily Choice Product Line

My Daily Choice provides a comprehensive array of products centered around health and wellness.
It's essential to note My Daily Choice doesn't manufacture these products directly.
Instead, they've smartly partnered with well-known brands in various industries, such as HempWorx, Daily Sprays, Mantra, High Life Travel, and Body Melt.
It's a common practice in the MLM sector, allowing companies to focus on marketing and network-building.
CBD & Hemp
My Daily Choice provides a broad selection of products within its CBD and Hemp category.
You'll find everything from tinctures and moisturizing creams to CBD oil, gummies, and even Hemp Coffee.
To ensure the best quality, My Daily Choice joined forces with HempWorx, a respected name in the industry.
HempWorx is known for its premium, organically grown products that are rigorously tested for safety and effectiveness. 
What's noteworthy here is the skyrocketing popularity of these types of products.
With more and more people turning to CBD and hemp for their potential benefits, it's become quite easy to market these products as an affiliate.
This rising demand could really give your affiliate sales a significant boost!
Weight Management
The Weight Management line, featuring the 30-Day BodyMelt Protein Starter Pack, is all about taking steps toward lifelong wellness.
It includes plant-based protein shakes packed with vitamins, minerals, and antioxidants, an energy blend to fuel you through the day, and a detox supplement to rid your body of unwanted toxins.
So, essentially, it's a comprehensive pack designed to support your wellness journey in various ways.
But the real star of the show in this category is the Trim 365 Spray. 
What sets this spray apart is its primary ingredient – the HCA-infused Garcinia Cambogia extract.
There's a lot of chatter about this product online, with tons of positive reviews praising how it aids in weight loss.
Beauty and Cosmetics
The company has also delved into Beauty and Cosmetics, offering various products such as eyeshadows, blush, and lip gloss.
Most of these beauty products are manufactured by Cosmikology, a known entity in the cosmetics industry.
This association demonstrates the variety and reach of My Daily Choice's product portfolio, incorporating elements of beauty alongside its core health and wellness offerings.
Energy
The energy section is loaded with nutritional sprays and drinks like XeTRM to keep you fueled and ready to take on the day!

These products are designed to give you a boost, aiding in daily performance and stamina.
The nutritional sprays are easy to use and portable, making them convenient for on-the-go energy needs.
Essential Oils
In this category, My Daily Choice offers essential oil roll-ons, chakra blends, and various scents, creating an immersive experience for the senses.
Notably, they've partnered with Mantra, a reputable brand specializing in high-quality essential oils.
This collaboration enhances their offerings, allowing you to access a range of oils that smell delightful and promote balance and well-being. 
Travel
Another standout area is their Travel offerings. My Daily Choice presents travel deals and prepaid travel savings, with the High Life Travel $10,000 Prepaid Travel Savings being one of their most sought-after products.
This deal provides access to over 800,000 hotels and resorts globally, offering up to 70% savings.
Besides lodging, you can save on meeting spaces, car rentals, flights, and cruises.
Automotive 
Here's the surprising one: they even have an Automotive category. They've got this unique product for fuel treatment, proving they're genuinely about diversifying their product line.
Business Opportunity 
My Daily Choice offers a comprehensive and rewarding compensation plan comprising three key components:
Direct sales commissions, business growth bonuses, and rank incentives and rewards.
Customer Acquisition Bonus
When you refer people, and they become what's known as "Preferred Customers" – that is, they buy products monthly – you earn commissions.
Now, the amount you earn can increase based on your rank within the company.
If you climb high enough, you could potentially earn up to half of the profit generated from purchases made by the customers you directly referred.
They call this profit "Business Volume" or BV.
So, the more you promote My Daily Choice and the more sales you generate through your website, the more income you can make.
Business Growth Bonuses
The second way to earn with MyDailyChoice is through business growth bonuses.
This is where the business's multi-level marketing (MLM) aspect comes into play.

As you build your network of affiliates under you, you can earn bonuses based on your team's sales performance and growth.
These bonuses can be a significant source of income as your network expands.
For example, the Global Bonus Pool is a key aspect of these growth bonuses.
Each month, My Daily Choice sets aside 2% of its total business volume and divides this among affiliates who have excelled in team building.
For every four new customers or affiliates you recruit in a given month, you earn a share in this Global Bonus Pool.
Additionally, there are Jump Start Bonuses, which generate weekly income while expanding your team and Binary Commissions.
Rank Incentives and Rewards
Lastly, you can earn Rank Achievement Bonuses as you progress in the company's ranks.
These are one-time and monthly bonuses awarded to affiliates who develop a successful organization.
How to Join as an Affiliate? 
Joining My Daily Choice as an affiliate is a simple and straightforward process.
Start by visiting the official website and scroll down to the very bottom of the page.
You'll spot a link labeled "Affiliate Program" – click on that.
You'll be welcomed into a page rich with essential information about the opportunity that awaits you.
Now, you'll see a document titled "Compensation Plan." I cannot stress enough how crucial it is for you to read this document.
Why? Because it gives you a comprehensive overview of the earning potential and various bonuses you can receive.
By understanding the compensation plan, you set clear expectations for your venture and know precisely what you're signing up for.
There are a couple more documents you need to go through – the "Terms of Service" and the "Income Disclosure."
These provide valuable insights into your rights and obligations as an affiliate and realistic earnings you can expect.
After familiarizing yourself with these documents, you'll be asked to enter the username or user ID of the person who referred you to the company.
Don't have an Enroller? Don't worry. You can call +1 (888) 877-5436 or email [email protected].
If you want to join without one, simply select "No, I don't have an enroller."
Next, you'll need to fill out a brief registration form. The good news is that, unlike many MLM companies, you don't need to buy products or pay fees.
By creating a free account, you immediately receive access to your affiliate dashboard and an affiliate link.
Use that link to promote My Daily Choice products or business opportunity and start earning!

You'll get a 25% commission on sales made by Preferred Customers. These are customers who've signed up for regular product purchases and benefit from the 20% discount.
To top it all off, your affiliate back office will provide in-depth training, access to webinars, and constant support, setting you up for success.
Most Affiliate Fail! 
In the world of MLM and internet marketing, it's crucial to understand that, unfortunately, most people don't rake in the big bucks.
The truth is a lot of people end up falling short of their income goals.
Now, don't get me wrong – it's not to say it's impossible, but it's a steep hill to climb. Let's get into some numbers from My Daily Choice's Income Disclosure.
In 2021, the average annual income for all Affiliates – we're talking about 22,338 individuals here – who had some activity was just $1,511.50. 
Here's the kicker: about 29% of them didn't earn a dime. That's right, $0!
But what about the top dogs? The top 10% of affiliates averaged $9,502.34, and the very cream of the crop, the top 2%, made an average of $35,654.62.
But remember, it took them about 13 months of hard work and dedication to get there.
The bottom line? Succeeding as an affiliate requires time, effort, and patience, regardless of the products and services you wish to promote.
So, set realistic expectations and understand the risks before you dive in.
It's not a get-rich-quick scheme, but with the right approach and mindset, it can offer good opportunities for those who attract a large online audience.
Users Reviews
We scoured the internet for real-life testimonies and struggled to find glowing experiences regarding the business opportunity.
This finding reflects the challenging nature of succeeding in MLMs that we've previously discussed.
However, we encountered many customer complaints, particularly on the Better Business Bureau's (BBB) website.
The BBB is a nonprofit organization focused on advancing marketplace trust.
It provides a platform where consumers can check the credibility of a business and post reviews or complaints.
Despite its popularity, My Daily Choice isn't currently accredited by the BBB.
On their BBB page, they've accumulated 17 closed complaints over the last three years and hold a rating of just two stars out of five.
Unauthorized charges and refund issues are common gripes among disappointed customers.
However, it's worth noting that the company has taken steps to resolve all these complaints.

Is My Daily Choice Legit? 
Here's a question that pops up whenever people are considering partnering with an MLM, and My Daily Choice is no exception:
Is this a legitimate business or a pyramid scheme?
A pyramid scheme primarily rewards participants for recruiting others rather than selling the company's products or services.
They can be hard to spot without an in-depth look at a company's financial operations.
Therefore, a definitive answer usually can only come from a thorough investigation by regulatory authorities.
But here's the deal – based on our research and understanding of MLMs, it appears that My Daily Choice is running a legitimate MLM business.
A telling sign? Affiliates aren't required to make any product purchases to stay in business.
This is significant, as many other MLMs require new distributors to buy expensive starter kits and continuously purchase products to meet monthly quotas.
The absence of such requirements in My Daily Choice suggests that the company leans more towards a legitimate MLM model and away from the dreaded pyramid scheme territory.
Here are other reasons why I believe they are running a legitimate business:
Focus on products:

 My Daily Choice genuinely emphasizes its product line. Affiliates can earn from selling these products, not just from recruitment.

Real, marketable products:

 The company offers a range of health and wellness products. These products have real-world use and market demand and aren't just there to serve as a smokescreen for a recruitment scheme.

No false promises:

My Daily Choice doesn't generally promise astronomical returns quickly. Well, at least the official website is not making ludicrous financial claims.
Should You Join My Daily Choice? 
The answer depends on your circumstances and aspirations.
If you have a passion for health and wellness products and have a knack for sales, My Daily Choice may offer you an opportunity to turn that passion into profit.
However, the MLM business model is not for everyone. Recruiting others and selling products requires a significant time commitment and effort.
You should also be comfortable with direct sales and networking. If these aren't your strong suits, this might not be your best fit.
Another point to consider is the market saturation. The competition is stiff with so many affiliates and MLM companies in the health and wellness space.
Moreover, the financial data from My Daily Choice paints a sobering picture.
While the possibility of making a good income exists, it's not a guarantee. Most affiliates earn a modest income, and many don't earn anything at all.
Conclusion 
My Daily Choice is indeed a popular MLM company that offers a variety of health and wellness products.
As with any business opportunity, there are concerns, pyramid scheme worries being a prime example.

The truth is, only a thorough and authoritative investigation can put that question to rest definitively.
However, from everything discussed in this article, it's safe to say that My Daily Choice operates a legitimate business model, not a fraudulent scheme. 
They maintain a significant focus on product sales and have built partnerships that have helped them gain ground in the industry.
However, it's crucial to face the hard truth achieving success in MLMs is a challenging and uphill battle.
A significant number of affiliates struggle. The primary reason?
A lack of understanding of how to build and grow a sizable online audience. 
This could involve growing a website and getting it to rank on Google, setting up a YouTube channel, or amassing a large social media following.
The larger your audience, the more you can expose your affiliate links, increasing your earning potential.
If you're serious about succeeding as an affiliate, consider investing time and energy in comprehensive training. Here is my top recommendation! 
I did just that back in 2015, and I've since achieved the 'laptop lifestyle,' working remotely and managing my own time.
This website, My Roomismy Office.com, is proof that their step-by-step training delivers solid results.
Final Words
Thanks for reading my My Daily Choice review!
I hope you've found it insightful and informative. Remember, we are here to learn from each other, so don't hesitate to chime in.
If you've got any questions, fire away in the comments section. Or perhaps you've got firsthand experience with My Daily Choice?
Your experience could provide invaluable insights for others contemplating this opportunity. 
Peace!