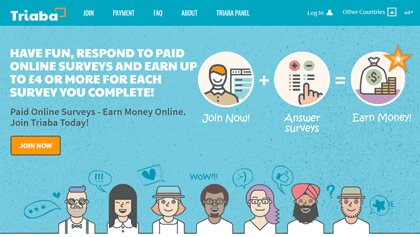 Triaba has become a very popular website that rewards users for participating in marketing research studies.
According to the website in the US, Triaba pays between $0.5 and $5.5 for each survey that you complete. In the UK, the company claims users can earn up to £4 per survey.
Survey panels are not scams, but some of them like to mess up with payments, which can be incredibly frustrating for those who spend hours just to earn a few bucks.
The question is: Can you really trust Triaba? If so, how much money can you expect to earn consistently?
In this review, I am going to cover everything you need to know about Triaba and give you my honest opinion.
By the way, online surveys are good for pocket money, but they undervalue your time. If you want to follow the same strategy that earns me $1,000+ per month (and growing) check out my #1 recommendation.
Triaba Review Summary
---
Name: Triaba
Website: There are different URLs for each country – triaba.com (US) triaba.uk (UK)
Type: Online Surveys
Membership Eligibility: Available in 68 countries
LEGITIMATE
Price: Free to join
Overall Rating: 3.8/5
What is Triaba?
---
Triaba is a Norwegian survey panel where you can share your opinions and get paid for it. In total, the platform has 356 000 panellists in 68 countries!
When you join Triaba and complete online surveys, you are providing valuable information that will help businesses improve their products and service.
The company is part of Cint Insights Exchange platform, which has a total of 50 million registered consumers in over 80 countries. In other words, Cint manages all the surveys on behalf of Triaba and many other research firms.
It's also a member of the American Marketing Association (AMA) and follows the ESOMAR's Code of Conduct.

This reward platform is going viral! Cash out via PayPal, Visa, Gift Cards, and in-game currencies - Click here to find out how to generate an extra $10+ per day! 
That being said, Triaba is a legitimate site that adheres to essential standards of ethical and professional conduct. Also, they strive to comply with GDPR by implementing measures to respect and protect your personal data.
Triaba has been rated 7.6 out of 10 on Trustpilot from a total of 1,296 reviews, which is excellent! I'll talk more about user reviews later. For now, let's have a look at the pros and cons.
Pros and Cons
---
Pros
Free to join.
No point system.
Available in 68 countries.
Trustworthy.
The site is easy-to-use.
Get paid via Paypal and Amazon Gift Cards.
Take surveys from your phone with the OpinionAPP
Cons
There are not many surveys available.
No signup bonus.
You will waste a lot of time trying to qualify.
How Does it Work?
---
Find the Right Website Address in Your Country
As I already mentioned, Triaba is available in 68 countries, and each one has a different website address (URL).
That can cause confusion because people may try to sign up on the wrong URL.
The simple way to find the right website is by visiting triaba.com and selecting your country from the top menu.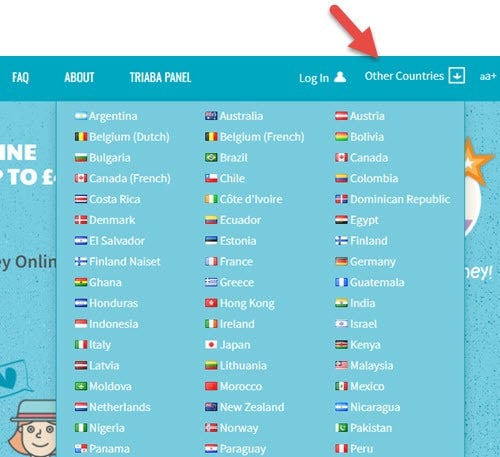 Registration
The registration is painless. Click on the orange "Join Now" button and fill up the signup form with your name, email, gender, date of birth and postcode.

Next, you will have to check your email and click the confirmation link to activate your account.
Profile Surveys
Most survey panels ask panellists to answer some profiling questions so they can match the right type of surveys to each participant.
You should complete as many profile surveys as possible to increase your chances of receiving more invitations.
On Triaba, there are 147 questions divided into 17 categories such as occupation, travel, education, etc.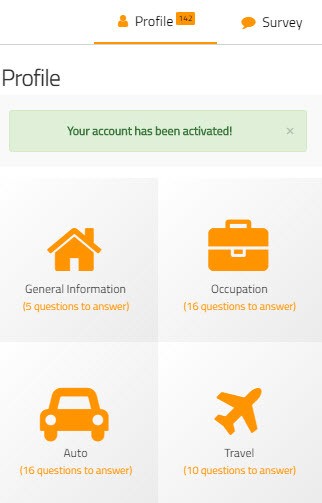 The drawback is that you won't get paid for answering them, and there is no signup bonus either.
Survey Invitations
You can find surveys opportunities on your dashboard, or you can check your email for new invitations.
Depending on your country and profile, you may be invited for a paid survey immediately, or shortly after logging in for the first time.
The FAQ says you should typically expect between 1 and 7 surveys per month, which is not a lot compared to other sites.
The number of opportunities depends on your demographics (age, gender, etc) and the current needs of their clients.
Wasting Time With Screening Questions
Before you complete a paid survey, you will have to answer a few screening questions.

If your answers match their ideal candidate, you will be allowed to take part in that survey.
Otherwise, you will get disqualified with the following message:
"Sorry, you are not a good fit for this study" or something similar.
Does that sound familiar?
You will probably disqualify many times as marketing research companies always target a specific group of people.
Therefore, you should expect to waste a lot of time in the process.
I advise taking the time to learn how to avoid getting disqualified from surveys here.
How Much Money Can You Make With Triaba? 
---
Triaba will show you precisely how much money you will earn in your local currency as well as the survey length.
There are no points, which is good because a point-based system masquerades the real payout and sometimes causes confusion.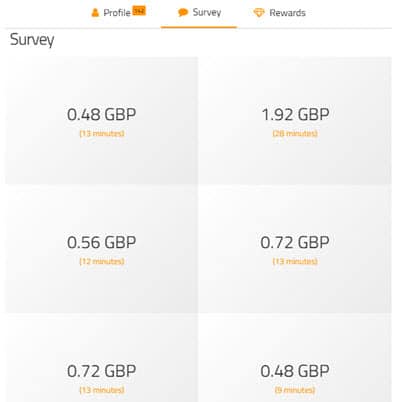 In the UK, Triaba claims you can expect to earn up to £4 per survey.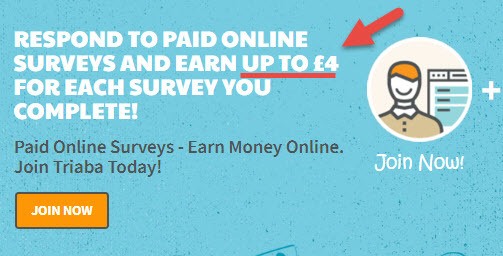 I have been involved with panels and reward sites for almost five years, and honestly, I've never come across a £2 payout.
Usually, surveys that take more than 20 minutes pay more than £1, but they rarely reach £2.
In the US, Triaba claims you can earn from $0.50 to $5.5, but again, you should not expect to find surveys that pay more than $3.
Regardless of your country, the reality is that most surveys will pay you much less than the minimum wage.
It's difficult to predict how much money you will earn on a regular basis. It will depend on how many invitations you receive, how many surveys you qualify for, and the payout of each survey.
Let's say you qualify for 4 studies per week that pay £0.80 on average. That's almost £13 per month.
Don't Rush! 
Many people complete surveys as quickly as possible to maximize their earnings. I don't recommend you do that!
The reason is that Triaba has a verification and security measure that will sound the alarm if you complete the survey faster than the estimated timeframe.
As a result, you may not receive the payment for that particular survey or worse, they can terminate your membership altogether.
It's better to play on the safe side. So, read carefully the questions, and take your time to answer them correctly and honestly.
Take Surveys On Your Phone
---
Members can also take Triaba surveys via the OpinionAPP, which is available for Android and iOS devices.
When you install the app and provide your email, it will identify that you are a member of 4 different panels that partner with Cint, namely Triaba, Surveys4Rewards, Saybucks, and Panel Champ.
So, you can take surveys from all of these panels using only one application.
As you can see below, the app will show you the cash reward and estimated survey length.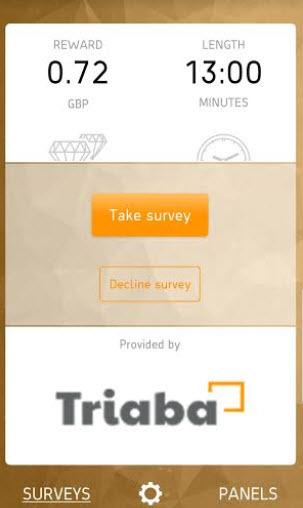 User Reviews
---
If you take a look at user reviews on TrustPilot.com, you will discover that most people consider Triaba an excellent platform.
I haven't seen anyone complaining about missing payments, which is reassuring!
Some people complain about the low pay and frequent disqualification, but that is completely normal.
I have seen one person whose account was blocked due to fraudulent activity.
In this case, the person might have answered surveys quickly or provided contradictory answers. We will never know what truly happened and if it was fair or not.

Payment
---
The payment options available vary from country to country. In the UK, you can choose to get paid via PayPal, Amazon gift cards and Gcodes gift codes.
Next, you can find a list of the minimum payout threshold by country (PayPal).
£8 – UK
12.50 USD – USA and Canada.
15 NZD – New Zealand.
17 AUD – Australia.
€ 10 – European countries.
To request your payment, simply click on the tab "rewards", then choose your payment method and wait.
If you are using PayPal, the money will be credited to your account between 1 and 4 business days. Keep in mind that PayPal will charge a 2% handling fee.
As for Amazon Gift Certificates, you should expect to receive the code to your email account within 4 weeks.
Final Thoughts
---
Triaba is a legit survey panel with an excellent overall rating among users.
However, you won't receive many opportunities, but it can be an additional source of surveys.
If you want to participate in more studies, I recommend you try Prizerebel, PanelBase, and OneOpinion as well.
Prizerebel is one of the top-rated GPT platforms as it's reliable and provides lots of opportunities.
To be honest, I am not a fan of online surveys because as I said, I find it hard to qualify. As a result, I usually spend more than 4 hours to make £10.
If you are desperate for money and you don't know any other immediate alternative, surveys can be a good option for you.
It's better than nothing, but still, there are better alternatives that have the potential to change your life. 
If you want to discover one of the best ways to make money online, keep reading the next section.
Verdict: Legit
My #1 Strategy to Make Money Online
---
There are many ways to make money online, but the one that has been working for me for the last three years is called affiliate marketing.
In short, I write helpful articles on my blog and promote products and platforms in exchange for commissions.
I make commissions when people click on my links and purchase what I am promoting. The site also generates revenue through advertising.
In my opinion, affiliate marketing is one of the best ways to make money because:
You can work from home or while travelling the world. All you need is a computer with an internet connection.
You can make your own hours and go on holidays whenever you want.
There is no boss or customer to stress you out!
I started as a complete newbie and created a $1,000/mo website after following this excellent step by step program.
The owners Kyle and Carson have been teaching students for over a decade to turn their passions into successful internet businesses.
There is a free membership to test the waters, so it's worth checking that out! If you want to learn more about this program, click here and read my full review.
Keep in mind that in order to start earning commissions, you must have patience and determination because this is not one of those get-rich-quick schemes.

So, have you used Triaba? Do you recommend this survey panel? Leave your comments below and thanks for reading. 🙂
Stefan