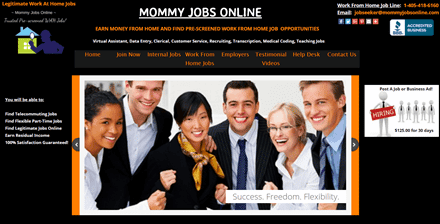 Mommy Jobs Online is charging a minimum of $85 to provide a list of online jobs that pay at least $10/hour. Is Mommy Jobs Online is a scam or legit? I decided to investigate and give you my honest opinion about it.
By the way, if you want to become an online entrepreneur and live life on your own terms, check out my #1 recommendation here.
Mommy Jobs Online Review
---
Name: Mommy Jobs Online
Website: mommyjobsonline.com
Price: Minimum $85
Owners: ?
Overall Rating: 1.5/5
What is Mommy Jobs Online?
---
Mommy Jobs Online is a membership site that provides pre-screened work-at-home job opportunities based on people's background and qualifications.
It's important to understand that Mommy Jobs Online is not the employer. It just connects you with employers looking for people to work remotely. According to the website, their job bank network is thoroughly hand-screened to provide only trustworthy job positions.
The jobs range from entry to advanced levels in positions such as:
Data entry
Customer service
Transcription
Virtual assistance
Medical Coders
Clerical
Mommy Jobs Online is located in Oklahoma City and has been running for 14 years already, which is remarkable!
Another important consideration is that the site has been BBB accredited since 2016 and has currently 1 positive review and 7 complaints on that website.
The Hype
---
The site is making some bold claims such as:
Over 5,000 + remote jobs.
Ability to earn unlimited income!
Gain financial freedom.
Earn easy income.
You should look at these claims with extreme caution because financial freedom and easy income don't mix-and-match well when you are an independent contractor.
Also, unlimited income is impossible while you are still trading time for money.
Pros and Cons
---
Pros
Membership never expires.
Cons
Overhyped.
Very expensive.
Many jobs will probably pay less than $10/hour.
No free trial.
No refund.
How Does it Work?
---
You will have to choose between different remote job bank categories according to your background and qualifications.
In order to have lifetime access to one single category, you must pay $85 (one-time fee). It's also possible to have the full Job Bank access for a hefty $210.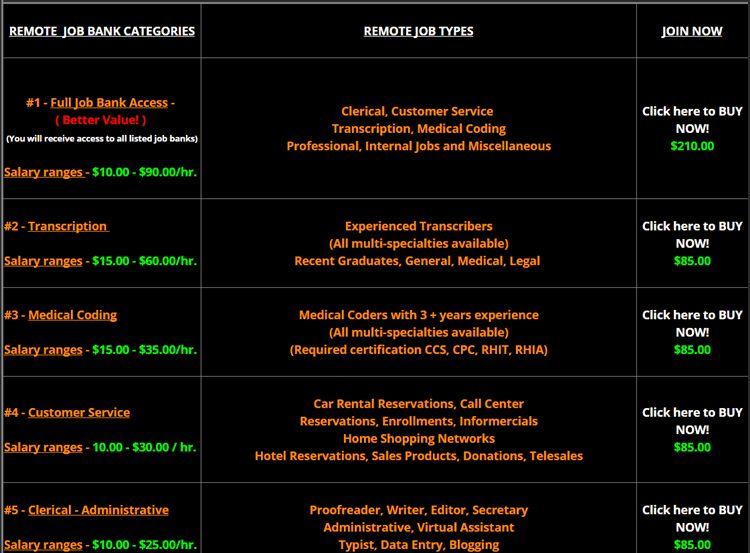 Once you pay for your membership, you will get your job link within 24 hours.
The next step is to apply directly through the employer's website, which may or may not get in touch with you to start the hiring process.
Keep in mind that being part of Mommy Jobs Online doesn't give you any guarantees or any advantage over other applicants. So, they are not responsible and won't refund you if you are not able to get hired.
Besides, the job positions will undoubtedly be available on free online platforms. So, competition can be stiff.

Complaints 
---
There are lots of negative reviews  on the internet about Mommy Jobs Online, and many people say out loud that it's a scam
Here are some complaints I found on BBB.com and other review sites:
Some jobs listed are no longer available.
Jobs can only be available for residents in other states.
Qualifying for any job position is difficult.
Data entry jobs require an incredible amount of work for such a low pay.
The job list offers duplicate and non-responsive positions.

There are a few positive reviews as well, but much less than negative ones.
Here is one example:

Is Mommy Jobs Online a Scam? 
---
I'm afraid I can't give you a definitive answer.
Apparently, Mommy Jobs Online is providing the list of legit online job positions, but it doesn't mean it's a great selection.
Furthermore, as you will have to go through the recruitment and selection process, it also doesn't mean you will get hired.
It's a risky move because there is no free trial and no refund in case you don't like the service.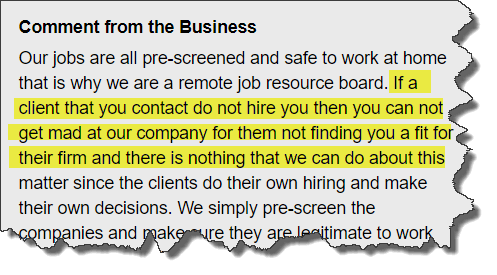 Conclusion
---
Mommy Jobs Online is not a scam.
You will get a list of legit jobs, but you can find the same opportunities on other platforms for free. With a simple Google search, you can find them.
For example, typing "best transcription online jobs" returned helpful blog articles that offer a list of platforms such as:
A great site if you are looking for a work from home position is called RatRaceRebellion.com. It's completely free and it's updated every day from Monday to Friday (For US residents only).
Do this for other job types, and you will always find new opportunities without wasting a single penny.
If you are looking for a high-paying and permanent job that allows you to work 100% remotely, I recommend you check out We Work Remotely. It's a great platform, but the position you will find there are usually for people who have some qualification and experience in web design, programming, marketing, etc.

This reward platform is going viral! Cash out via PayPal, Visa, Gift Cards, and in-game currencies - Click here to find out how to generate an extra $10+ per day! 
Now, if you want to discover how I make money online without any boss or client to tell me what to do, check out my #1 recommendation below.
Verdict: Not Recommended

My #1 Recommendation to Make Money Online
---
In 2015 I decided to work for myself and build an online business. I had so many bad experiences as an employee, and I always felt like a prisoner working for somebody else.
Making money online is great, but making passive income with an online business is even better! I can go on vacation and still earn commissions because my site keeps working 24/7.
There are many strategies, but the one I have chosen for myself is called affiliate marketing. I highly recommend this model to anyone, and it's not difficult to get started.
However, you will have to be patient and put in a lot of upfront work to reach $100/month and then scale to over $1,000/month. But it's highly achievable with affiliate marketing!
If you want to build your own affiliate business, check out my #1 recommendation. This is my top rated step by step training program for those who dream of being an online entrepreneur and achieve time and location freedom. 
Have you purchased the Mommy Jobs Online membership? What do you think about it?