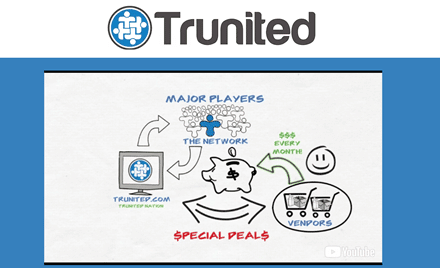 You discovered an opportunity to get paid for shopping at brand sites you love, but you are very skeptical of it. I am talking about a website called Trunited. Is Trunited a Scam or legit?
In this review, I am going to expose how everything works and give my honest opinion about this site. So, get informed before you join.
*TOP RECOMMENDATION: Achieve time and location freedom by building an online business. Click here and get started for free! 
Trunited Review
---
Name: Trunited
Websites: www.trunited.com / www.discovertrunited.com
Founder: Nicolas Porter
Price: Free to join. BUT you must pay $99/year to qualify for payment.
Overall Rating:  2/5
What is Trunited?
---
Trunited is a website that offers cash back, (e-currency) when you purchase products at online stores through the platform.
Earning cash back is made possible because the site earns commissions every time people click on their links and buy the products. The commissions are then passed on to customers as cashback incentives.
It differs from other sites like BeFrugal, Quidco, and Topcashback, in that it adopts the concept of socialized commerce. This means money is distributed among those who shop and invite (refer) more people to join Trunited.
Trunited.com is a creation if Dr. Nicolas Porter (Dr. Nico), who established the company in 2016.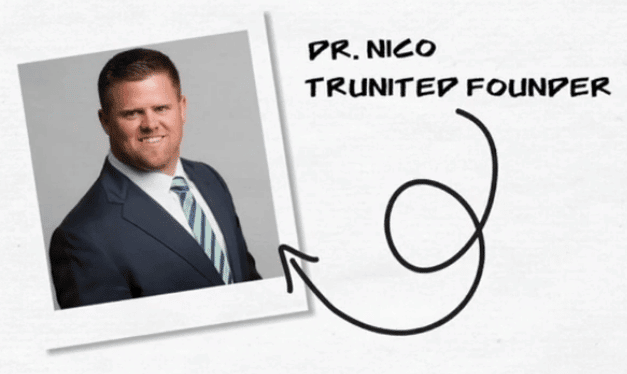 This reward platform is going viral! Cash out via PayPal, Visa, Gift Cards, and in-game currencies - Click here to find out how to generate an extra $10+ per day! 
How Does Trunited Work?
---
Hold tight because it's a bit complicated!
You can buy pretty much anything you need through the platform as it connects you with many popular brands including Amazon, Wallmart, and Groupon.
As I said, these companies will pay a commission to Trunited every time members purchase the products. They say 100% of all the profits are paid back to the participants through a profit pool.
Trunited is free to join, but there is a catch that I discovered in one of their videos on Youtube. Before I get into that, it's crucial that you know the compensation structure called Pay Plan 360.
The Pay Plan 360
The compensation structure is similar to an MLM (multi-level-marketing) company. The difference is that you not only earn a commission from your downline (people you refer), but also from all the purchases made by the entire network.
But how is the money distributed?
They use an algorithm to calculate your earnings, which will be proportional to how much commerce you, your downline and the entire network generates.

Each product is assigned with a reward point value, which is determined according to the size of its contribution to the piggy bank.
So, the higher the commission a vendor pays Trunited for a particular product, the higher the reward point value you will get for purchasing that product.
One thing I don't like about Trunited is they apparently haven't made the algorithm public. At least, I haven't found it on the official website nor in any of the YouTube videos on their channel.
You Will Have to Qualify and Pay a Membership Fee
You can sign up for free and start using the platform to buy products and invite other people. During this time you are considered a customer.
However, you can only get paid from the piggy bank every month if you go from being a customer to a contributor. And to qualify for that, you need to do the following:
Sign up for and purchase an item on Trunited.com. (no minimum order)
Invite at least one person who also has to buy at least one product.
Then, after you qualify, you have to pay $99 annual fee.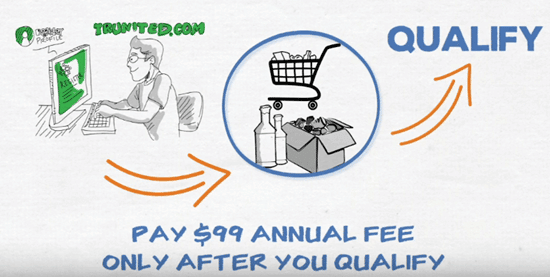 It's a bit strange because, in another video, the owner claims that Trunited is a not for profit business. But, at the same time, there is no explanation as to what this money is used for. Is it all going to cover the business expenses? I really don't know.
Terms and Conditions
---
Have you read Trunited's terms and conditions? Well, I did, and I have to confess it worries me a LOT.
We reserve the right to refuse service to anyone for any reason at any time.

We do not warrant that the results that may be obtained from the use of the service will be accurate or reliable.

You agree that from time to time we may remove the service for indefinite periods of time or cancel the service at any time, without notice to you.

We are not responsible if information made available on this site is not accurate, complete or current
TOS like these create distrust because they are explicitly saying that they do not warrant that the results will be accurate and reliable.

Final Thoughts – Is Trunited a Scam?
---
I don't believe Trunited is a scam. However, considering the foggy compensation structure and the unfriendly T&C, I still don't feel confident enough to join and promote this business opportunity.
Also, I don't like the fact that I have to refer other people and pay a membership fee to be eligible for cashback and commissions.
If you just want cash back on products that you purchase online, Quidco and Topcashback are better alternatives. You don't need to pay any membership fee.
Now, if you are searching for a legit way to make a substantial income online, check out my #1 recommendation. It's an impressive online business training and community for those who dream of being an online entrepreneur and achieve time and location freedom. 
I have achieved great results after two years of implementing their step-by-step program. You can know more about this platform and my journey by clicking the link below.
Click Here and Check Out My #1 Recommendation Review
Thanks for checking out my honest Trunited review. If you have any questions, you can ask in the comment section just below.
Stay safe!