Welcome to my Tap Artist app review!
I recently installed an Android application where users can earn virtual dollars just by colouring pages.
Tap Artist claims that if you reach $100, they will allow you to withdraw the money to PayPal. This is not something new!
App developers have been using cash incentives to attract their audience for many years now!
It's a proven strategy because people are desperate for money and will try to meet the requirement in hopes to cash out.
The idea of making money doing something that even a 3-year-old can do is mind-boggling! So, are the prizes fake? Is Tap Artist legit or scam?
Before you leave, check out the step-by-step program that helped me reach $1,600+ per month from my laptop, and escape my 9-5 job. No special skills required!
Tap Artist App Review!
Name: Tap Artist
Developer: TapAnGela
Eligibility: Worldwide
Price: Free
Overall Rating: 

1/5
What is Tap Artist?
Tap Artist a nice colouring game designed for relaxation. I am sure lots of people would play this game just for passing the time.
However, the developer is trying to attract even more users by offering $100 for those who reach the target.
I have already reviewed an almost identical app called Tap Fill Arts!
How Does Tap Artist Work? 
Installation
Tap Fill Arts is readily available for free on Google Play. The installation is quick and you don't need to sign up before playing.
How to Play Tap Artist? 
Once you open Tap Artist, you will find an extensive list of drawings divided into many many such as Special, Character, and Fantasy. Select any picture from the library and start painting!
Each image comprises several cells of different sizes and numbers. Besides, each number corresponds to a specific color in the pallet.
Once you tap on any color at the bottom, Tap Artist will show the location of all the cells that should be painted with that specific color.
Keep in mind that some segments are so small that you may have to zoom in order to find and paint them!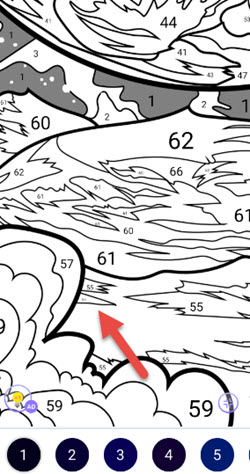 If you you cannot find those tiny cells, simply tap the bulb to get a hint.
Tap Artist is a simple game, but some pictures are very complex and require an eye for detail.
Once you paint all the cells, you can download and share the artwork with your friends on social networks.

Virtual Dollars
As soon as you finish colouring all cells of the same number, you will get virtual cash or coins. You can double the reward by tapping "Double it" and watching a video ad.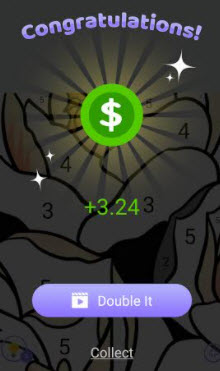 It's not uncommon to get a message that the reward video is not ready, though.
How Do You Get Paid? 
Once you reach $100, open your cash balance and tap "Got it" to request the payment to PayPal. Also, you can supposedly convert 150,000 coins to 10 USD and redeem an Amazon Gift card.
Does Tap Artist Pay? Is it Legit?
No, it doesn't. If you don't want to waste time, don't play Tap Artist with the expectation to win money.
I always recommend reading reviews before installing any application. The problem is that the developer provides early access to app, which prevents people leaving their honest feedback.
Therefore, you won't see any complaints about Tap Artist on Google Play because they don't let users express their opinions.
They claim you can withdraw the money via PayPal once you reach $100. But there is a high probability you will get stuck since the company is not obligated to reward anyone.
I believe Tap Artist behaves just like Tap Fill Arts, which stops giving dollars once payers collect $98.
In case you do reach $100, it doesn't matter because they can easily ignore your payout request just like many other games do!

The reason I am confident about it is that I already reviewed countless "money" games that do not pay. I also get several comments on my previous posts from users who feel misled by such apps.
Is There An Alternative to Tap Arts? 
There are lots of colour by number games on the Play Store such as Tap Color Lite, Art Coloring and Tap Colour. However, all these apps are only designed for entertainment, and don't give away cash prizes.
So, you might wonder if there is any game or app that would allow you to earn some cash while having fun.
Yes, Mistplay and Money Well are two legit applications that pay you to try new games, but there may be issues while trying to cash out.

This reward platform is going viral! Cash out via PayPal, Visa, Gift Cards, and in-game currencies - Click here to find out how to generate an extra $10+ per day! 
Instead of using apps, I highly recommend Prizerebel, which is a veteran and reputable GPT site.

Conclusion 
Tap Artist gives you virtual dollars and tells you need $100 to be able to cash out. But be aware!
They entice you with cash rewards just so you play for longer and help the company generate more profits.
Every time you watch the videos, the developer gets paid by advertisers who may promote other cash or trading apps.
Don't fall for the hype, folks, because there is no such thing as easy money!
Verdict: Not Recommended 
Earn a Full-Time Income Online
Millions of people are searching for ways to create a job-replacing income from home.
Now more than ever, you don't want to rely 100% on your day job because who knows what may happen in the future with so many business restrictions?
I always recommend people to learn how to build an online audience and earn money as a content creator. That's because I know it works and can change many people's lives!
It changed mine 180 degrees! Today, I can work from my laptop and earn enough money to pay for all my living expenses.
If you want to build an online business as I did, check out my #1 recommendation here!
Final Words
Thanks for reading my Tap Artist app review. I hope it was helpful!
So, have you made it to $100? Share with us your experience in the comment box below!
Peace!