Welcome to Mood to Merge app review!
You may have found Mood to Merge, a match-3 game that supposedly let players receive cash directly to their PayPal account.
In one of the video ad, they entice people with the opportunity to earn hundreds of dollars just by combining emojis.
I know excited about it and willing to reach the cashout requirement as soon as possible. But at the same time, you don't want to fall flat on your face. 
That's why you are here and wondering – is Mood Merge legit? Does it pay or not? Keep reading as I will reveal everything you need to know about this game below!
Before you leave, discover the step-by-step program that helped me reach $1,600 per month working from home. No special skills required! 
Mood to Merge App Review
Name: Mood to Merge
Developer: funnytaskst
Eligibility: Wordwide
Payout threshold: $300
Overall rating:

 1/5
What is Mood to Merge?
Mood to Merge is a match-3 puzzle game developed by an individual or company based in Shanghai, China.
The entity presents itself as "Prize Games", but there is no other information about it except the trading and email address in the Privacy Policy page.
The developer also operates other popular "money" games such as Merge Emoji and Block Legend.
There is nothing new Mood To Merge. The game mimics candy crush, but instead of matching candies, players match emoji icons.
With so many similar competitors on Google Play, they try to go viral by saying users can earn cash and even an iPhone.
How Does Mood to Merge Work? 
Mood to Merge is available on Google Play for people in all countries.
You will get a check in bonus of $10 right after launching the game and tapping the "collect" button.
They show you all the cash rewards if you play the game for consecutive days. For example, there is a prize of $100 on the 7th day.
Just wipe your finger to move a cartoon and match at least 3 identical emojis. Whenever you put the same cartoons side by side, they will merge and form one higher-level emoji.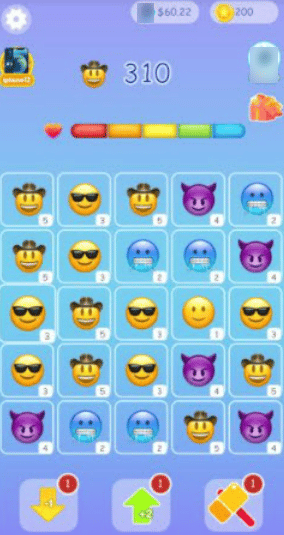 Mood to Merge awards you virtual PayPal cards whenever you accomplish multiple merges (combo).
The first time you do, you can just tap "Collect" to get credited. But the following cash rewards can only be added to your balance after you watch a video ad.
There are three tools available when you feel stuck. For example, you can use up arrow to increase the level of an emoji or the hammer to eliminate any of them.

Earn Coins
Mood to Merge awards coins for completing simple tasks, spinning the wheel, and inviting friends.
For example, if a person installs the app through your link or invite code, you will get 800 coins. In turn, your friends will win 300 coins if they input your invitation code.
Once you have enough coins, you can redeem for PayPal, and gift cards depending on your country.
Big Prize
Mood to Merge also allows you to collect puzzle pieces to win an iPhone 12 Pro. You need to collect 100 fragments by signing in or playing the Lucky Spin.
How Do You Get Paid? 
You need at least $300 to cash out via PayPal. However, you can also redeem different amounts up to $3,000.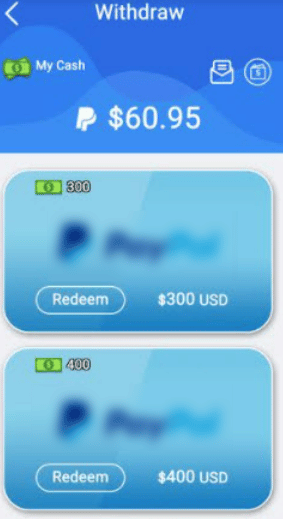 Once you reach the payout threshold, tap the amount and insert your PayPal email.
Coins can supposedly be exchanged for cash rewards, too. You need to select your nation and choose the payment method available in your country.
For example, in Brazil, you can redeem R$40 once you collect 225,000 coins.
Is Mood to Merge Legit? Does it Pay? 
I cannot make any accusation here without solid proof, but I strongly believe you won't receive any money.

This belief is based on my knowledge and experience testing hundreds of similar games over the last 3 years.
Mood to Merge will make it extremely hard to reach $300 because the goals is to get you to watch as many ads as possible.
But there are usually two outcomes when playing these games. They will either stop giving virtual dollars when you are close to $300, or they will simply ignore your payment request.
Mood to Merge may let you cash out and you will get "transaction success", but they won't transfer any money to your PayPal account. It's outrageous!
To make matters worse, the developer has launched Mood to Merge as "Early access", meaning users cannot publish honest reviews on Google Play.
So, in order to find feedback from players, I had to check the comment section of some YouTube videos.

This reward platform is going viral! Cash out via PayPal, Visa, Gift Cards, and in-game currencies - Click here to find out how to generate an extra $10+ per day! 
One player said the money stopped before $450, but when he tried to redeem $400, it said he had to watch 150 ads. To his disappointment, the ad count reset when he had watched 100 videos. WTF?

Conclusion 
Don't play Mood to Merge with the expectation to withdraw money to PayPal. The developer doesn't seem to pay anyone because he has no obligation to do so!
The virtual dollars collected in the game have no monetary value, and you have no right to demand payment transactions.
In other words, the developer can ignore your existence while filling up his pockets with advertising revenue.
These game developers from the other side of the world don't deserve your time and ad views. If you want to play a game for fun, give preference to apps that don't offer any cash incentives.
Verdict: Not Recommended
Final Words
Thank you for reading my Mood to Merge app review. I hope it helps!
So, what are your thoughts about this game? Are you waiting for the payment? Let us know in the comment box below!
Peace!