Welcome to my Cricrypto review!
I was browsing the Play Store when I found a popular crypto-earning app called Cricrypto.
The fact that it has been installed over half a million times on the Play Store is impressive!
It offers an easy way to earn bitcoins by completing simple tasks like watching videos, playing games, answering surveys, and more.
Even though Qricrypto has been rated 4 stars on the Play Store, it's essential to be cautious to avoid pitfalls.
Developers can purchase reviews and inflate their overall rating to make it seem more reliable!
That's why searching for reviews from independent sources like websites or Youtube channels is crucial.
So, is Quicrypto a decent reward app for earning crypto? Does it legit and worth your time? Let's find out!
Before you leave this page, check out the step-by-step program that helped me to generate $2,000+ each month and quit my job in 2019.
Quicrypto Review
Name: 

Quicrypto: Play to Earn Crypto

Developer: 

nukes

Availability:

 Worldwide

Price:

 Free (no in-app purchases)

Overall Rating: 3.8 stars
What Is Quicrypto?
Quicrypto is a reward application where users can earn points for completing simple tasks on their phones.
The company has teamed up with many advertising and market research firms to bring users a wide range of earning opportunities.
Some tasks on Quicrypto involve watching videos, answering surveys, and completing offers.
Once you accomplish the withdrawal mission, you can exchange points for Bitcoin or Litecoin.
How Does QuiCrypto Work? 
Reward apps partner with advertisers who pay to promote their apps and services within the app.
It also connects users with marketing research firms looking for feedback and insights.
When users complete an offer or a survey, QuiCrypto earns a commission from the provider.
A percentage of that fee is then given back to them as points, which can be redeemed for Bitcoin and Litecoins.
Installation and Registration 
You can install Quicrypto from Google Play and access the platform without registration.
They will require that you accept the Terms of Service and Privacy Policy and authorize usage tracking.

Although Quicrypto doesn't ask you to sign up initially, it will require phone authentication when you reach step number 4.
It's also important to note that using proxies or VPNs is strictly forbidden and will result in account termination.
Collecting Points
Quicrypto works slightly differently from other reward apps I reviewed in this blog.
After receiving a welcome bonus of 2000 points, the app encourages you to start a mission tutorial consisting of 6 steps.
You must complete specific tasks before you can access the main dashboard.
At first glance, it reminded me of a popular site called 20 Cogs, which I reviewed a long time ago.
So, the first impression wasn't good because it felt like I could get stuck with offers that I was not willing to complete.
The good news is that the tutorial phase doesn't take long, so you can withdraw crypto as soon as you finish the six steps.
First, you must watch a promotional video to win 4000 points.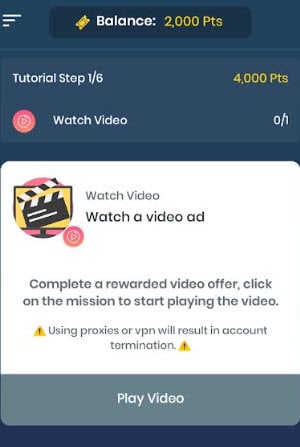 The second step consists of watching two rewarded videos to win 6000 points and proceeding to the next stage.
Next, you must watch three videos and complete one offer among three options:
Install and play a game using the adjoe platform.

Complete an offer from AdGem

Answer a survey from TheoremReach
You will get 12,000 points once this mission is accomplished.

Although most offers are easy to complete, they will require you to either spend a lot of time using a specific app or make a purchase.
It's important to carefully review any offer's requirements and terms before accepting it.
For example, one game offer asked players to reach level 25 in 5 days.
As I mention, step number 4 requires your phone authentication. 
Simply enter your phone number to receive a code via SMS and type the code in the appropriate field.
According to the company, your phone number will only be used to validate your account and not for marketing or anything else.

This reward platform is going viral! Cash out via PayPal, Visa, Gift Cards, and in-game currencies - Click here to find out how to generate an extra $10+ per day! 
Fake phones will result in account deactivation.
Withdrawing Crypto
The great thing about Quicrypto is that once you complete the tutorial, you can cash out immediately!

So, you don't need to reach a minimum of points like most money-making apps.
The current conversion rate is as follows:
500,000 pt = 0.00001 Bitcoin

500,000 pt = 0.005 Litecoin
Quicrypto claims to transfer the crypto to your wallet within one or two days.
The Dashboard
Once you complete the mission tutorial and receive your first crypto, you are free to complete any offer from the main page.
Like my favorite reward app Freecash, Quicrypto has partnered with many offer walls and survey providers.
The app provides different tabs for each provider, which I will discuss in more detail below.
First, it's important to know that each survey or offer you complete inside these third-party platforms will earn you points.
PlayTime
This first platform PlayTime is operated by AdJoe, a German company that rewards users for playing their sponsored games.
You can find the same opportunity in countless reward applications, such as mRewards, FunTime, Easy Bucks, and more. Read my mRewards review! 
PlayTime features a list of games and awards you points based on the time you play.
After installing the game on Google Play, head to the PlayTime tab and open the game through the "My Apps" section.
The more you play, the more points you will earn.
However, it's important to note the earning rate decreases over time, making it increasingly more difficult to accumulate points for a particular game.
This behavior encourages users to play for longer and eventually install another game.
Just be aware that you must be a new user to be eligible for rewards. So, if you installed the app before, Quicrypto won't credit points to your account.
Offer Walls 
QuiCrypto connects users with four Offer Walls: IronSource, InBrain, OfferToro, and Adgem. 
Those platforms provide an impressive number of offers that award you points by playing games or using various applications.
For example, you may have to download a game and reach a certain level to claim points.
You will also find other reward apps and be encouraged to sign up and collect a specific number of points. 
Each offer has unique conditions, but those that pay the most usually require a purchase or long hours of playtime. 
Before making any purchase, read the offer's terms and conditions to ensure you completely understand what you're getting into.
Convert the points to your country's currency to determine if the purchase cost is worth the points you'll earn in QuiCrypto. 

Let's say you are a US resident. So, in that case, you will need to convert the points to Bitcoin or Litecoins, and then use the current exchange rate to find out the equivalent in dollars. 
Referral Program 
QuiCrypto's referral program allows users to invite friends or anyone on the internet to earn commissions. 
When you invite someone to QuiCrypto through your referral link and the person joins the program, you'll earn 10% of their points for the first 365 days. 
This can be a great way to earn extra points passively, especially if you have a large following on social media. 
Before you can join this program, you will need to accept their Referral Program Terms.
More specifically, you must agree not to use spam or any other inappropriate method of promoting your link. 
Survey Tabs
Join Theorem Reach and PollFish to earn additional points by sharing your opinions and insights through surveys.
The first step is to complete a brief profile questionnaire, which gathers basic information such as your age, location, interests, and more.
It helps Theorem Reach match you with surveys targeted to your demographics and interests.
Before starting a survey, check the estimated time it will take to complete and the rewards you'll receive.
Surveys will ask a series of screening questions to ensure the participant meets the requirement of the marketing study. 
Unfortunately, you won't qualify for every survey as it will be targeted at a specific age group, consumer habit, or other criteria.
If you pass the qualification phase, you can proceed to answer all the questions and receive points for your opinions. 
The fact that each survey gives hundreds of thousands of points may give you the wrong impression that you are earning a lot of crypto. 
However, it's worth noting that these points translate to mere pennies when converted to dollars.
Check out the top 10 apps for taking surveys here! 
Claim Blitz Mission 
This mission, which you can find right at the top, will grant you points for completing specific offers. 
The Claim Blitz Mission is an excellent way for users to boost their earnings with straightforward tasks! 
Is QuiCrypto Legit? Does it Pay? 
Yes, I can personally attest to the legitimacy of QuiCrypto, as I was able to redeem around 0.015 Litecoins to my Coinbase with no issues. 
The reward process was easy, and my Litecoin payout arrived in just a few hours. 

But don't take my word for it. Check the Play Store, and you will find hundreds of satisfied users who consider QuiCrypto a decent app for earning crypto. 
One user said this app is the best he has found with crypto rewards, offering a variety of tasks, surveys, and games to earn. 
Just bear in mind that QuiCrypto doesn't pay quite well compared to other GPT sites like Prizerebel and Freecash. Check out my Prizerevel review here! 
I spent over 2 hours completing survey offers to earn 0.015 LTC, worth over £1. 
While the rewards may not make you a millionaire, it offers a legitimate way to earn Bitcoin and Litecoin by completing simple tasks from your phone. 
Earn a Full-Time Income Online
The internet offers endless possibilities for those willing to invest time and effort into an online business. 
I personally experienced the power of online income, which has completely changed my life.
In 2019, I traveled to Southeast Asia with my wife, all thanks to a lucrative website that pays me month after month!
If you crave the flexibility and freedom of being your own boss, you should give it a try! 
This comprehensive step-by-step program helped me establish and grow this profitable affiliate site you're reading. 
The first five lessons are free and will give you a taste of what the platform has to offer. 
Learn more about this opportunity here! 
Final Words
Thank you for reading my QuiCrypto review. I hope it helps! 
If you've had a chance to try out this app, we'd love to hear your thoughts in the comments section below.
Peace!