Welcome to my Sort Coins review!
I came across an advertisement for a game called "Sort Coins," which claims to pay hundreds of dollars without the need for withdrawals.
In this simple matching game, you drag two identical virtual coins and other items to the platform. It's the perfect clone of Plutus Cat Sort! 
As you match and eliminate PayPal and Amazon cards, you'll collect insane cash rewards. I am talking about hundreds of dollars with a single touch on your screen!
Clearly, the developer leverages people's insatiable desire for quick and effortless cash.
With so many deceitful money-making apps, you must exercise caution and conduct thorough research before spending time.
So, is Sort Coins legit or fake? Does it transfer the money? Let's find out!
Before you leave this page, check out the step-by-step program that helped me to generate $2,000+ each month and quit my job in 2019.
Sort Coins Review
Name: 

Sort Coins

Developer:

Bizi Gamehot

Availability:

 Worldwide

Price:

 Free (no in-app purchases)

Overall Rating: 0 stars
What Is Sort Coins?
Sort Coins is a free matching game that entices players with a ridiculous amount of cash!
It involves dragging identical virtual coins, PayPal cards, and other items onto a platform to match and eliminate them.
The developer claims you can cash out once your balance reaches the payout threshold.
But don't let the simplicity of this game fool you.
The reason is that when you try to collect your cash reward, you will be forced to watch a promotional video.
Well, the money has to come from somewhere, right? Sure, but are advertisers spending over $100 to promote on Sort Coins?
That's what you will find out soon!
How Does Sort Coins Work? 
Sort Coins can be installed for free on Google Play and is available for Android users worldwide.
The game starts with an array of banknotes, coins, and PayPal/Amazon cards over the green board.
The objective is to pick two identical objects and drag them to the round "wooden" platform.
As a result, they will merge into a higher-number coin and award you banknote currency. The resulting coin is twice the number of the previous one.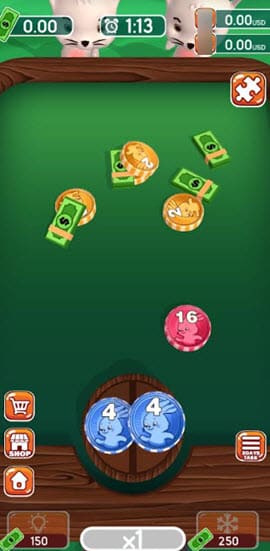 Note there are three types of virtual currency, which can be collected in three different ways.
You already know how to collect the rewards in your banknote balance – just by matching identical coins (same number and color)
You can also accumulate cash in your virtual PayPal or Amazon balance by matching the corresponding cards.
But in that case, you will see a pop-up window enticing you to tap the "collect" button to trigger the advert.
Those videos mainly endorse games and reward apps that entice people with unrealistic cash rewards.
Please don't fall for them by thinking there is a chance of winning amazing prizes. No, there isn't!
Cashing Out
Remember that the advert for Sort Coins told you no withdrawals were needed?
Well, that's just a lie because they ask you to reach the minimum payout threshold to cash out.
There are three redemption options:
Banknotes:

 Exchange 1000 for $20. 

PayPal:

 Redeem $1,000

Amazon:

 Redeem $10,000 
Is Sort Coins Legit? Does it Pay? 
No, it doesn't! The Sort Coins app is a complete joke of a game that will not pay you a single dime!
The cash rewards they advertise are fake, so there is no chance of winning anything. 

It's important to understand that Sort Coins profits from players watching promotional videos while they play.
Many of these adverts will lead you to other fake money games where you can even lose money. So, be careful!
They give you virtual dollars and tell you to reach the payout threshold.
Sure, this is a common business model designed to keep you engaged and increase the number of video views. 
Another smart tactic they use is to decrease your cash rewards, artificially pushing the payout further away from you. 
As a result, you end up watching even more videos to reach the target. 

This reward platform is going viral! Cash out via PayPal, Visa, Gift Cards, and in-game currencies - Click here to find out how to generate an extra $10+ per day! 
However, when you finally reach $1000, Sort Coins will pull the rug under your feet with a hidden requirement. 
You will be asked to watch more videos to activate the order, which is utter nonsense! 

This is just another way for the game to profit off of your time without any compensation. 
Conclusion 
Sort Coins is another fake money game designed to prey on your desire for easy money. 
Although the app offers a free gaming experience, the developer uses your time and emotional triggers to monetize his game. 
Don't be fooled by its seemingly innocent appearance. Sort Coins is sure to push your buttons and leave you feeling extremely frustrated!
Earn a Full-Time Income Online
Anyone can earn thousands of dollars per month and live the laptop lifestyle!
The internet provides incredible opportunities to supplement your income and grow lucrative online businesses!
In 2019, I quit my job and traveled to Southeast Asia with my wife, thanks to my website! 
If you wish for greater flexibility, attracting an online audience is a must!
This step-by-step program helped me set up and grow this successful affiliate site you are reading.
You can benefit tremendously from this platform, which provides all the knowledge and expert support you need to succeed!
Final Words
Thank you for reading my Sort Coins review. I hope it was eye-opening! 
If you've had a chance to try out this game, we'd love to hear your opinions in the comments section below.
Peace!