Welcome to my Block Pop Blast review! 
I have recently stumbled across another mone-making game for Android called Block Pop Blast.
Like many apps of this kind, it lures the audience with the opportunity to win large sums of money in no time.
Since this game attracts thousands of people worldwide, I didn't hesitate to download it and put it to the test. 
After touching the screen for the first time and eliminating the blocks, $93 was added to my virtual wallet.
The least I knew, I was halfway to the incredible $1,000 PayPal and $10,000 Amazon payouts! 
Of course, the opportunity to win so much money with a casual free game sounds as believable as finding a magic lamp. 
So, is Block Pop Blast review legit or fake? Can it transform you from rags to riches with just a few taps? Let's find out!
Recommendation: Join the step-by-step program that helped me to generate $2,000+ per month and become a digital nomad in 2019.
Block Pop Blast Review
Name: 

Block Pop Blast

Developer: 

Ipaid Netpay

Availability:

 Worldwide

Price:

 Free

Payout threshold:

 $1000

Overall rating: 0 star

This reward platform is going viral! Cash out via PayPal, Visa, Gift Cards, and in-game currencies - Click here to find out how to generate an extra $10+ per day! 
What is Block Pop Blast?
Block Pop Blast is an addictive match-3 game where you match two or more blocks with the same color to eliminate them. 
While the gameplay is entertaining and helps to pass the time, most people are playing with another objective in mind. 
As you know, Block Pop Blast claims to be a real cash-out game where you can withdraw money via PayPal or Amazon. 
Imagine earning insane cash prizes as you eliminate the blocks and watch promotional videos! 
Block Pop Blast is similar to countless fake money games extensively reviewed in my blog for years. Here is another elimination game! 
How Does Block Pop Blast Work
Block Pop Blast is accessible on the Play Store for Android users worldwide. 
The game begins immediately without creating an account, and it's 100% free to play. 

First, it assures you this is a real cash-out game and encourages you to click the PayPal balance at the top. 
It claims that all the money you collect will be redeemed to your account during the event, which lasts for 24 hours. 
Collect $1,000, and you will be able to withdraw the money immediately without waiting. 
In other words, the developer is trying to convince you to make $1,000 risk-free without effort. 
No, you are not dreaming! 
The number of money games using the same script to entice players is unbelievable!
In Block Pop Blast, your goal is to eliminate blocks of the same color in groups of three or more until your screen is completely cleared.
Simply tap groups of two or more matching blocks to blast them and earn cash rewards.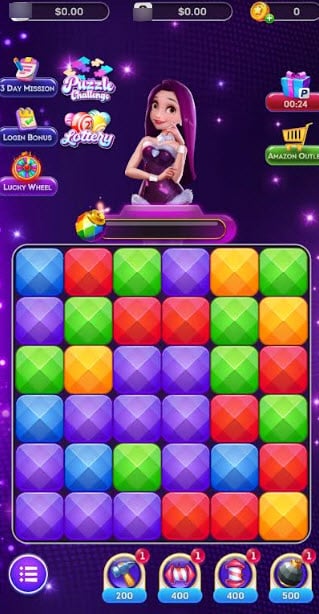 You will get either PayPal or Amazon bonuses as you eliminate the blocks.
However, you can only collect the reward if you tap the reward button and watch the short promotional video. 
It's important to realize that Block Pop Blast generates revenue from adverts.
So, by offering cash prizes for watching the video, the developer attracts more views and boosts profits. 
On top of the PayPal bonuses, Block Pop Blast also offers some truly unbelievable Amazon bonuses, with some valued at over $1,000!

But you can only withdraw Amazon gift cards once you reach $10,000! 
Is Block Pop Blast Legit? Does it Pay? 
No, it doesn't! Block Pop Blast is another fake cash game that never transfers real money. 
Thousands of people are spending hours on a game whose only goal is to bombard them with advertisements that only benefit the developer. 
The first tactic I noticed is that the cash rewards dwindled as I approached the $1000 mark.
At $900, I was making less than $4 at a time, pushing the goal further away from my hands. 
You will eventually reach the payout threshold only to find out you must watch more videos or pay a wire transfer fee of around $3.99. 
I highly advise keeping your wallet closed as they will take your money and never pay you! 
But don't just take my word for it. Check the reviews on the Play Store, and you will find many disappointed users who feel cheated. 

Conclusion 
Don't waste your time playing Block Pop Blast, a fake money game that preys on people's desire for effortless money. 
The opportunity of getting paid thousands of dollars for playing free casual games is ludicrous! 
Don't fall for misleading adverts, as the only ones who benefit from this nonsense are the developers and advertisers. 
Earn a Full-Time Income Online
As a content creator, you can earn a full-time income by publishing helpful information on your website, YouTube channel, and social media accounts. 
That's how I have operated my online business, which gave me incredible time and location freedom! 
If you want to earn money on your own terms and change your life, you should consider growing this online business.
It's definitely one of the best ways to make money in the digital economy! 
Click here to learn step-by-step! 
Final Words
I hope my review has been informative and helped you learn about the true nature of Block Pop Blast.
Do you have any questions? Would you like to share your experience with the game? If so, leave us your comments below!
Peace!