Welcome to my Joy Blast review!
I came across Joy Blast through a small banner on another money game and decided to give it a try. 
I was surprised that the app had already been downloaded over 100,000 times.
With so many games being released daily, keeping up with the high demand for reviews is challenging.
However, because it continues to draw a huge audience, many individuals crave information that will save them time.
Joy Blast wants to convince players they can withdraw $1000 by matching numbered balls. 
So, does it transfer the money to the player's PayPal account? Is it legit or fake? Let's find out! 
Before you leave this page, check out the step-by-step program that helped me to generate $2,000+ each month and quit my job in 2019.
Joy Blast Review
Name:

  Joy Blast – Swipe King

Developer: 

Vision4Fun

Availability:

 Worldwide

Minimum Payout:

 $1000

Overall Rating: 0 stars
What Is Joy Blast?
Joy Blast is a simple match-3 game where you match three balls with the same number on them to unlock higher numbers. 
However, as you are aware, entertainment is only secondary in Joy Blast. 
The game dishes out virtual dollars when you merge universal balls with the PayPal or Amazon logo. 
All money saved in your balance is supposedly redeemable after 24 hours or instantly upon reaching $1000. 
Joy Blast is similar to countless fake money games extensively reviewed in this blog, such as this merge chips app! 
How Does Joy Blast Work? 
Joy Blast is accessible on the Play Store for Android users worldwide. 
The free match-3 game begins instantly, and there is no need to set up an account. 
This alone is a reason for concern, considering that genuine applications usually need users to sign up. 
Joy Blast didn't reinvent the wheel with its basic gameplay, where players must merge at least 3 identical balls. 
Switch and position three or more balls of the same number side by side.
When that happens, all the disks will be replaced by one single disk of a higher number. So, for example, four balls number 3 will become one ball number 4.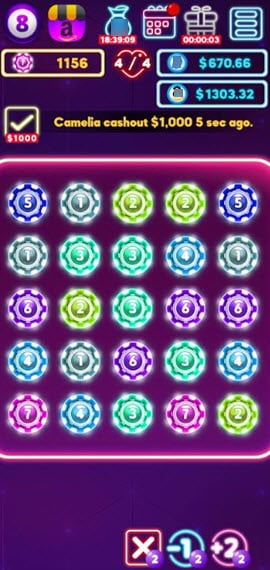 You can achieve combos once the additional balls fill up the empty spaces.  
Every time you make a move that doesn't result in a successful connection, you will lose one heart. 
Remember that you can utilize three specific tools to help you succeed.
Note that PayPal and Amazon balls (universal balls) connect with any two equal balls. 
Whenever you merge them and click the "Receive" button, it will trigger the commercial before adding virtual cash to your balance. 
What's crazy is that some cash prizes are worth over $1000! 
Check out legit survey apps to make money on the go!
How do You Get Paid? 
According to the app's cash-out requirements, everything you earn will be transferred to your PayPal account after 24 hours. 
However, the developer will pay you instantly if your balance exceeds the $1,000 threshold. Just fill up your PayPal email and hope for the best! 
The Amazon bonanza is even more unrealistic, as you will supposedly redeem the gift card once you reach $14,999! 
Yep, almost 15 grand! 

Is Joy Blast Legit? Does it Pay? 
No, it doesn't! Joy Blast is simply a replica of other fake money games that have been around for years!
You will have to commit yourself for more than one hour to reach $1000 only to be asked to watch 60 soul-draining videos. 
Unfortunately, a considerable number of gamers will proceed with great expectations for having their orders activated. 
After completing the video requirement, they will receive another unpleasant announcement:
All orders have been filled today! 

This reward platform is going viral! Cash out via PayPal, Visa, Gift Cards, and in-game currencies - Click here to find out how to generate an extra $10+ per day! 
Some people reported that they had to watch an additional 80 videos and then pay a ridiculous fee of $4,99 to withdraw. 
However, no funds were sent to their PayPal account!

I am not surprised that many people are wasting their time and money in hopes of winning something big. 
The fact is that Just Blast, like hundreds of other games, prey on people's need to boost their income. 
With the skyrocketing cost of living, people are prone to fall for useless apps and programs to make money online. 
That's why keeping your feet on the ground and analyzing each opportunity with eagle eyes is essential! If something looks too good to be true, it probably is! 
Conclusion
Joy Blast is being promoted as a tremendous opportunity to make money by merging balls.
The developer advertised the game by claiming that no withdrawal was required and that money would be sent in a matter of minutes.
However, he will encourage gamers to watch hundreds of videos and then charge $4.99 to process the payment. 
Nonetheless, no funds will be transferred via PayPal or Amazon gift cards because the reward is fictitious. 
The Play Store is full of negative reviews from people who completed all the steps and didn't get a penny. So, please don't fall for it! 
Verdict: Not recommended 
Earn a Full-Time Income Online
Content creators have the potential to generate a full-time income by operating blogs, YouTube channels, and social media accounts. 
This is one of the best strategies for people who like the idea of working remotely as a digital entrepreneur! 
The good news is that this type of business has no entry barriers. In fact, anyone with no money or qualifications can start quickly and achieve remarkable results in one or two years. 
I became a successful content writer thanks to an outstanding step-by-step training I joined in 2015. 
With a strong motivation to succeed, I attended all the lessons and put in the work required to grow a substantial audience.
You can do the same; the first step is to click here and learn more!
Final Words
I hope my review has been informative and helped you learn about the harsh reality of Joy Blast.
Do you have any queries concerning the game? Would you like to share your thoughts? If so, leave us your comments below! 
Peace!