Welcome to my Kick Football 2048 3D review!
Several games aimed at football fans have been released recently with vast sums of money on offer.
Kick Football 2048 is one of these applications that claim to reward players via PayPal if they reach a specific amount of cash.
But it's not only money! Those who collect 150 puzzle pieces will also receive an iPhone 14 Pro!
Thousands of people wonder if this is real or just a fairy tale created by those who play to monetize your time.
So, Is Kick Football 2048 legit or fake? Does it pay or not?
Before you leave this page, don't miss out on the step-by-step program that helped me to generate $2,000+ each month and quit my job in 2019.
Kick Football 2048 D Review
Name: 

Kick Football 2048 3D

Developer:

 Bull hotCollapse

Availability:

 Worldwide

Price:

 Free

Payout threshold: 

$500

Overall Rating: 0 stars
What Is Kick Football 2048 3D?
Kick Football 2048 3D is a simple game where you shoot and merge balls of the same number to win cash rewards.
You will receive virtual PayPal coupons by unlocking new numbers and watching commercials that validate your earnings.
The game, created with Unity, has been downloaded over 50k times by those searching for extra income. 
Despite the advert portraying dollar signs, the download page makes no mention of earning money. That's a significant red flag we cannot ignore!
How Does Kick Football 2048 3D Work? 
Kick Football 2048 3D is accessible on the Play Store and doesn't require registration to play.
The game will start immediately after launching the application.
Tap the soccer ball and try to strike another ball of the same number or color!
Once two identical balls collide, they will merge into a higher number ball following the sequence: 2, 4, 8, 16, 32, 64… 2048.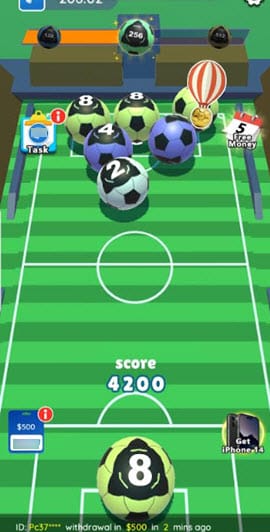 The ball will bounce and potentially hit with another ball of the same number, resulting in combos.
Whenever they merge, you can trigger a PayPal cash reward. But before collecting your prize, you must tap the "get" button and watch a video.
Some of these clips are annoying since they need some form of interaction before you can proceed.

You can collect more cash by completing daily tasks, such as Daily login, merging the number 512 five times, or synthesizing level 1024.
Sometimes, you will see a balloon that allows you to open four gift boxes.
You may earn virtual money or iPhone 14 puzzle pieces by tapping each box and watching the video. Tap 4 boxes, and you will win a bonus!
Kick Football 2048 3D will reward you with an iPhone 14 Pro worth $1499 if you collect 150 pieces.
How do You get Paid? 
Players must reach the minimum cashout requirement of $500 before requesting the payment via PayPal.
Ok, right! So, are all these prizes real? Stick with me, and I will show you in the next section!
Kick Football 2048 3D Legit? Does it Pay? 
No, it doesn't! Kick Football 2048 3D is another fake money game, meaning all the dollars you build up in your account are worthless.
The company or individual behind this application won't' transfer $500 for playing a free merge game.
There are countless merging games on Play Store in the form of cubes. Cube Winner is only one example! 
They all use the same strategy to entice players to watch videos and, thus, help the developer generate more profits.
As you approach $500, the payout decreases in order to persuade you to play more and more.

Such behavior gets people to watch more videos, lining the pockets of those who promote this illusion of easy money!
It gets to a point where you are making less than 3 dollars at a time!
Once you reach $500, they ask you to fill in your account detail to redeem $500 immediately.
But that's not true because they will demand more video views to activate the order. 
The first requirement to activate the order is just five videos, so people don't get discouraged. But the truth is that this is only the tip of the iceberg! 
After you complete this requirement, they will put your order under review for 24 hours until you watch another 30 videos! 

This reward platform is going viral! Cash out via PayPal, Visa, Gift Cards, and in-game currencies - Click here to find out how to generate an extra $10+ per day! 
As you can see in the screenshot, a progress line indicates more steps ahead!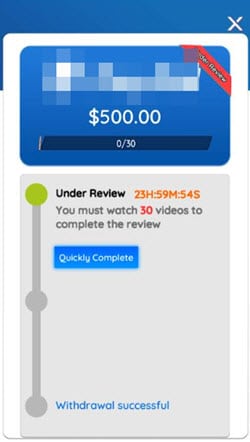 However, you won't get paid even if you complete all of them and reach the "withdrawal successful" phase. 
Many of these games will put you in a never-ending queue when they have run out of excuses to make you watch videos. 
But they can ignore your payment request and let you assume you were not the winner, as if they were running a contest. 
Conclusion 
Kick Football 2048 3D is not a real money-making game like it's been advertised. 
The unrealistic cash prize of $500 is only a bait to make players watch a ton of videos that make the developer money. 
I find it incredible that these games never make the headlines of prominent media outlets. 
With so little information about them, many individuals end up deeply disappointed for wasting so much time. 
Verdict: Not Recommended 
Earn a Full-Time Income Online
If you want to generate a decent income online but don't know where to start, here is my suggestion:
Become a content creator like myself and operate a lucrative website, a powerful online asset in today's economy. 
It allows you to grow a worldwide audience by providing helpful information on a topic of your interest. 
I started my online entrepreneurial journey in 2015 by joining this step-by-step program.
It helped me set up this website from scratch, rank high on Google, and generate extraordinary commissions! 
The good news is that you can sign up for free and learn more about this venture before jumping with both feet. 
Final Words
Thank you for taking the time to read my Kick Football 2048 3D review. I hope this post helps you save valuable time before it's too late!
Do you want to share your thoughts on this app? Please use the comment box below to express yourself!
Peace!