Welcome to my Solitaire Aloha review!
Solitaire games have been popular since the dawn of computing as a fun pastime for people of all ages.
Recently, there has been a considerable increase in mobile apps aimed at individuals looking to make additional income. 
One of these apps is Solitaire Aloha, which features the classic Tripeaks game with the opportunity to win at least $500! 
Their adverts portray a guy in front of a mansion explaining how he could buy it for $4,200,000.
Then it suggests you earn $300 quickly without having to withdraw or refer friends.
Before you leave this page, check out the step-by-step program that helped me to generate $2,000+ each month and quit my job in 2019.
Solitaire Aloha Review
Name:

  Solitaire Aloha

Developer: 

leadventure.x

Availability:

 Worldwide

Price:

 Free

Minimum Payout:

 $500

Overall Rating: 0 stars
What Is Solitaire Aloha?
Solitaire Aloha is a classic Tripeaks game where players supposedly win real money via PayPal and Amazon gift cards. 
The goal is to move all the cards from the playing field to the foundation stack by tapping each card in an orderly fashion.
As you clear the game's tableue, you can earn coins, cash, and Amazon credits redeemable for real cash rewards. 
However, you must meet specific requirements to withdraw the funds.
That is an intelligent tactic to encourage people to play more and watch lots of commercials! 
Solitaire Aloha has been installed over 100k times on the Play Store and 
How Does Solitaire Aloha Work? 
Solitaire Aloha is accessible for Android devices worldwide and is 100% free. 
The first step after launching the game is to select one of the three withdrawal methods available: PayPal, Cash App, and Zelle. 
Bear in mind you cannot switch it later when cashing out from the game. 
After confirming your selection, you must enter your email or phone number, depending on your choice. 
How to Play Solitaire Aloha? 
Tap the card one higher or one lower than the card at the bottom of the screen. Here is the correct rank of cards in Solitaire games is the following:

 K (high), Q, J, 10, 9, 8, 7, 6, 5, 4, 3, 2, A (low). 
You will complete the level once you clear the game's tableau.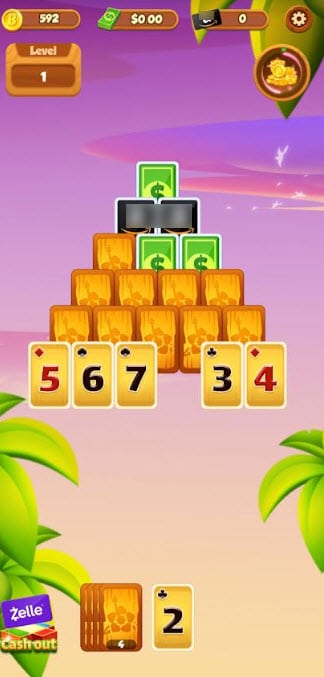 If you cannot make a move because there are no cards to follow the sequence, you can flip a card from the stock.  
Use the tornado booster to clear several cards on the field and make it easier to clear the stage. 
Collecting rewards
You can collect virtual dollars and amazon credits by clearing the game's tableue and flipping reward cards. 
As for coins, you will collect them randomly while achieving progress in Solitaire Aloha. 
According to the game's rules, the occurrence probability of each card is the following:
Regular card: 70%

Dollar card: 15%

Amazon card: 15%
Once you complete the level, you can increase the rewards by tapping the "get more" button and watching a video. You can increase it by up to 10 times! 
How do You Get Paid? 
To withdraw the funds, you must first reach the minimum requirement for virtual dollars, coins, or amazon credits. 
$500 via PayPal – Reach $500 in your cash balance. 

$3000 via PayPal – Collect 3 million coins.

$1000 via Amazon gift cards – Collect 10,000 Amazon credits. 
The developer claims the cash rewards will be sent to you within seven business days. 

Is Solitaire Aloha Legit? Does it Pay? 
No, it doesn't! You won't receive those fantastic cash prizes by meeting specific conditions set by the developer. 
The reason is simple: The rewards are fake, as no company can afford to pay a minimum of $500 for each player. 
The idea behind these games is to get players to watch many commercials that generate passive income. Not for you, though! 
As soon as you reach $500, the game will encourage you to open the cash balance and select the $500 reward. 
Pop up window will appear saying your payment will be sent to your linked account.

This reward platform is going viral! Cash out via PayPal, Visa, Gift Cards, and in-game currencies - Click here to find out how to generate an extra $10+ per day! 
But instead of transferring the money, a disappointing message emerges. It asks players to reach level 30 to approve the order within 240 hours. 

Everything I said above is enough reason to uninstall Solitaire Aloha and leave a negative review on the Play Store. 
Unfortunately, this app is classified as Early access, preventing you from doing that!
What a shame developers can make any claim while shielding themselves from scrutiny. It's a dream come true for them! 
Conclusion 
Solitaire Aloha is another card game displaying fictitious and unredeemable cash balances! 
Therefore, you won't receive any money from this game despite your best efforts in completing levels and watching videos. 
The game will make you jump through hoops with additional requirements that lead you nowhere! 
Don't blame yourself for biting the bait because it's just a waste of energy. Instead, just turn the page and take the following as a life lesson:
There is no such thing as easy money! 
If you are serious about making money online, there is no better time to create an online business and dive into a world of real opportunities. 
I set up this website and achieved a full-time income online thanks to this step-by-step program. 
These guys led me through the entire process of selecting a niche market, ranking high on Google, and generating life-changing commissions! 
I can only thank Kyle and Carson for their excellent training and support provided during all those years! 
Final Words
I hope my review was beneficial in understanding about the ugly nature of Solitaire Aloha.
Do you have any questions or thoughts about the game? If so, please leave your comments below. 
Peace!