Welcome to my Jackpot Mega Slot review! 
Jackpot Mega Slot's creator adopts a similar script to that used by JustPlay to advertise his free slot game.
The commercial claims you get paid every 3 hours with no minimum to cash out! 
Of course, this is a tempting offer since you can win hundreds of dollars without funding the app. So, it's 100% risk-free!
However, many players are unaware they are helping the developer monetize the app by watching promotional videos. 
Not only that but there is a severe risk that the cash rewards are fake, as in numerous other games currently available on the Play Store.
Since time is so scarce in our fast-paced world, you don't want to waste it on an app that doesn't deliver.
So, is Jackpot Mega Slot legit or fake? Does it pay or not? Let's find out! 
Before you leave this page, don't miss out on the step-by-step program that helped me to generate $2,000+ each month and quit my job in 2019.
Jackpot Mega Slot Review
Name: 

Jackpot Mega Slot: Mega Winner

Developer:

 HJoy Game Studio

Availability:

 Worldwide

Type: Entertainment with no financial risk

Price:

 Free (no in-app purchases)

Payout threshold: 

$200

Overall Rating: 0 stars

This reward platform is going viral! Cash out via PayPal, Visa, Gift Cards, and in-game currencies - Click here to find out how to generate an extra $10+ per day! 
What Is Jackpot Mega Slot?
Jackpot Mega Slot is a free Android game where players trigger a 3-reel machine in hopes of winning real cash rewards. 
You will win virtual dollars and coins by touching the spin button and hitting a winning combination.
The game has achieved the distinctive mark of 500,000 installations on the Play Store.
Despite the fact that over 500,000 consumers have downloaded the app, no one is allowed to submit a review.
That is because the developer insists on keeping it as "Early Access" indefinitely! 
How Does Jackpot Mega Slot Work? 
Jackpot Mega Slots is accessible on the Google Play Store and does not need registration or in-app purchases.
The game features four machines with unique possibilities to earn rewards:

Diamonds Reels

Triple Double Diamond

Triple Double Cherry

Mega Diamond
Each one consist of a simple 3-reel slot machine that can be activated for free by simply pressing the spin button. 
You start with 20 spins, but a new one is added every 30 seconds. Besides, you can watch a video to unlock 20 spins at once if you don't want to wait. 
You have a good chance of hitting a winning combination in the pay line every time you spin. 
As a result, you will win virtual dollars, coins, Amazon cards, and Walmart cards that you can exchange for real prizes. 
The right combination should be provided in the Pay Table section. However, attempting to open the Pay Table from the menu will take you to the cash-out page instead. 
You will get a decent amount of cash if you match three identical items in the pay line or when a banknote appears on any reel. 
Sometimes, you have a commercial to claim your earnings and get more spins.
How Do You Get Paid? 
According to the game rules, your balance must reach a minimum of $200 to cash out via PayPal or Cash App. 
Therefore, the advertising misleads the public when it says there is no minimum requirement. 
The app does not pay every three hours as advertised because it requires more playtime to comply with additional conditions.  
Besides, they tell you that transfers to your account may take up to seven days. 
Bear in mind you must have 1,500,000 coins to convert them to $50. 

Is
Jackpot Mega Slot Legit? Does it Pay? 
No, it doesn't! Jackpot Mega Slot is a simulated slot machine game with no actual cash rewards available to players.
The developer allows you to cash out at $200 but does not inform what comes next. 
I was surprised I could reach the minimum requirement of $200 without watching too many videos. 
But after entering a fictitious PayPal email address, it said I should wait for the cash to arrive before 3 p.m. tomorrow. 
The catch is that I would have to spin 150 times to approve the order.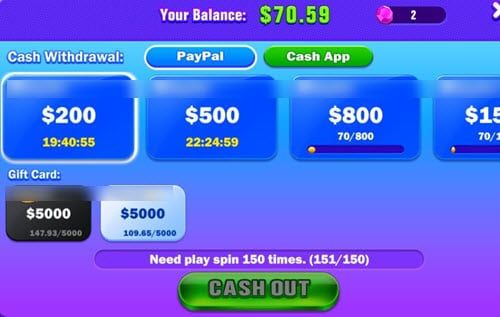 Jackpot Mega Slot will continue to award you with amazing cash rewards and let you reach a second cash-out amount of $500 in the meantime.
But then, they will come with an even higher requirement of 350 spins! 
Unfortunately, the money won't be transferred to your account despite meeting the conditions. 
The only ones who benefit from a game like Jackpot Mega Slot are the developers, who get paid by advertisers for the number of video views they get. 

It's a disgrace that thousands of individuals are blissfully unaware of how they work. 
Worse, most of them don't even search for reviews in order to find out whether the app will pay them! 
Conclusion 
Jackpot Mega Slot is another game designed to profit from your time and leave you empty-handed.
The developer promotes the app as an opportunity to cash out every 3 hours, like the popular JustPlay app. 
However, this is not the case, as they will entice you to reach $200 and spin 150 times only to receive a message asking you to wait for 24 hours. 
It's a complete shambles of a game that doesn't deserve your attention!
Earn a Full-Time Income Online
One of the best ways to earn a substantial online income is by growing a content-based business via a simple blog. 
In addition to freedom, it also allows you to benefit from improved financial stability and unlimited growth. 
For example, you could significantly reduce your reliance on the job market while your website grows.
That means you could work fewer hours and devote more time to your site, during which time you might achieve remarkable results. 
If you want to give the first steps in the right direction and become a successful online entrepreneur, this terrific program will show you the way! 
Final Words
Thank you for taking the time to read my Jackpot Mega Slot review. I hope you found it handy!
So, did you try to make money with this game? How was your experience? Please leave your honest thoughts in the comment section below.
Peace!