Welcome to my Magic Coins review!
You may have discovered Magic Coins from an advertisement, just like I did. 
So, maybe you recognize this or a very similar script:
Playing for a long time but winning little? 

These are all fake money games! 

If you want to play and win money, just download this game! 

Play it in your spare time, and you will win extra income every day! 

There are no withdrawal restrictions, and your winnings will be paid straight to your PayPal account! 
This is how the developers are promoting this coin-merging app to attract a large audience and generate massive profits. 
Well, it seems to be working pretty well for them! So far, over 1 Million people have installed this application with high hopes of making hundreds of dollars. 
But does Magic Coins actually pay? Is it legit or fake? Let's find out! 
Before you leave this page, don't miss out on the step-by-step program that helped me to generate $2,000+ each month and quit my job in 2019.
Magic Coins Review
Name: 

Magic Coins: Merge of the Beas

Developer:

 Zebra Fun Game LLC.

Availability:

 Worldwide

Price:

 Free (no in-app purchases)

Payout threshold: 

$

Overall Rating: 0 stars
What is Magic Coins? 
Magic Coins is an Android game where you drop and merge different coins in exchange for fantastic cash prizes.
The objective is to combine two identical coins into a larger coin while avoiding the upper limit line.
Over the last few years, countless games have been released with the same premise: get paid for merging gems, coins, balls, fruits, you name it!  
Each coin size represents an imposing animal, such as a bear, lion, eagle, or bull. 
However, entertainment is secondary as players are told they can withdraw money and gift cards by collecting enough dollars or diamonds. 
The incredible ash incentive has led over 1 million people to download the app and reach payout requirements. 
How Does Magic Coins Work? 
You may start to play Magic Coins for free without setting up an account. 
Simply touch where you want the coin to land and then hit another identical coin to combine them.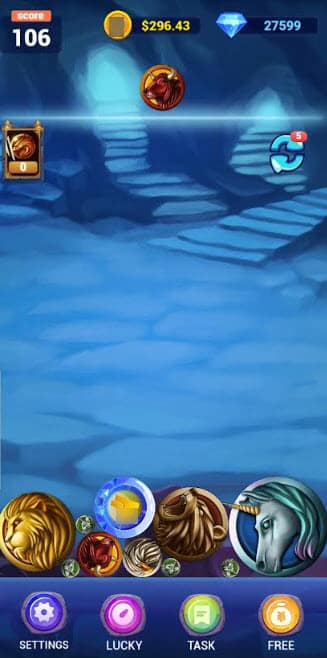 As a result, both coins will merge into a larger coin that features a different animal.  
Here is the deal: One particular coin with the PayPal logo will emerge by combining two coins with the bull stamp. 

Tap the "Collect" button, and you will be forced to watch a video before the virtual cash is deposited into your wallet. 
You will also get diamonds by merging any coin!  
But there is more! You can flip four cards and win cash rewards and diamonds when you achieve a score goal. 
You can also get virtual dollars by completing milestones (tasks) and extra diamonds by spinning the lucky wheel. 
Withdrawing Funds
Magic Coins allows you to withdraw money via PayPal once your cash balance exceeds $500. 
There are higher cash-out amounts for those who play and collect up to $3000! 
After collecting 680,000 diamonds, you may redeem a $100 gift card to leading merchants like Google Play, Amazon, Steam, Xbox, Visa, and MasterCard. 
Is Magic Coins Legit? Does it Pay? 
No, it doesn't! You won't receive a single penny even if you meet all the conditions and wait for seven days.
Magic Coins lures players in with the promise of no cash-out limits, but as it turns out, this is just a marketing ploy to increase profits.
I have just proven that this is not the case since you can only request funds once you have reached $500.
Like countless fake money games, cash rewards gradually drop in value until you make less than $0.20 after each video.

So, you will watch many videos to achieve progress and make $500, only to find that you must watch even more commercials. 
This is an intelligent method for developers as they are paid based on the number of video views.
Magic Coins will notify you that your order was successfully submitted and that the funds will be sent to your PayPal account.
They make you believe that the cash prize is right next door, but in reality, this is a psychological trigger to motivate for the next step:
First, players must watch 75 videos within 72 hours, followed by 225 videos to activate the order. 
Many players reported not receiving their money despite jumping through hoops and waiting for weeks!

This reward platform is going viral! Cash out via PayPal, Visa, Gift Cards, and in-game currencies - Click here to find out how to generate an extra $10+ per day! 
Conclusion 

Magic Coins won't transfer a single penny to your PayPal account since the cash rewards are fake. 
Unsurprisingly, the developer doesn't warn users about the ridiculous video view requirements! 
After all, many would suspect this is just about generating revenue for the owners at the expense of their time. 
And that is precisely their goal: to get millions of players to see as many adverts as humanly possible!
My advise? I would avoid any mobile game selling this idea of winning unrealistic cash rewards.
Proper research on any site or app is key to avoiding big disappointment. 
Earn a Full-Time Income Online
There are excellent strategies to monetize your presence on the internet and benefit from the freedom it provides! 
One of the best ones is by setting up a website and ranking on top of google. It has worked for me very well for the past seven years! 
YouTube is also a powerful tool for attracting a large audience and making online revenue.
The choice is yours, and you can operate on many fronts simultaneously to maximize your reach.
You need to learn many things to build a solid foundation for your online business and become a successful entrepreneur. 
This excellent step-by-step program will show you the most effective approach, so you avoid trial and error! 
Final Words
I appreciate your interest in my Magic Coins review. I hope you found it helpful!
Did you try to make money by merging coins? Please express your thoughts about this game in the comments section below.
Peace!