Welcome to my Wood Block Master review!
Picture yourself winning hundreds or potentially thousands of dollars by playing a free puzzle game whenever you go! 
What would you do with such a money-printing machine at your fingertips? 
You could provide a good life for your entire family and quit your job to travel the world. 
I know all these possibilities entice you to download Wood Block Master and spend hours collecting virtual dollars to cash out. 
But before you get too excited about this game and jump with both feet, it's essential to know whether it's legit or fake. 
The inherent risk of investing hours into Wood Block Master only to come up empty-handed is too high to overlook.
I would be furious to know that I was used as a pawn only to make others rich! 
So, is it a legitimate way for users to earn real money, or is it a pipe dream? Let's find out! 
Before leaving this page, don't forget to check out the step-by-step program that helped me build my online business and generate $2,000+ per month. No special skills are required! 
Wood Block Master Review

This reward platform is going viral! Cash out via PayPal, Visa, Gift Cards, and in-game currencies - Click here to find out how to generate an extra $10+ per day! 
Name: 

Wood Block Master – Winner In

Developer:

 Insoft Inc

Availability:

 Worldwide

Price:

 Free (no in-app purchases)

Type: Entertainment (no financial risk)

Payout threshold:

£140

Overall Rating: 0 stars
What is Wood Block Master? 
Wood Block Master is an addictive puzzle game where you drag blocks of different sizes onto the board to clear the lines. 
As you solve the puzzles, you will collect several virtual items redeemable for PayPal cash, in-game currency, and an iPhone 12 Pro. 
Wood Block Master is able to provide a completely free gaming experience to players as it relies entirely on advertisements. 
So, you don't have to worry about hidden fees while collecting a ton of virtual cash!
However, you must trade your time for those rewards by watching lots of commercials before being able to cash out. 
However, you must have collected a minimum amount of cash or diamonds to be able to redeem your virtual currency for prizes. 
Wood Block Master has been installed over half a million times and rated 4.3 stars.
At first glance, that may seem like something to boast about, but it's important to note an overwhelming number of complaints. 

How Does Wood Block Master Work? 
Installation and Privacy
Wood Block Master can be downloaded on your Android device through the Google Play Store. 
Please be aware that the data collected by this app is not encrypted, which means that unauthorized individuals may access sensitive information from your device. 
That includes passwords, account numbers, and any confidential information. 
Not only that, but you cannot request that your data be removed, which violates many countries' privacy regulations.
How to Play Wood Block Master? 
You will get a daily check-in reward of 2000 coins upon launching the game.
Coins can only be exchanged for diamonds that, in turn, can supposedly be traded for Coin Master, Free Fire, and Clash of Clans currency. 
Simply select a wooden block from the bottom of the screen and drag it to an empty space on the board.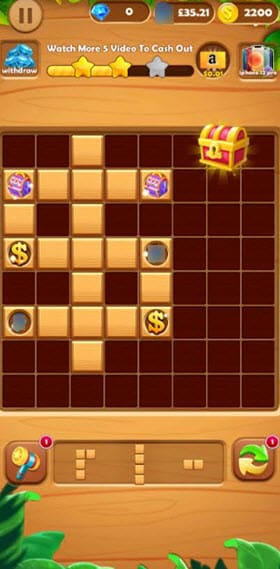 The ultimate goal in Wood Block Master is to clear lines by filling in the spaces on a row or column.
As a result, the solid line will disappear, earning you valuable rewards in the process! 
Some of the blocks include a PayPal logo, a treasure box, and a diamond, to name just a few.

Eliminating one of these blocks will trigger specific prizes such as virtual cash and diamonds.
Besides, it will activate the slot game and lucky cards, so you will have the chance to collect even more rewards. 
Like countless money games, Wood Block Master will display an enticing amount of currency and induce you to tap the "collect" button to watch the video. 
This is, of course, a commercial that allows the developer to monetize his application.
How to Redeem Rewards
As you already know, there are different ways you can supposedly claim rewards through the Wood Block Master app. 
You can earn virtual cash, diamonds, coins, and even iPhone 12 Pro Jigsaws. 
However, you can only cash out and claim these prizes once you meet specific requirements. Here is the complete list:
Money – Reach £140 

iPhone 12 Pro: Get 

500 iPhone 12 jigsaws

 and 

watch 500 videos. 

Game currency – 10,000 diamonds 
Is Wood Block Master Legit? Does it Pay? 
No, it doesn't! Wood Block Master will enter a never-ending loop as you watch hundreds of videos that only benefit the developer. 

The advert claims there is no minimum to cash out, which is far from the truth!
What's worse, hidden requirements will arise as a clever technique to keep players hooked for much longer. 
The reason is that they refuse to accept losing all that time they have already spent on the game. So, they don't want to give up! 
This phenomenon is known as the sunk-cost fallacy, which occurs when someone hesitates to abandon a course of action because they have spent so much time and energy on it.
After reaching the minimum cash-out amount, I entered my wallet and pressed the redeem button.
However, the first hidden requirement emerged under their sleeves: Video views must reach 20. 
The app will demand more views as if it could generate enough income to sustain unrealistic cash incentives. 
In the end, Wood Block Master will put you on a waiting list with thousands of people, only to reveal that your payment has failed. 
Wood Block Master will stubbornly refuse to transfer the funds to your PayPal account! 
Likewise, game currencies and the coveted iPhone 12 Pro are entirely out of reach as well. 
Conclusion 
Wood Block Master is not a real money-making app, as the payout will fail even if you meet all the requirements.
The Play Store is full of reviews from players who are deeply disappointed with the illusion they were led to believe. 
In short, it's best not to get your hopes up about winning real money through Wood Block Master or similar games with ridiculously high cash incentives. 
You should always be wary of too-good-to-be-true offers since they are either trying to exploit your wallet or time. 
Earn a Full-Time Income Online
Are you tired of the daily 9-5 grind and longing for a way to break free from the dreadful rat race? 
I know it sounds cliche, but it's actually possible to achieve a freedom lifestyle by building your own online business! 
With proper training, support and mindset, you can build a digital enterprise capable of providing the income and flexibility you crave. 
This excellent step-by-step program will empower you with the most effective strategies to succeed in the content marketing industry. 
It will help you stay on track and overcome any challenges along your journey. 
The business model consists of creating and sharing valuable content that ranks on Google and attracts visitors. 
As you build authority in your niche, you will be able to monetize your organic traffic through adverts and affiliate sales. 

Click here to learn more and start today! 
Final Words
Thanks for reading my Wood Block Master review. I hope this post opens your eyes to the harsh reality of money games and helps you avoid other mobile traps. 
If you have used this app, please share your experience with others in the comment section below! 
Peace!