Welcome to my Punk Tree review!
You've probably heard some pretty bold claims about Punk Tree and decided to download the game in hopes of making real money.
They promise that everyone who plays will get paid directly to their PayPal account, with no withdrawals required.
The commercials even show unrealistic earnings of hundreds of dollars and feature the PayPal logo that seems to legitimize their claims
After testing so many similar games, I can tell you the chances of it being real are about as likely as someone growing an actual money tree in their backyard. 
So, is Punk Tree the gold mine it appears to be, or is it just another fake money game?
Get ready to see Punk Tree for what it really is because, in this review, I will peel back its layers and expose the truth about this supposed cash cow.
Before leaving this page, don't forget to check out the step-by-step program that helped me build my online business and generate $2,000+ per month. No special skills are required! 
Punk Tree Review
Name: 

Punk Tree – Find Treasure

Developer:

 Selly Harper Alis

Availability:

 Worldwide

Price:

 Free (no in-app purchases)

Overall Rating: 0 stars
What is Punk Tree? 
Punk Tree is a money-tree simulation where you grow your tree and reap unrealistic cash rewards. 
Your job? Tap the tree to collect green dollars, and use the "power" feature to upgrade your tree and increase your earnings.
As you touch the money tree, PayPal cards will drop from it and trigger fantastic cash rewards that will be added to your wallet. 
Bonus awards vary from $10 to $500; you can withdraw the funds anytime!
Punk Tree also allows players to win incredible Apple products by collecting fragments in the Lucky Wheel.
How Does Punk Tree Work? 
Punk Tree is free for download from the Google Play Store and can be played without registration or limitations.
When you start the game, it will lure you into clicking the tree and then use the power button to upgrade.
Every tap will generate a specific number of banknotes, depending on the tree level. It starts at 0.5 per tap and grows by 0.25 every time you increase its power.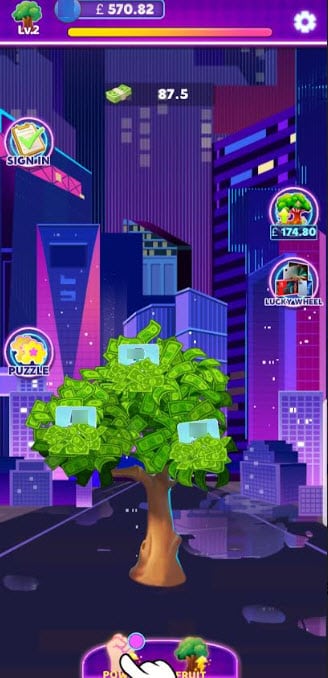 It should be noted that the value that accumulates when you tap the tree cannot be converted to PayPal money. This currency can only be used to upgrade the tree. 
The funds you are supposed to withdraw to your PayPal account accumulate only when PayPal cards drop from the tree. 

You must also tap the receive button that frequently activates unskippable commercials.
And as you probably know, the developer is getting paid for showing them to users as a condition for receiving virtual cash. 
It's essential to be cautious of the adverts that offer the opportunity to make money quickly or with little effort. 
Punk Tree partners with advertising companies that don't really care about how their customers promote their apps. 
Therefore, unaware individuals may fall for fraudulent offers that may lead to a waste of time and even money. 
Lucky Wheel
Punk Tree also features a Lucky Wheel where players can spin and collect fragments redeemable for excellent prizes. 
You can get an iPhone 13, iPad Pro, AirPods, and PlayStation if you reach 100 pieces. 
According to the activity rules, you must fill in your shipping information accurately to receive your prize. 
In addition, it says the company will confirm your redemption within 15 working days and deliver the product in several days. 
"Several days"? Really? 
Withdrawing Funds
 Punk Tree is unique among other money games since it allows people to withdraw cash anytime. At least, for the first payout! 
Usually, similar apps set a specific target to entice users to play for an extended period and watch many adverts. 

However, it should be noted there is a limit of 24 hours to collect virtual cash. 
After you submit your first payment request, Punk Tree allows you to withdraw even more money but only if you meet the requirements. 
"For instance, players must reach £704.10 in order to make a second withdrawal. The third withdrawal requires £5,520.50 and three log-ins.
Is Punk Tree Legit? Does it Pay? 
No, it doesn't! Punk Tree won't transfer any money to your Paypal account as stated on the cash out page. 

This reward platform is going viral! Cash out via PayPal, Visa, Gift Cards, and in-game currencies - Click here to find out how to generate an extra $10+ per day! 
I tried withdrawing over £400 and was told the order had been successfully activated.
However, they ask me to cash out now without providing any other button to proceed! 

I found some very concerning reviews on the Play Store from users who paid $4.99 to speed up the process. 
But sadly, Punk Tree only dragged the illusion further and never actually transferred the money to their accounts. 
Don't even bother contacting customer service because there is simply no money available on this game. 
The cash rewards only appear as useless pixels on your screen, just like the virtual money tree. 
Conclusion 
Punk Tree is a fake money game like countless idle, clicker, and puzzle games I reviewed in this blog. 
But there is a severe aggravation: it also lures players into paying a fee with the promise of speeding up the payment. That makes no sense! 
Many players are transferring their hard-earned money to this app with high hopes of receiving money that doesn't actually exist. 
Making players believe they can cash out their winnings is a big issue, leading to frustration and even anger! 
I highly advise you to avoid Punk Tree at all costs. 
Earn a Full-Time Income Online
Imagine waking up each day without the dread and anxiety of enduring a job you hate. 
You roll out of bed, prepare your coffee and decide when it's the best time to put in the work from the comfort of your home.
Then, you open your laptop, log into your online business, and check how much passive income you made while you were sleeping. 
Thanks to this excellent step-by-step program, I was able to grow a lucrative site and create multiple streams of income.
No more relying on an employer to put food on the table. No more feeling stuck in a dead-end job that drains your energy and soul. 
Why not take your first steps to achieve time and location freedom? Click here to learn more! 
Final Words
Thanks for reading my Punk Tree review. 
I hope this post has helped you see the pitfalls of money games and avoid falling prey to other similar traps.
 If you have had any experiences with this app, please share them with our thousands of readers in the comments section below.
Peace!