Welcome to my Playtime review!
Have you ever downloaded a reward app that promised to pay you for playing games, only to discover it was completely fake? 
Sadly, this is a common occurrence on the Play Store, which is why you should always do your own research before investing your time. 
Playtime is another free application that claims to reward users for completing game offers. 
With a high rating on the Play Store and the promise of unlimited cashouts, it sounds like a decent opportunity. 
But before you get too excited and touch the download button, read on to find out if Playtime is worth your time and effort. 
Is it worth your time and effort, or should you search for an alternative? Is it even legit? Let's find out!
Before you leave this page, don't miss out on the step-by-step program that helped me to generate $2,000+ each month and quit my job in 2019.
Playtime Review
Name: 

Playtime – Earn Money Playing

Developer:

 The Spotlight

Availability:

 Worldwide

Price:

 Free (no in-app purchases)

Payout threshold: 

$2

Overall Rating: 0 stars
What is Playtime?
Playtime is an Android app that allows users to earn money by playing sponsored games on their smartphone or tablet.
The app has been installed 500k times and rated 4.3 on the Play Store, which is impressive. However, this is not a definite statement of its reliability and overall user satisfaction. 
By playing installing and playing these games, you'll earn coins that can be redeemed for real money via PayPal, Amazon, and Google Play gift cards. 
There are plenty of similar applications that track the user's playtime and reward them based on the time spent on each game. Some popular options include JustPlay, Mistplay, and Cash em' All. Here is my JustPlay review! 
How Does Playtime Work? 
Like its competitors, Playtime generates revenue by partnering directly or indirectly with game developers. 
When someone plays a sponsored game, the app receives a fee from the gaming or advertising company.
It's important to note the app collects information about your installed apps to provide game recommendations based on your interests. 
Upon launching the app, you will be asked to provide your age and gender. 
Then, you will receive 3600 coins as a welcome gift. 
Considering you will need 10,999 coins to withdraw the first £5, then 3600 coins are worth £5 * 3600 coins / 10999 coins = £1.32.

How to Collect Coins? 
Playtime will show you a list of games tailored to your interests on their platform. 
It states the number of coins you are supposed to collect per minute of gameplay and an estimate of how long you need to play to redeem £5. 
Choose a game and click the "play and earn" button. But before you can play get started, you must first grant usage permission so that Playtime can track your gameplay.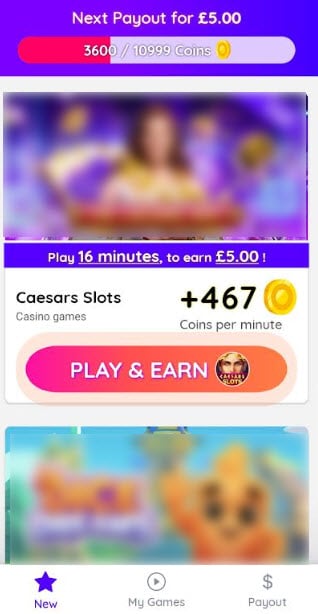 The app will then redirect you to the Play Store, where you can install the game. 
Remember that the game must be opened through the Playtime app instead of your standard Android screen. 
Otherwise, the company will be unable to track the time you spent playing a game and will not credit your account with coins. 
Now, enjoy the game while coins accumulate in your account and make all of your wildest dreams come true!
Just kidding. Of course, it takes time to earn enough to cash out, but it adds up over time. 
How do You Cash Out? 
To exchange your coins for real cash rewards, follow these steps:
Open the Playtime app and go to the "Payout" section.

Ensure that you have reached the required minimum cashout amount for your chosen payment method, which is £2 for Amazon gift cards, £5 for Google Play, and £20 for PayPal.

Select your desired payout method: PayPal, Amazon, or Google Play.

Enter your account information and follow the prompts to submit your payment request. 

Sit back and wait for your rewards, which may arrive in just a couple of minutes. 
Is Playtime Legit? Does it Pay? 
Based on my experience and many reviews on Google Play, Playtime is legitimate and does pay out! 

Reaching the minimum cashout requirement and receiving the payment doesn't take too long. However, some users have reported having a negative experience with collecting rewards.
One user eagerly awaited his payment after accumulating enough coins to cash out $20.
But as the days went by, his withdrawal status remained stuck on "processing," and attempts to reach out to the developer for help yielded no response.
From what I can see, issues are more likely to occur after the first or second payout! 
For example, one player reported that she initially had a great experience with Playtime, as it paid out quickly. 
However, after using the app for about a month, all payouts were pending forever, with no updates and no way to contact anyone for assistance.

This reward platform is going viral! Cash out via PayPal, Visa, Gift Cards, and in-game currencies - Click here to find out how to generate an extra $10+ per day! 
It appears that the application will become a source of disappointment for many people sooner or later. 
It is also important to address that the Playtime app does not provide the terms of service. This can be a red flag and a cause for concern.

Think of the TOS as a contract that outlines the rights and responsibilities. Without it, you're just hoping for the best – and we all know how that usually goes!
Check out my top reward apps for gamers! 
Conclusion 
Playtime is a decent app for earning some extra cash by playing games, but don't expect any miracles! 
You'll probably end up with a few extra dollars in your pocket, something you could have achieved by working just 1 hour extra on your job. 
Although Playtime is a legit application, be prepared for the possibility of not being able to cash out. 
Most users will have a positive experience and be able to receive the money successfully. Sure, you might get paid your first $5 or $10, but don't be surprised if you run into roadblocks later on! 
Also, don't expect any customer service because they seem to be about as responsive as a sloth on Valium.
But hey, at least the games are rather fun, right?
So, give Playtime a shot if you're feeling lucky or don't mind the risk! 
Earn a Full-Time Income Online
If you are sick and tired of the 9-5 grind? Then, consider the endless possibilities to make money online as a content marketer!
For example, by creating your own site, you can reach a global audience and generate income through advertisement and affiliate marketing. 
Alternatively, YouTube is an incredible tool for sharing your helpful content and monetizing your views! 
Keep in mind that success doesn't happen overnight, as growing a profitable online business requires dedication and time to mature. 
But let's be real, who doesn't want to be their own boss and make money from anywhere in the world? 
This great step-by-step program will guide you and help you attract a massive audience while avoiding costly trial and error! 
Final Words
Thank you for taking the time to read my Playtime review! I hope it was eye-opening and enjoyable! 
Why not inspire someone else with your words? Please don't be shy; leave your honest review and let us know what you think about this reward app! 
Peace!