Welcome to my Fruit Tycoon review! 
Are you tired of being misled by fake money-making games in the Play Store? Then, buckle up because I've got another one for you to consider: Fruit Tycoon.
Before you roll your eyes and click away, please hear me out, as this post may save you from big disappointment. 
I was mindlessly passing the time on Facebook when I suddenly stumbled across an attractive banner. 
It advertised the opportunity to earn real money, a whopping $1000, just by playing a game called Fruit Tycoon. 
I couldn't resist the temptation and installed the app, but not because I expected to make real money. Instead, I wanted to help as many people as possible to find the truth behind it! 
RECOMMENDED: Check out the step-by-step program that helped me build an online business and generate $2,000+ per month. No special skills are required! 
Fruit Tycoon App Review
Name: 

Fruit Tycoon

Developer:

 fruittycoon

Eligibility: 

Worldwide

Payout threshold: 

$2

Overall rating: 0
What is Fruit Tycoon?
Fruit Tycoon is an addictive game that will have you dropping and combining fruits for the opportunity to withdraw real money. 

This reward platform is going viral! Cash out via PayPal, Visa, Gift Cards, and in-game currencies - Click here to find out how to generate an extra $10+ per day! 
When you combine two identical fruits, they will merge into bigger fruit. Well, hardly groundbreaking stuff, right? 
No, but the only reason anyone would even consider downloading this app is obviously for the eye-catching rewards.
So, who cares if it's a copy and paste of games like Merge Fruit and Fruit Synthesis? Here is my Merge fruit review! 
With Fruit Tycoon, you can supposedly cash out through PayPal, Amazon gift cards, Visa, and more once you've accumulated enough dollars in your wallet. 
Although the app has been installed over 100k times, it's still in Early Access, which prevents users from leaving reviews on the Play Store. 
You may wonder why Fruit Tycoon is still an early-access app, despite being installed over 100,000 times on Google Play.
Could it be the developers are still ironing out the kinks? Or… maybe they don't want users to criticize and expose the game for what it truly is? 
How Does Fruit Tycoon Work? 
Fruit Tycoon is accessible on the Play Store and works on any Android device. 

If you have already installed the app, I have a question for you: Have you noticed that the game doesn't require registration?
I know what you're thinking – this is awesome! No annoying forms to fill out or personal information to disclose. 
But think bout it. Isn't it quite suspicious that a game that pays to play doesn't require any kind of verification? 
So, how do they know that you're a real person and not a robot trying to exploit the system through multiple fake accounts? 
Either they have a very advanced verification system or just care about making money for themselves. 
How to Collect Virtual Cash? 
It's as simple as counting 1, 2, 3.
Swipe left or right and drop the fruit to make it fall vertically downward.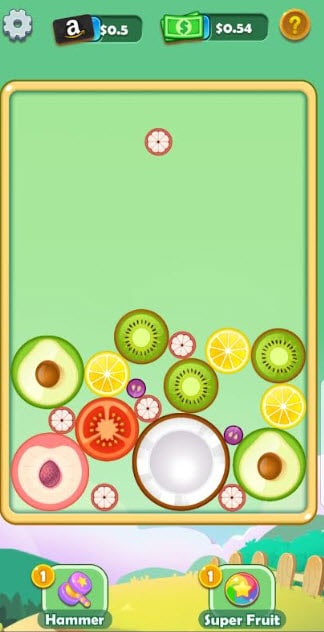 The goal is to combine two of the same fruit into one bigger one, allowing you to level up and earn cash rewards.
Every merge will immediately add 1 cent to your balance. 
Whenever you unlock a new fruit, you will receive a level-up bonus of over $0.10. 
What's better, you will get a little boost to your earnings by tapping the "claim" button and watching a commercial until the end. 
Plus, you will get an even bigger prize after creating a giant watermelon, the last fruit from the bucket. 

From time to time, Fruit Tycoon will give you a chance to spin the fortune wheel and collect more cash prizes. But, of course, you need to watch a video to spin! 
Withdrawing Funds
The minimum withdrawal amount for Amazon gift cards is $2, and $5 for PayPal, Dana, Boleto, Visa, and PhonePe. 
According to the cash-out rules, a service fee will be charged when withdrawing the funds, depending on your country or region. 
Is Fruit Tycoon Legit? Does it Pay? 
No, it doesn't! Fruit Tycoon is just another fake money game designed to fill the developers' pockets. 
Despite its low, more realistic payout amount, cash prizes are nothing but pixels on your screen. 
You will be bombarded with advertisements and waste a lot of time to be able to cash out. 
And while we're busy watching endless videos in hopes of making a few extra bucks, the developer is raking in the real cash from all those advertisers. 
That's the classic bait-and-switch tactic used by all fake money applications! 

It goes like this: Entice an audience with the opportunity to win a ton of money by downloading and playing a fun game. 
Then, create a system where players have to watch many videos and play for hours before being able to transfer the money. 
Just when you think you're about to cash out on Fruit Tycoon, a new requirement pops up out of nowhere, asking you to view more videos to activate the order. 
Since no guarantees are made, the user is dragged into an endless cycle of deception. 
With Fruit Tycoon, it's slightly different, but the outcome is the same: no money!
After reaching $5, the game will encourage you to enter your email address only to put a roadblock on your path. 
It claims that since there are a lot of withdrawals now, you need to queue up. There are over 13,400 players in front of you, and the ranking is refreshed every minute. 
Of course, this is a lame excuse, as the developer expects you to play for even longer without paying you a single penny! 
Conclusion 
If you're thinking of installing Fruit Tycoon, remember: the only person making real money off this game is the developer.
You'll be left to rot in a fake queue and never get compensated for your time. 
It's best to avoid fake money games like Fruit Tycoon and focus on proper ways to make money online, such as content marketing. 
One smart strategy is to start a blog, rank articles on google, and monetize the audience through advertising or affiliate sales. 
If you want to go down this route as I did, check out this step-by-step program. It will help you achieve your entrepreneurial goals and build multiple income streams from your laptop! 
Final Words
Thank you for taking the time to read my Fruit Tycoon review. I hope it was eye-opening! 
Kindly share your thoughts about the game in the comment box below. 
Peace!