Welcome to my PlayWard review!
There has been a significant rise in applications that incentivize users to play games and install apps.
An advertisement led me to discover another option for gamers called PlayWard.
The video didn't try to persuade the audience with unrealistic cash prizes like countless bad apples on the Play Store.
Instead, it focused on the excellent opportunity to earn extra cash in my spare time by having fun with games.
Although PlayWard operates similarly to its legit competitors, there are a few red flags that I would like to discuss in this review.
No one wants to use ineffective platforms that only prey on our desire for easy cash!
So, is PlayWard legit or fake? Does the company transfer the money to your PayPal account, or is it a waste of time?
Let's find out!
Before you leave this page, don't miss out on the step-by-step program that helped me to generate $2,000+ each month and quit my job in 2019.
PlayWard Review 
Name: 

PlayWard

Developer: 

Fitness Dev Team

Availability:

 Worldwide

Price:

 Free

Payout threshold:

 $100

Overall Rating: 0 stars
What is PlayWard? 
PlayWard is an Android application where you can try sponsored apps and earn coins redeemable for cash.
Available offers may include games, VPN services, anti-virus, social media platforms like TikTok, and more!
By completing their offers, you will collect coins valued at 0.01 each, and you will be able to withdraw via PayPal once you meet the requirement.
What worries me about PlayWard is that the developer, Fitness Dev Team, is the one behind money games like Lucky Knife 2, Easy Bridge, Sunny Kitten, and a few others!
All of these games have received a ton of complaints for not living up to their advertised payouts.
Another red Flag about PlayWard is the "Early Access" classification, which prevents users from publishing honest reviews on the Play Store.
How Does PlayWard Work? 
Installation and Registration
PlayWard is available for download on the Play Store for all Android devices.
Upon launching the app for the first time, you will see a pop-up window asking you to allow user access.
This is required so that the company can access the usage stats of your apps and track the time you play.

Otherwise, you cannot collect the reward since they give you coins based on playtime.
Simply click "Allow," toggle on "allow usage tracking," and you are good to go!
After that, you will receive a login bonus of 10 coins, equivalent to 0.10 USD.
You don't need to create an account to access the platform and collect your welcome gift.
This is another red flag since all legit apps like Cash Cow and Justplay have a login system to protect against fraudulent behavior.
Well, that's not the case with PlayWard, which doesn't even care about fake accounts exploiting the app!
Collecting Coins
Finally, you can access the list of offers stating the maximum number of coins you can get for each game or app.
Just tap "Play and Earn" and install the application directly from the Play Store.
Ensure to access the application via the "My Apps" tab so that PlayWards can adequately track your playtime and give you the correct coin reward.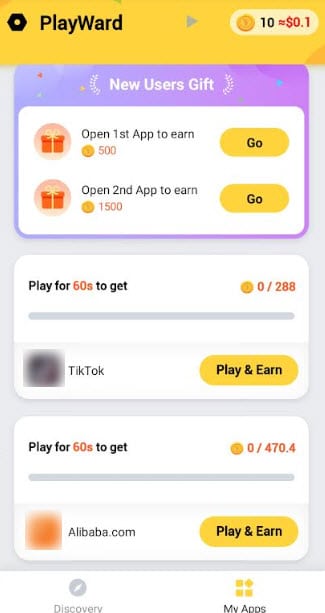 Your geographic location largely determines the availability of offers.
Therefore, residents of countries with large marketing budgets, like the US, Canada, and the UK, tend to receive more opportunities.
To my dismay, the only two choices for earning coins here in the UK were TikTok and Alibaba.

Completing both of these offers would pay me a total of 830 coins worth $8.30.
That would be great if there were enough opportunities to reach the payout threshold and get paid!
Withdraw Funds
New users must achieve a minimum amount of $100 to cash out via PayPal.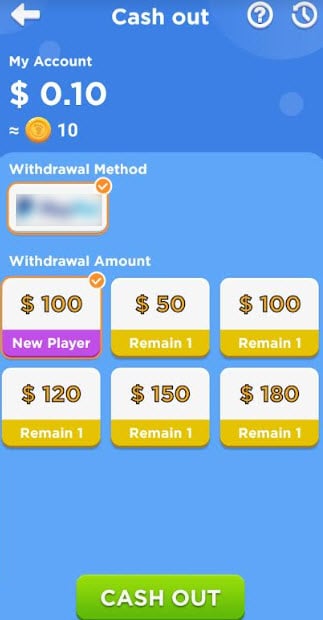 If you are lucky and brave enough to hit the target, select the new player option and press the cash-out button.

This reward platform is going viral! Cash out via PayPal, Visa, Gift Cards, and in-game currencies - Click here to find out how to generate an extra $10+ per day! 
Then, you are supposed to submit your email address associated with your PayPal account to receive the funds.

Is PlayWard Legit? Does it Pay?
No, it doesn't! I am confident you will never see a dime for completing those activities on PlayWard.
As mentioned above, there are a few strong reasons to suspect this is another fake money-making application.
However, the most crucial factor to consider is the fact that you will need $100 to be able to cash out.
This is such a ridiculously high payout threshold, especially considering a lack of offers even to reach 10% of the requirement.
The question is: What guarantees do you have that PlayWard will offer sufficient opportunities to reach $100?
I have seen many platforms that intentionally stop giving tasks to hinder the member's progress and make them give up. 
The result? The company boosts profits as the money supposed to pay members stays in their bank. 
Now, I am not saying PlayWard is using this tactic because I have no proof. However, it's a possibility considering the high payout threshold is unjustified. 
To make matters worse, people can't find out what's happening with other users as the review section is blocked. 
Conclusion 
There is little hope for people who install PlayWard with the expectation of making $100. 
That's because the application clearly doesn't want to pay users until they have completed plenty of offers! 
If only there were enough of them to ensure we had the opportunity to reach the target!
Unfortunately, I found just two app offers that don't even amount to $10 once fully completed. 
Why use PlayWarn when there are many reputable gpt sites with a wealth of tasks and much lower cash-out criteria? 
For example, Prizerebel connects users with seven Offer Walls, giving you endless opportunities to make money online! 
The good news is that you can cash out once you accumulate 5000 coins, which amounts to just $5.
Therefore, it never takes too long to cash out via PayPal and several other gift cards! Learn more about Prizerebel here! 
Earn a Full-Time Income Online
If you are searching for a robust income capable of covering your living expenses, starting an online business can be your ideal option!
Many people start small and work in their spare time until they can eventually quit their jobs!
So, how can you get started? Well, there are many options, but I decided to focus on growing this website, which works as the foundation of my business. 
I had no previous experience, but this step-by-step program helped me set everything up and attract a large audience to this site.

Success won't happen overnight, but if you dedicate just a little each day, you can achieve remarkable results!
Launch your commission-generating website today! Click here to learn more! 
Final Words
Thanks for taking the time to read my PlayWard review. I hope it was helpful! 
If you want to share your thoughts about this reward app, leave us a comment below.
Peace!