Welcome to my Game Tester review!
Would you like to turn your passion for gaming into real cash rewards? 
The way the developer promotes his app implies that our job is to test and offer feedback about mobile games. 
However, this is not how you make money with Game Tester, which is not interested in your opinions. 
It's much easier because all you have to do is download the games and have fun! 
As soon as I launched Game Tester on my Android, it felt like déjà vu!
That's because I've already reviewed numerous comparable applications, including one named Playtime, which is identical. Here is my Playtime review! 
With so many options to monetize your gameplay, you are probably wondering if Game Tester is a decent one. 
Is it legit or a fake clone? Does it pay? Let's find out!
Before you leave this page, don't miss out on the step-by-step program that helped me to generate $2,000+ each month and quit my job in 2019.
Game Tester Review

This reward platform is going viral! Cash out via PayPal, Visa, Gift Cards, and in-game currencies - Click here to find out how to generate an extra $10+ per day! 
Name: 

Game Tester – Play & Earn

Developer:

 GameTester

Availability:

 Worldwide

Price:

 Free (no in-app purchases)

Payout threshold: 

$5

Overall Rating: 3 stars
What is Game Tester?
Game Tester is an Android application that rewards you for playing sponsored games. 
The app provides a convenient way to earn extra income wherever you can use your phone.
Of course, that doesn't include your classroom or job premises, unless you are on your well-deserved break! 
Like similar apps, Game Tester will track your playtime and award coins based on your commitment. 
So, the more you play, the more coins you will earn, although the earning rate diminishes over time. More on that later. 
The app has reached the 50k installation mark and was rated 4.1 stars on the Play Store. Considering the reviews look genuine, this seems like a promising app! 
How Does Game Tester Work? 

Game Tester is available for download on the Play Store for any Android device. 
After launching the app, you will see a welcome page saying Game Tester recommends games you will love. 
Oh, that's sweet! 
Following this message, Game Tester says it will collect information about your installed apps to recommend apps you have yet to try. 
This is required so the company can reward only new users, as well as prevent abuse.
For example, some people will try to make money off the same offer multiple times, which is not allowed. 
After clicking "Agree," they will ask your gender and age to provide offers based on your interests. 
You will then receive a welcome gift of 3600 coins, giving you a head start toward the minimum cashout requirement (10,999 coins). 
Collecting Coins
Game Tester's user-friendly dashboard lists all the sponsored game and app offers. 
Additionally, each option is accompanied by a "Play & Earn" button and the number of coins per minute you will supposedly earn by using the app.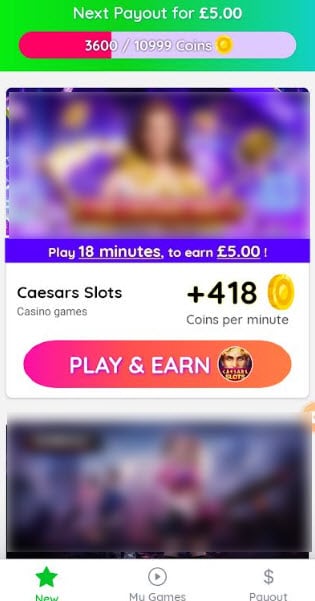 To start earning coins, you must first allow usage tracking so that Game Tester can monitor your Playtime. 
Then, you will be redirected to the Play Store so you can install the application. 

However, it's important to know that Game Tester will only award coins if you open the app through the "My Games" tab. 
This is the only way for the company to record your Playtime accurately. 
It's worth noting that the coin-per-minute figure is inaccurate as it doesn't reflect the right number of coins you will earn over time. 
That's because they reduce the earning rate drastically as you keep playing the same game! 
For example, if one game pays 280 coins per minute, eventually, you may have to play it for over 10 minutes to collect the same amount. 
I was initially disappointed with the limited number of offers here in the UK. However, I discovered that it would only display five games at a time. 
How Do You Get Paid? 
A progress bar on the dashboard shows how close you are to attain your goal of 10,999 coins.
That's the minimum amount required for a payout, which can be redeemed for £5 via Google Play or Amazon gift cards. 
Unfortunately, Game Tester has no other withdrawal method, such as PayPal or Visa. 

Is Game Tester Legit? Does it Pay? 
Yes, Game Tester is 100% legit, and it does payout! 
Although it may take some time to accumulate the coins required to redeem a gift card, it is a decent reward app for gamers! 
Upon checking the reviews on the Play Store, I notice lots of credible positive feedback regarding payouts. 
One user claimed a £10 Amazon gift card within just a few days of using Game Tester and received the reward confirmation shortly after claiming it.
Another user confirmed the app is legitimate as he earned $20 within two days. However, he rated it three stars because it does not always award coins for playing. 
Furthermore, the same person claimed the earnings slow down as you get closer to the $20 threshold. 
Kathy left a review on the Play Store, wondering how others are making $5-10 in one day. In her experience, it's taking forever to reach $5 and cash out! 
Conclusion 
Game Tester is a legitimate application backed by numerous satisfied users who have reported successful payouts. 
However, mixed feelings about this app make it a hit-and-miss opportunity! 
What I learned from these types of apps is that just because you had a positive experience on your first cash out, it doesn't mean you will be able to replicate that forever. 
Eventually, earnings will drop, payouts may fail, and you will get disappointed. 
Unfortunately, there is no way to contact the developer in case something goes wrong.
Besides, the app lacks the Terms of Use documentation, which means there is a lack of transparency on how the reward system works. 
Overall, Game Tester is an okay app for those who play to earn a little extra cash, but with significant limitations. 
Earn a Full-Time Income Online
Are you tired of spending countless hours on reward apps that deliver little to nothing?
Well, I advise you to build a content-based business that gives you passive income. In other words, FREEDOM.
 Click here for step-by-step training! 
Picture yourself working from a laptop with total flexibility to do the things you love! 
When it comes to money, that has always been my top priority because I just could not wait until retirement to enjoy life. 
So, I started this website that helped me attract an online audience and make life-changing commissions. 

If you want to learn how to succeed in this industry from scratch, check out my #1 recommendation! 
Final Words
Thanks for reading my Game Tester review! If you would like to share thoughts about this app or ask any questions, feel free to use the comment box below.
Peace!