Welcome to my Cashnovel review!
Hey, book lovers! Have you heard about Cashnovel and its treasure trove of over 10,000 free novels?
This Android app provides a vast library of books in different categories, such as romance, mystery, and fantasy. 
But most people are installing it because of the fantastic opportunity to earn easy money! 
Cashnovel claims to pay you hundreds of dollars for browsing book pages on your mobile device. 
With a high level of skepticism, we're on a mission to expose this application to save people's time and headaches. 
So will Cashnovel transfer $100 to your PayPal account once you press the cash-out button? 
Let's find out! 
Before leaving this post, check out the step-by-step program that helped me build an affiliate site and quit my job in 2019. It's free to join, and you don't need any previous experience.
Cashnovel Review
Name:

Cashnovel – Enjoy Reading Easily

Developer: 

joyread

Availability:

 Worldwide

Price:

 Free

Payout threshold:

$100

Overall Rating: 0 stars

This reward platform is going viral! Cash out via PayPal, Visa, Gift Cards, and in-game currencies - Click here to find out how to generate an extra $10+ per day! 
What is Cashnovel? 
Cashnovel is an app that opens doors to a massive library of books and novels, all for free on your Android device.
According to the app's description, Cashnovel features 10,000+ tiles in various genres, such as romance, fantasy, mystery, and suspense. 
In an attempt to attract much more than book lovers, the developer came up with an interesting concept:
Why not reward users for reading all these books and allow them to cash out after they reach $100?
Heck, reading has never been so lucrative!
To collect virtual dollars, users need to browse the pages and take a few moments to watch the sponsored videos. 
Cashnovel is not groundbreaking, as I have reviewed many similar money-making apps like Cashzine, HappyZine, and Cashstory! In fact, Cashstory is identical to Cashnovel! 
How Does Cashnovel Work? 

Cashnovel is a free app available worldwide on any Android device.
Before using the application, you must read and agree with the Privacy Policy and Terms of Use. 
Next, you will receive a welcome bonus of $10 just for clicking the "get more" button and watching the first commercial. How generous! 
The first red flag is that Cashnovel doesn't require registration.
That indicates the developer doesn't care about cheating or exploitation of their reward program. 
It's important to note you won't be able to cash out until you have $100 in your wallet. 
Such as a high payout threshold is a second major red flag since there are two possibilities:
Either the cash rewards are very unrealistic, allowing users to accumulate large sums of cash for simply reading books. 
Or, it will take ages to collect the required amount, leading users to throw in the towel. Unfortunately, that's the case with Cashnovel! 
To collect coins, the first step is to choose any book from the list and tap the "Read now" button.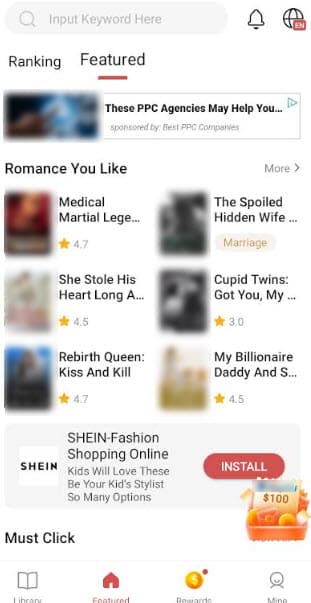 Once the ebook is open, a countdown clock will start ticking from one minute.
Unless you proceed to the next page, the timer will stop after a few seconds. So, you must be actively swapping your phone from time to time! 
After the countdown ends, a gift icon will become visible, allowing you to initiate the commercial and receive coins. 

You will get 100 coins with the chance to double this amount by tapping "Get more" and watching another video. 
Collecting More Coins
Cashnovel provides many other different ways to collect coins and virtual dollars. 
The first option on the dashboard is the message to invite friends to earn cash. 
It claims you will get 100,000 coins worth $10 for every new friend you invite to Cashnovel. 
So, how do you invite friends? Click the button to share your invitation link and select any friends on WhatsApp, Messenger, or other social media. 
Once the person downloads the app through your link and enters your invitation code, you will get your first 8000 coins. 
There are extra coin rewards once your friends achieve milestones! 
Cashnovel also allows you to play games and complete offers in exchange for extra coins. 
Converting Coins to Cash
To convert coins to cash in Cashnovel, the first step is to collect at least 1000 coins. You cannot exchange lower amounts! 

Then, open your coin balance, click the "Exchange," and voila! 
Pretty easy, right? The problem is that you will need at least $100 to withdraw the funds to PayPal. 
If you are brave enough to reach this amount, open the "Cash Wallet and press "cash out." 
Is Cashnovel Legit? Does it Pay?
No, it doesn't! Cashnovel is operating a fake money-making app where coins and virtual currency are worthless! 
Users manage to reach $100 after reading books for many weeks. 
However, when they attempt to cash out, they are instructed to watch 30 videos to speed up the process.
Unfortunately, this is only the tip of the iceberg as Cashnovel will demand more, 50 videos followed by 80 and even 120 videos!
It never ends, which is insane! 
They are making thousands of people watch endless videos to maximize profits for the developer without paying a dime. 
Don't be fooled, as you won't receive any money from Cashnovel! 
Conclusion 
Cashnovel attracts people with the promise to pay real money for reading books and completing other tasks. 
However, this is another fake money app designed to hook players into an endless cycle of video requirements. 
Sadly, many users will only realize this after wasting weeks or months on this app.
So, I advise you to steer away from Cashnovel unless you enjoy their library books. 
Here are two legit apps that pay for reading:
Earn a Full-Time Income Online
Why settle for a few pennies using mediocre applications that will never change your life? 
With so many great opportunities to earn money online, the internet offers everyone a gateway for freedom! 
The best strategy for most people is to become content creators! 
That's how you can tap into unlimited cash by attracting people all over the world with your content. 
So, let me show how I created an online asset that covers my expensive living expenses in London. 

I created this website by following this excellent step-by-step training! 
With their effective recommendations and guidance, I was able to attract over 3,000 visitors per day and generate a consistent income for many years!
The website is the foundation of my business, which pays me passive income every month! 
If you want to learn more about this program, check out my full review here! 
Final Words
Thanks for reading my Cashnovel review! If you want to share thoughts about this app or ask any questions, feel free to use the comment box below.
Peace!