Welcome to my FotoArt review!
Artificial intelligence is revolutionizing the way we enhance our photos and turn them into a piece of art!
People can look like Hollywood stars with a single touch on your screen!
There is a growing number of AI photo enhancers, and some developers already see the potential to exploit this concept.
One of the recent releases on the Play Store is FotoArt, which entices users with more than an editing service.
Yep! I am talking about that magic word: MONEY!
The developer is promoting the app as an opportunity to earn cash just by using the AI photo editor.
One of the commercials is full of PayPal logos and a cash balance growing at the speed of light.
They make it seems like you will earn hundreds of dollars in a short period, as if AI could make you filthy rich!
Considering the unrealistic nature of this offer, you are probably wondering if FotoArt is fake. Does it really pay? Let's find out!
Before leaving this post, check out the step-by-step program that helped me build an affiliate site and quit my job in 2019. It's free to join, and you don't need any previous experience.

This reward platform is going viral! Cash out via PayPal, Visa, Gift Cards, and in-game currencies - Click here to find out how to generate an extra $10+ per day! 
FotoArt Review
Name:

 FotoArt – AI Photo Enhancer 

Developer: 

SteamLand LLC.

Availability:

 Worldwide

Price:

 Free

Payout threshold:

 $500

Overall Rating: 0 stars
What is FotoArt? 
FotoArt is an AI-powered photo editing app that allows users to make money while enhancing their photos.
The application allows you to turn selfies into cartoons, remove blur, colorize even generate AI illustrations based on your input.
But it doesn't stop here. Apart from its powerful AI capabilities, FotoArt supposedly rewards users for watching videos.
Folks, I am talking about hundreds of dollars in less than 30 minutes, which is insane!
As of writing this review, FotoArt has been installed 10k times.
Despite this, they still classify it as "Early Access," preventing users from leaving their honest reviews on the Play Store.

How Does FotoArt Work? 
After installing it from Google Play Store, I was excited to start my journey with FotoArt.
Upon loading the app, it sent me straight to the cash-out page with all the withdrawal methods, including PayPal and Gift cards.
Next, it gave me 2000 and encouraged me to collect another 3000 coins to cash out $500! 
Finally, I landed on FotoArt's dashboard with all its AI-based photo enhancement features.
Colorize:

 bring black and white photos to life with vibrant colors.

Cartoon Selfie: 

transform your picture into a cartoon-style illustration.

BG Remove: 

Remove and replace the background of a photograph.

From Blur to Clarity: 

increase the sharpness of your photos.

AI Illustration: 

Create an illustration with AI by entering a text or image.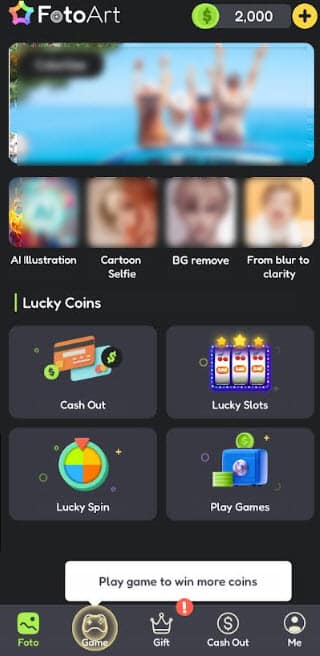 Great! I decided to try the cartoon selfie and upload my image.
But to my disappointment, the image comes with a watermark from a Hong Kong-based platform called coutout.pro.
Besides, when I tres again, FotoArt blocked my attempt with this message: "You are out of trial limit. Please sign up or log in to continue."
That's when I realized I would have to create an account with Coutout.pro and that FotoArt is not the provider of this AI service. 
Instead, the developer only directs people to the third-party AI enhancer platform inside their application.
How to Earn Coins? 
Most people are only interested in making money with FotoArt, so they don't even bother using the AI service.
That's because you will get coins just by clicking the progress bar at the bottom of the screen.

Once you touch the bar, it will immediately trigger the reward with the "Double" button and "claim" link.
It follows the same concept as PicMix and many other ludicrous reward apps.
Tapping the button will double your winnings, but only after watching the commercial.
Withdrawing Funds
Once you have accumulated 5000 coins ($500), enter the "Cash out" page and select the withdrawal method.
Five cash-out options are available: PayPal, Amazon, Cash App, Google Play, and Steam gift cards.
According to the app's instructions, FotoArt will process your application within 3 – 5 business days.
Is FotoArt Legit? Does it Pay? 
No, it doesn't! FotoArt does not reward users who reach the target amount and try to cash out.
Therefore, the cashout page inside the app is entirely fake, as the user has no chance of receiving the advertised cash prize.

After meeting the payout threshold and proceeding to cashout, you will be prompted to enter your account detail.
Next, they congratulate you by saying you can get $500 in 3 days.
"This order has been successfully submitted, and your money will be transferred to your PayPal account in 72 hours."
Oh, thank you very much! So, should I suppose to sit back and relax?
Oh no!
"You must watch 30 videos to activate the order. Or you can activate the order immediately by paying the £0.69 fee! "
WHAT? 
Is it for real? Are they really asking users to pay a few pennies to receive $500?
Why not deduct the fee from the prize instead of asking us to pay it from our wallet?
Well, you know the answer! They will get your money and won't transfer any money to your PayPal account. 
 Crazy, right? 
Unfortunately, hundreds of fake money-making apps use the same tactic to exploit users. 
Conclusion
Run away from FotoArt, as this is a useless application that doesn't even provide the AI-enhancing service proposed. 
Users are directed to the provider's website, where they have to create an account.
And, you need to pay for the service to have limited functionalities that works based on credits. 
But this is not the worst about FotoArt! Far from it! 
The app entices users with virtual currency and falsely claims they can cash out at $500. 
Once they reach the target, the developer asks people to pay the fee or watch 30 videos in a clear attempt to boost profits. 
My friend, don't fall for it, or you'll be left with wasted hours and minus £0.69 in your bank account. 
Earn a Full-Time Income Online
Tired of being stuck in a dead-end job with no time to do all the things you love, like traveling? 
I had the same feeling back in 2015 when I decided it was the right time for a big change! 
Let me introduce you to the world of internet marketing, the key that unlocked many opportunities for me! 

It allowed me to quit my job and set on a 3-year nomadic lifestyle around southeast Asia with my wife!
I mean, how could this be possible without an online business depositing 3 digits into my account every month? 
All I do is share helpful information on my site, attracting a horde of hungry minds looking for answers.
If you're ready to make a change, check out my recommended step-by-step program and start today! 
Final Words
Thanks for reading my FotoArt review. If you have questions, drop them to us in the comment box below! 
Peace!