Welcome to my PicMix review!
I have recently been exposed to many commercials for the PicMix app, suggesting users could make thousands of dollars. 
One of these adverts shows some boys and girls with a mobile phone and the following script:
How much have you won today? I made $100… and I made $1800! 
Try this app and win real money! There is no limit to withdrawing, and we will pay directly to your payment wallet! 
In another commercial, PixMix is advertised as an app where you can watch short videos for free and earn real money. 
There are a couple of Android apps called PicMix on the Play Store.
It's important to note the one I am exposing in this article is PixMix – AI Photo Lighting operated by easy puzzle game 2023. 
So, can you make real money with this app? Is it legit or fake? Let's find out! 
Before you leave this page, check out the step-by-step program that helped me to generate $2,000+ each month and quit my job in 2019.
PicMix App Review
Name:

PixMix – AI Photo Lighting

Developer: 

easy puzzle game 2023

Availability:

 Worldwide

Price:

 Free (no in-app purchases)

Minimum Payout:

 $500

Overall Rating: 0 stars
What Is 
PicMix? 
PicMix is an intriguing "reward" app disguised as a photo editor and short video application. 
What is strange about it is that the developer also advertises PicMix as a short video app that pays users real money. 
Oh, that's because you will watch short commercials to collect virtual currency redeemable for PayPal and gift cards. 
It reminds me of the recent viral app called TikTube, which also claims to pay hundreds of dollars once people meet simple requirements. Here is my TikTube review! 
There is a tab on PicMix where you may play various games, but you won't receive any prize for doing so.
Instead, you get virtual dollars when you tap the treasure chest and watch the clip. 
How Does PicMix Work? 
PicMix is available for download and use without fees and registration.
Once you open the application for the first time, you will receive a lucky user bonus of 1000 coins. 
Next, it shows you the cash-out page, where you choose the withdrawal method, such as PayPal, Amazon, Cash app, or Google Play. 

It takes 5000 coins to achieve the minimum payout of $500, which is obscene! 
Oddly enough, the app encourages users to play games and earn coins. But the truth is that games won't trigger any reward! 
Instead, you get coins when you tap the treasure chest at the top and watch the video until the end. 
PicMix dashboard immediately shows a page full of banners promoting different sites and other services. 
Above the page, you will find different tabs, such as Colorize, Cutout, and Cartoon. 
The colorize section is where you upload a black-and-white image and turn it into a vibrant and colorful picture.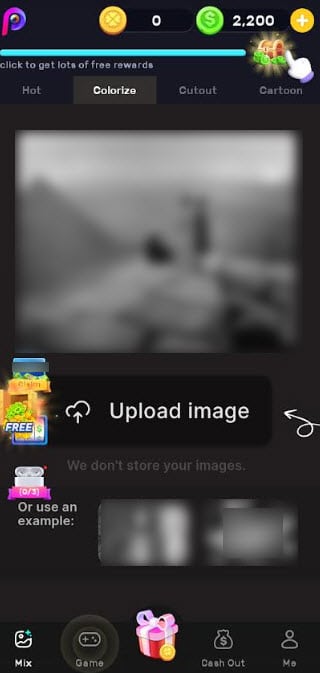 The cutout section allows you to perform simple changes to your pictures, such as resizing, blurring, adding shadows, and more.  
There is another tab where you can turn any photo into a cartoon. For example, some people like to take a selfie and "cartoonify" them to use on social media. 
To collect more coins, you can click the vault icon that is always floating on your screen. 
You can also tap the gift symbol in the center and complete offers in return for a large number of coins. 
Is PicMix Legit? Does it Pay? 
No, it doesn't! PicMix is not a real money-making app as they try to portray it on overhyped commercials. 
Surprisingly, it takes little time to reach 5000 coins despite the unrealistic cash reward of $500. 

You will then be asked to enter your accurate account detail, such as email, mobile number, or user account. 
After clicking "redeem," a popup appears with the message:
 "Congratulations! You can get $500 in 3 days. This order has been successfully submitted, and your money will be transferred to your PayPal account in 72 hours. 
Back to the cash-out page, it now states that the order may be activated instantly by paying the £0.69 fee. Otherwise, you have to view 30 videos!
What a joke! No one should ask you to pay a fee from your own pocket to process the payment. This is ridiculous, to say the least! 
So, what happens in case you watch the videos instead of opening your wallet? 

This reward platform is going viral! Cash out via PayPal, Visa, Gift Cards, and in-game currencies - Click here to find out how to generate an extra $10+ per day! 
It will update the page with the unsettling message:
The platform requires you to pay the transaction fee to complete the withdrawal. 

So, now you have to pay OR pay… Yep! There is no other option!
Please, folks, refrain from paying this fee because you won't receive any money from PicMix by any means. There is no chance! 
Conclusion 
PicMix uses a few basic photo editing features as a façade to operate an unrealistic cash-earning simulation. 
They lure you into watching countless videos and eventually ask you to pay a small fee to receive a big cash prize of $500. 
Many people bite the bait since they expect to recover the fee when their cash reward is transferred to their PayPal or Cash app account. 
But sadly, they will never see the money since PicMix is just another app that preys on the mirage of "quick money."
Don't fall for it because you will certainly be disappointed with all the time and money lost. 
Instead, focus on well-established strategies that work in the long term, such as content marketing.
You can earn thousands of dollars monthly by becoming a content creator like me and taking consistent action. Click here and learn the proper process step-by-step! 
Final Words
Thanks for reading my PicMix review!
Please leave us a message below and share your honest opinions on this app below! 
Peace!