Welcome to my Water Puzzle Captain review!
If you intend to download and play Water Puzzle Captain with high hopes of making money, you are in the right place. 
This Android puzzle game awards virtual dollars, which you can cash out once the $200 mark is achieved. 
There seems to be no limit on what developers can "promise" or "claim" in order to get your attention these days. 
There is no free lunch in a capitalist society. So, are the cash prizes real? 
Is Water Puzzle Captain legit or fake? Let's find out! 
Before you leave this page, check out the step-by-step program that helped me to generate $2,000+ each month and quit my job in 2019.
Water Puzzle Captain Review
Name: 

Water Puzzle Captain

Developer: 

Rebuild Go

Availability:

 Worldwide

Price:

 Free (no in-app purchases)

Minimum Payout:

 $200

Overall Rating: 0 stars
What Is Water Puzzle Captain? 
Water Puzzle Captain is an Android game where players solve liquid puzzles to collect hundreds of dollars. 
You will receive a few bottles with mixed water, which must be arranged until all bottles are filled with the same color liquid. 
Water Puzzle Captain provides brilliant gameplay for killing time and training your brain!
However, it's a clone of Water Master and is similar to many other games I have already tested. 
Despite being downloaded more than 500,000 times, the app has not yet been reviewed because it is still in Early Access.
This doesn't look good, considering they are not welcoming the player's opinions! 
How Does Water Puzzle Captain Work? 
Water Puzzle Captain is available on the Play Store for free and doesn't require registration. 
Your first move involves transferring a small quantity of green liquid to another glass tube to complete the first level. 
Believe it or not, the developer will award you $50 for this simple task, if we can even call it "a task."
On the second level, you will have to play with four bottles, which is relatively easy.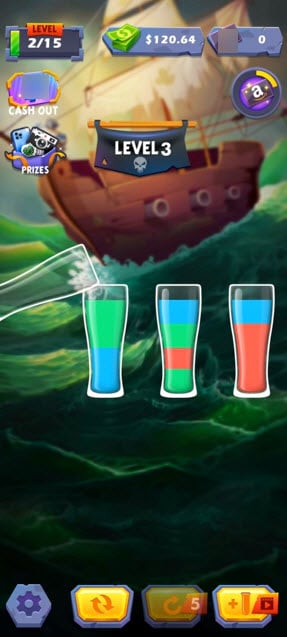 You must think strategically when transferring the liquid and make smart moves to complete the level.

Remember, you can always use the three tools at the bottom of the screen to help you out. 
For example, you can add an extra bottle or rearrange the colors! 
Water Puzzle Captain rewards you with a decent amount of cash whenever you complete the level.
However, they want something very special from you, which is your time. They will entice you to press the button and watch the 30-second video to claim the reward. 
Of course, this activity generates revenue for the developer through the number of views that each video gets. 
Bear in mind you can only cash out once you collect at least $200. Payment methods include PayPal, Line Pay, Worldpay, AliPay, and more. 
Earning More Prizes
Water Puzzle Captain will also give you Amazon virtual cards if you complete the level with a small number of moves. 
Despite carrying the Amazon logo, these items can be redeemed for any cash prizes once you collect 500 cards. 
Additionally, players can collect puzzle pieces to redeem for iPhone 13, a Sony camera, and more great prizes! 
Is Water Puzzle Captain Legit? Does it Pay? 
No, it doesn't! Instead, water Puzzle Captain operates like countless games using fake money incentives to boost their own profits. 
It doesn't take long for the player to reach $200 and rush to the cash out page. 

But after submitting your email or account information, you will be asked to pass level 15 within 7 days to approve the order. 
Plain and simple, these are empty words designed to lure the player into watching more videos.
 After all, "approving the order" doesn't mean transferring real money to your account.
Besides, there is no guarantee of payouts, meaning they can come up with additional steps only to ignore your request. 
And that's exactly what will happen after passing level 15! 
They will tell you your order is processing, but there are over 9000 people in front of you to get paid. 

This reward platform is going viral! Cash out via PayPal, Visa, Gift Cards, and in-game currencies - Click here to find out how to generate an extra $10+ per day! 
Your position in this imaginary "queue" is refreshed every minute, but eventually, it will get stuck in a random number, and you won't get paid. 

Conclusion 
Puzzle games like Water Puzzle Captain are nice, but only if cash incentives are not involved! 
Many people only downloaded this game because they believed the advert, which offered the opportunity to win something big. 
Unfortunately, you won't receive any money despite your efforts in completing levels and enduring tedious commercials. 
It's sad to see games being used as tools for massive profits at the expense of people's time. 
I wish more people would search for reviews before acting on impulse. That would save them so much time and headache! 
Verdict: AVOID
Earn A Full-Time Income Online
You can achieve a job-replacing income by creating and nurturing an online business! 
Millions of people all over the world not only decide to work from home but also be their own bosses. 
From my experience, this opportunity is incredible as it opens doors for freedom without having to be wealthy or retired. 
You can use different strategies, but the one I prefer is right before your eyes. I am talking about setting up a website and providing helpful content that ranks on Google. 
Then, you can generate revenue from the traffic (web visitors) it attracts! 
Interested? So, click here and learn step-by-step how to create a high-performance site that delivers results. 
Final Words
Thanks for visiting this blog and reading my Water Puzzle Captain review. 
If you would like to contribute to the discussion by sharing your thoughts, write them down in the comment section below. 
Peace!