Welcome to my Forest Slots review!
Thousands of people are rushing to the Play Store and downloading a free money game called Forest Slots. 
That is expected from an app that claims to pay immediately when players reach $1,000! 
All you have to do is spin the virtual 5-reel machine and enjoy hundreds of dollars being added to your account after watching a short video. 
The idea of making easy money through a mobile app appeals to people's deeper instincts, which seem to blind them.
Developers are experts at exploiting people's desires and using online systems that make them money. 
So, is Forest Slots legit or fake? Does it transfer real money to your PayPal account? Let's find out!
Before you leave this page, check out the step-by-step program that helped me to generate $2,000+ each month and quit my job in 2019.
Forest Slots Review 
Name: 

Forest Slots

Developer: 

Star World Studio

Availability:

 Worldwide

Type: Entertainment with no financial risk

Price:

 Free (no in-app purchases)

Minimum Payout:

 $1000

Overall Rating: 0 stars
What is Forest Slots?
Forest Slots is another Android slot simulation where you activate five reels to collect incredible cash rewards. 
You must touch the spin button and cross your finger to match the winning symbols on 20 pay lines.
It's very similar to Gold Mine Slots, Chili Chili Boom, Jackpot Boom, and many others! 
Depending on the combinations you get on the machine, you will collect coins or virtual dollars redeemable for real money. 
Believe it or not, cash rewards are only one of the attractions of Forest Slots.
It also features a reward section to collect puzzle pieces redeemable for MacBook Pro, Galaxy S20, Sony TV, and other expensive prizes. 
How Does Forest Slots Work? 
The app is free to download on Google Play and is accessible globally. 
Upon launching Forest Slots, you will be enticed to tap the spin button and start collecting rewards immediately! 
It should be noted that, unlike other reward applications, this one does not need registration. 
That means you could generate cash using multiple devices and become filthy rich in a matter of hours. But, of course, this all seems too good to be true! 
Forest Slots have 12 regular symbols that trigger a reward if three or more are lined up in sequence on a payline, beginning from the left corner. 

Wild can be used with any symbols on the reels to create winning combinations. 
When you align cash symbols, you will earn a random cash prize provided you tap the "claim" button and watch a video. 
This is usually a commercial promoting a money-making app!
And here's a word of caution: most are operated by foreign companies or individuals that don't pay a dime. 
In addition to virtual cash, you will collect coins you can exchange for Google Play, Playstation, Walmart, and other gift cards. 
Tap the exclamation point on the right side of the machine to get more information about the game's rules.
Forest Slots features other ways to collect rewards, such as treasure chests, super wheels, Piggy banks, and more! 
How do You Get Paid? 
According to the Super Starter activity, you can only cash out after the 24-hour countdown. 
However, you can withdraw the money immediately once you reach the magic $1,000! 
It feels like Déjà vu… or is it the fact that I have reviewed hundreds of games using the same tactic?
Is Forest Slots Legit? Does it Pay? 
No, it doesn't! Forest Slots entices you with thousands of dollars and make you jump through hoops for no money. 

Your virtual balance has no real currency value and will never be converted to actual money.
Once you reach $1,000 and enter your account ID, the developer will persuade you to win ten times and wait 24 hours to cash out.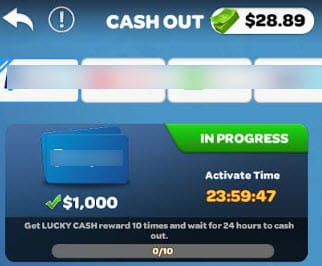 I discovered that other game versions ask players to spin 150 times! 
That means you will be tricked into watching more videos that are clearly lining the developer's pockets. 
But after spinning 150 times or winning ten times, they now want even more! Why not? 

This reward platform is going viral! Cash out via PayPal, Visa, Gift Cards, and in-game currencies - Click here to find out how to generate an extra $10+ per day! 
This time, they expect you to turn the lucky wheel 30 times in 18 hours as a condition for receiving the money. 
Once again, that's complete nonsense! 

Many people have published their reviews on the Play Store to expose Forest Slots and warn everyone they won't get paid. 
After investing so much time and energy, they will request more video views and leave you with nothing.
Conclusion 
Forest Slots is another clone of dozens, if not hundreds, of fake money games designed to profit from your time.
Please, realize that no free game can transfer so much money in exchange for your gameplay and video views. 
People usually fall for these apps because they offer high cash incentives for no effort.
Not only that, but these games are entirely free, which makes them incredibly appealing! 
Most people have yet to learn that they will be lured into watching countless videos, contributing to the growth of the app's revenue. 
Earn A Full-Time Income Online
If you want to make real money, it's essential to focus on well-established business models that align with your goals and lifestyle. 
For example, I realize that operating a website and writing content suits me best!
So, I created this site is started putting out articles and reviews that would attract visitors from Google. This is a terrific strategy that stood the test of time! 
If that sounds like something you are interested in, check out my top recommendation.
This excellent program will show you how to succeed at building a high-traffic blog and profit from affiliate marketing. 
That's the same model I use to work from home and generate revenue that pays for my expenses and trips around the world. 
Final Words
Thanks for reading my Forest Slots review. I hope it was informative! 
So, did you play this game? Did you experience the same mentioned here? Please, leave your honest opinions in the comment box below. 
Peace!