Welcome to my FunTime review!
I felt today was the perfect day to put FunTime to the test and see whether this reward app lives up to the hype!
This application has been installed over half a million times on the Play Store and claims to give you coins for every minute you play a game.
You can exchange them for PayPal cash or gift cards from popular retailers like Amazon, Steam, and PlayStation.
For many people, this is an innovative way to make money online.
However, this type of app has been around for many years, with popular names like JustPlay, Mistplay, and Cash'em All at the forefront. 
Most of these apps partner with a few monetization platforms that dominate the market: Adjoe and JustDice.
So, although different companies operate them, the income potential and games are the same. 
Is FunTime a decent legit option for people who want to get paid for playing games? How much money can you make? 
Let's find out!
Before you leave this page, check out the step-by-step program that helped me to generate $2,000+ a month and quit my job in 2019.

This reward platform is going viral! Cash out via PayPal, Visa, Gift Cards, and in-game currencies - Click here to find out how to generate an extra $10+ per day! 
FunTime Review
Name: 

FunTime

Developer:

 Wellson

Availability:

 Worldwide

Price:

 Free

Overall Rating: 3 out of 5
What is FunTime? 
FunTime is a reward app where you get free rewards for playing games you love. 
The plication is operated by Wellson and partnered with three advertising platforms to monetize your gameplay: Adjoe GmbH, InterServer, Inc, and AppsFlyer.  
Unfortunately, there is no information about the company or individual that owns Funtime. However, your data is collected and transferred to one of the three firms mentioned above. 
The only relevant details about FunTime are their website, email address, and Privacy Policy. 
The developer operates another similar reward app called GiftPlay, which boasts 500,000 installations on Google Play. 
How Does FunTime Work? 

On the Play Store, FunTime is free for download and accessible globally.
However, it's only designed for people in the US, UK, Canada, and Europe, which are countries with larger advertising budgets. 
Upon launching the application on your Android device, you must sign up with your email or Google Account. 
By logging in, you can save and restore your coins in case you delete the app or change your device. 
Click on "Play Games" or "Find New Games" to open the available titles you can download and play on your phone. 
First, you must agree with Adjoe's Terms of Service to proceed.
Next, you are asked to activate FunTime in the preferences, allowing the company to track the time you spend playing games. 
Simply select FunTime from your app list, and toggle on "Allow usage Tracking." 
You will find a decent number of the game offers, especially if you are a UK or US resident.
FunTime displays the total number of coins you can collect from each game or app. It also says how many coins you will get in 1 minute, but this is only the first minute of gameplay. 
After choosing the game, select "Play now" and download it on the Play Store.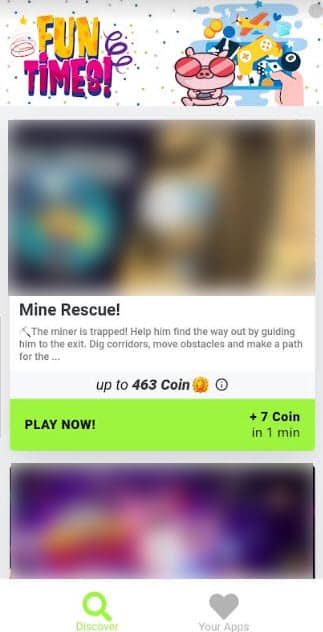 Here is the most crucial part: You must launch the game from the "Your Apps" list inside FunTime so it can track your PlayTime. 
You won't get the coins if you launch the game directly from your Android home screen since the developer can't track how much time you spend playing.

How Much Money Can You Earn? 
The minimum cashout requirement is 5,000 coins, equivalent to $5.
Therefore, you make $1 for every 1000 coins you earn by playing games on FunTime. 
Let's take a game offer from a game called Watch Masters as an example: 
It says you can earn up to 518 coins with it, which equals $0.51. But how long do you need to play it to claim all these coins? 
If you click the information icon, it will show you the rewards for the first 5 minutes of gameplay:
1 Minute – Earn 8 coins

2 minutes – Earn 8 coins

2 minutes – Earn 9 coins
Unfortunately, FunTime does not clarify how long you must play to earn all the coins.
It may take hours because the system tends to decrease your earnings over time to encourage you to keep playing. 
So, at most, you'll earn $0.40 to $0.50 an hour! 
Remember that it may take up to 15 minutes until the coins are displayed on your account. 
Once you collect 5000 coins, you can cash out via PayPal, Amazon, Google Play, iTunes, Steam, and PlayStation gift cards. 

Is FunTime Legit? Does it Pay? 
Yes, FunTime is an okay reward app that most likely won't let you down.
I have seen many positive reviews on the Play Store from users who withdrew money multiple times. 
The downside is that it will take a long time to reach the 5,000 coins required for redemption. 
One user claimed to have made $10 in just two days of using the app, but it seems dubious!
We cannot trust people giving opinions on the Play Store because developers can pay for positive reviews to inflate their ratings. 
I am not saying FunTime is doing that, especially since I have no proof. But some people claim to have made $25 in one day with FunTime!
COME ON! This is very unrealistic, folks! 
But there are not only positive reviews, as some people are complaining about coins being credited incorrectly.
This is so common with this type of application! There is a high chance you will play for hours and get the wrong number of coins…
Isn't it funny how these apps always give us less than what we should earn? 
Conclusion 
FunTime is similar to over 50 apps operating on the Play Store, some of which have been around for over 4 years!
App Flame and AppStation were among the first gaming apps I reviewed in this blog in 2019. Here is my App Flame review! 
There is nothing special about FunTime, and you can make more money with similar applications like Just Play, FitPlay, and Mistplay.
Earn A Full-Time Income Online
If your priority is making money rather than having fun with mobile games, I recommend you build an online business. 
You can make thousands of dollars by setting up a website and monetizing it with affiliate marketing and advertisements. 
If you want to learn precisely how this is done, this excellent step-by-step program will show you the way! 
Final Words
Thanks for taking the time to read my FunTime review! If you have any questions or thoughts about this app, feel free to leave me a comment below. 

Peace!