Welcome to my Water Master review!
I saw an advert yesterday about a puzzle game supposedly giving away hundreds of dollars to Android users.
The commercial entices people to download the app and cash out a ton of money via PayPal.
With so many shameful developers running deceitful games out there, you cannot expect to become rich overnight by solving puzzles and merging items.
So, can you expect real money to flow into your bank account after playing Water Master? Is it legit or fake?
Let's find out!
Before you leave this page, check out the step-by-step program that helped me to generate $2,000+ each month and quit my job in 2019.
Water Master Review
Name: 

Water Master

Developer:

DoraBmonkey

Availability:

 Worldwide

Price:

 Free (no in-app purchases)

Overall Rating: 0 stars
What is Water Master? 
Water Master is an addicting game in which players sort liquid between bottles to win hundreds of dollars.

This reward platform is going viral! Cash out via PayPal, Visa, Gift Cards, and in-game currencies - Click here to find out how to generate an extra $10+ per day! 
You must ensure that all glass tubes are filled with liquid of the same color to complete the level. 
The game is identical to Water Sort Puzzle and has been installed over 100k times on the Play Store.
Despite many installations, Water Master is still an Early Access application that doesn't allow reviewing.
This indicates the developer is not confident enough that his app will receive a good rating.
Not only that, but if the app doesn't pay, it's a good reason to prevent users from exposing the truth and discouraging people from playing it. 
Worry not because here at My Room is My Office, we are free to speak our minds and guide you in the best possible direction.
How Does Water Master Work? 
Water Master is free to download on the Play Store and doesn't require registration. 
Upon launching the game, it will show you a quick tutorial on how to play it. 

You will be given a few bottles of mixed-colored water that must be reorganized. So, your job is to ensure that each bottle contains only one color. 
Simply select the bottle and pour the water into another bottle until you complete the level.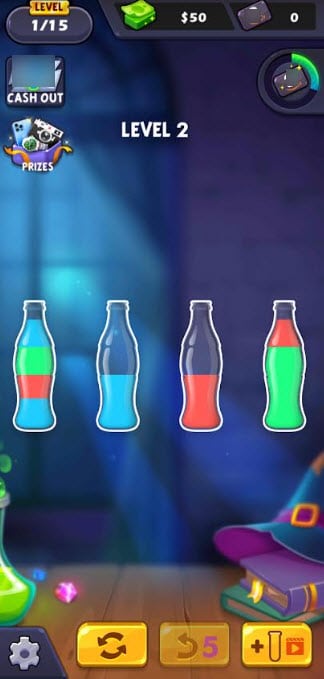 Because there is little room to play with the liquids, you must consider carefully before transferring the fluids from one bottle to the other. 
Since higher levels become increasingly complex, you may want to use props. For example, you can get an extra bottle, undo or rearrange all the liquids. 
Check out legit sweepstakes apps that actually pay! 
Earning Rewards
After you complete the level, you will receive a generous cash reward of up to $60 with the condition you watch the video. 
Water Master will award you Amazon badges if you complete the level using a limited number of moves. 
Even though they carry the Amazon log0, you can exchange them for PayPal, Amazon gift cards, or any other method as long as you reach 500 badges. 
The app also features a prize section where you can collect puzzles and redeem them for iPhone 13, MacBook Pro, Sony camera, and more! 
You must collect ten fragments by clicking the bubbles, watching videos, or spinning the wheel. 
How Do You Get Paid? 
You can supposedly withdraw your funds using PayPal, Line Pay, Alipay, Worldpay, and other methods. 

However, you must reach level 15 before they allow you to cash out the minimum amount of $200. 
Is Water Master Legit? Does it Pay? 
No, it doesn't! Water Master doesn't differ from hundreds of fake money games already exposed in this blog. 
They are usually made with unity and thrive on people's urge to make a quick buck. 
It starts with an enticing advertisement saying you can earn hundreds of dollars through PayPal. 
Upon launching the game, you will find the first condition you must fulfill in order to cash out.
However, astute developers will never reveal what is lurking behind the first cash-out requirement. 
It's generally a never-ending sequence of video requirements that will boost their profits while wasting your time.
However, Water Master will inform you that your money is being processed and that there are over 9000 people ahead of you to be paid.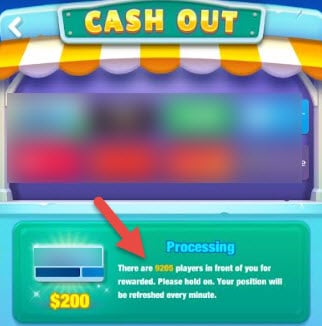 It will probably take a few days for this number to reach zero, so in the meantime, players will keep playing to accumulate more money. 
Please, don't do that because your turn may never come; even if it does, you won't get paid a dime! 
I've tested enough games using the same tactic to lure players into watching copious advertisements, and it's disgusting! 
Conclusion 
Don't waste your time with Water Master unless you are just playing for fun rather than getting rich. 
You are not getting any prize out of this game despite meeting their cash-out requirements. 
It's a big shame that after years of exposing similar applications, they continue to wreak havoc on people's lives. 
There is no reason to believe something will change in the near future.
So, the best course of action is to search for information before installing any app on your device. Especially those that offer some kind of incentive! 
Verdict: AVOID
Earn a Full-Time Income Online
If you want a decent income from home, you could build an online business that attracts an audience and generates commissions. 
For example, by setting up a website and creating content, you can rank articles on Google and get paid when visitors take action. 
By joining this excellent step-by-step program, you can learn more about how this business works and how you can succeed. 
Final Words
Thank you for taking the time to read my Water Master review. I hope it was informative and eye-opening!
Please leave any concerns or questions in the comments box below.
Peace!