Welcome to my Magic Mine review!
The founder of Magic Mine is bombarding gamers worldwide with a tempting advert.
One of the commercials I have seen lately claims that you no longer need to worry about your salary.
And why is that? Because you can play this game for 3 hours and earn $100!
The video culminates with a screenshot of a PayPal account with three $100 payments and a total balance of $300.
With so many fake money games available, you must be cautious to avoid falling into traps.
The reason is that you may waste hours and even your hard-earned money, depending on the app.
So, is Magic Mine legit or fake? Does it transfer the funds to your PayPal? Let's find out!
Before you leave this page, check out the step-by-step program that helped me to generate $2,000+ each month and quit my job in 2019.
Magic Mine Review
Name: 

Magic Mine: Mole Miner

Developer: 

The Big Dream Maker

Availability:

 Worldwide

Price:

 Free (no in-app purchases)

Overall Rating: 0 stars
What is Magic Mine? 
Magic Mine is another block elimination game in which players earn coins that may be exchanged for real money.
I am not talking about a few pennies you can get after weeks of gameplay. 
According to the developer, you can withdraw $1,000 if you reach the million coin mark, which should take 1 or 2 hours of gameplay. 
That's absolutely ridiculous, given that the app displays adverts and is entirely free.
Despite the tremendous free money offer, Magic Mine has only been downloaded over 10,000 times since its release a few weeks ago.
If it was real money, don't you think millions of people would rush to the Play Store to download it?  
How Does Magic Mine Work?
Magic Mine is available for Android users worldwide and doesn't require registration. 
It features a character that keeps mining while you tap groups of identical cubes. 
The goal is to destroy all the blocks (gems) using the least number of moves. But you will get rewarded even if you leave some behind!  
As you smash the gems, the score bar advances, and you will complete the level when it is full. 
In addition, coin bubbles will appear next to the miner. Tapping each bubble will trigger the coin reward, and you will have two options:

Tap claim to collect the coin immediately

Press the "multi-claim" button and watch a commercial to multiply your winnings by up to 10 times. 
After completing the level, you can flip up to three cards and win a super prize. Again, you will be enticed to watch videos lining the developer's pockets. 
In the Lucky Flip section, you will collect either coins or puzzle pieces redeemable for the iPhone 13. 
So, how come Magic Mine is still under the radar? Everything will make sense by the end of this post. 
How do You Get Paid? 
You can supposedly withdraw the funds via PayPal, Visa, or Amazon gift cards once your coins balance reaches 1,000,000. 
The minimum cash-out amount is $1,000, but you can withdraw up to $4000 at once.
Just tap the PayPal icon on the right side, select the withdrawal method, cash amount, and enter your email address. 
As for the iPhone 14, you will need to collect 150 puzzle pieces to claim this prize. 
Is Magic Mine Legit? Does it Pay? 
No, it doesn't! Magic Mine operates just like hundreds of fake money games you can find by installing sponsored apps. 
I had to watch many commercials to reach 1 million coins only to discover something funny. 
When I opened the withdrawal section to submit my payment request, the $1000 vanished. So, the minimum cashout requirement increased to $1500 (1,500,000 coins)! 
I knew what to expect from Magic Mine from the star because I reviewed countless similar games, such as Rich Farmer and Pop Rich Tree. Here is my Rich Farmer review! 

But I had to at least reach the second condition for the sake of proving my point. So, I decided to keep playing and give you more robust proof that Magic Mine doesn't pay a dime! 
Now, this time Magic Mine decreased the coin reward from 10000 to 5000 at a time. That means I had to play for a similar amount of time to collect the remaining 500,000 coins. 
Again, I had to endure many videos to reach 1,500,000 and unlock both the $1000 and the $1500 cash prizes. 
However, the clever developer updated the withdrawal page again and asked me to watch 5 videos to activate the order. 
I promised myself this would be my last 5 because I don't have the entire day to prove the obvious! 
So, after reaching this requirement, I was prompted to enter my account details only to be told I had to watch an additional 40 videos.

This reward platform is going viral! Cash out via PayPal, Visa, Gift Cards, and in-game currencies - Click here to find out how to generate an extra $10+ per day! 
To make matters worse, they offer users the choice to pay a $0.99 without explaining why. Many people will see payment as a condition to withdraw the money and will open their wallet.
Here is the proof: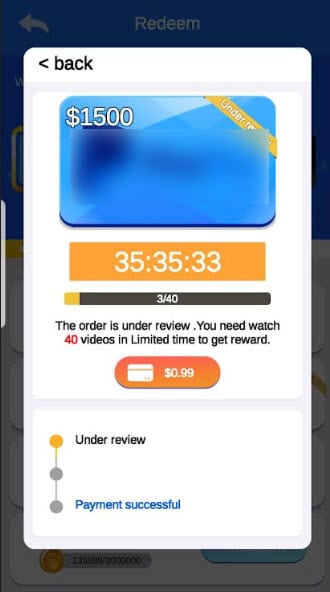 Please, don't fall for it!
Of course, Magic Mine will not transfer a single penny to anyone who gives them the benefit of the doubt.
No developer can afford to offer such a big incentive scheme in exchange for a few minutes of gameplay and video viewing. 
Conclusion 
Magic Mine is another fake money game that will suck up your time with several video requirements. 
The developer will make you jump through hoops just so you want to continue what you have accomplished. 
However, no matter how many requirements you satisfy, you will not get compensated for your gameplay. 
If you are trying to make money online, these ludicrous games are precisely what you don't need. 
Instead of wasting time making developers richer, you should focus on reliable platforms and strategies that bring you money. 
For example, you could build a lucrative site that pays you a decent income every month, as I did.
Thanks to this excellent step-by-step program, I learned the ropes and developed this site you are reading. 
It allows me to work from home and enjoy much more flexibility in life than any other job could provide. 
Final Words
Thank you for taking the opportunity to read my Magic Mine review. I hope you found it helpful!
If you want to share your thoughts about this application, please write them down in the comments section below. 
Peace!