Welcome to my 8 Ball Club review!
I came across this tempting advert where a woman claims loud and clear that this game will pay you instantly $10 every 10 minutes. 
It may come as a shock to many that this app requires no deposits and no registration! 
However, here at My Room is My Office, we are used to exposing fake money games that resemble 8 Ball Club in many aspects. 
The theme may differ, but the unrealistic cash rewards and gameplay remain practically the same. 
Another common aspect of such games is that their tactics to lure you into watching commercials are also very similar. 
So, is 8 Ball Club another time-waster? Is it legit or fake? 
This review will show you precisely how it works and what you can expect regarding cash prizes. 
Before you leave this page, check out the step-by-step program that helped me to generate $2,000+ each month and quit my job in 2019.
8 Ball Club Review
Name: 

8 Ball Club: 2048 Game

Availability:

 Worldwide

Price:

 Free (no in-app purchases)

Overall Rating: 0 stars
What is 8 Ball Club?

This reward platform is going viral! Cash out via PayPal, Visa, Gift Cards, and in-game currencies - Click here to find out how to generate an extra $10+ per day! 
8 Ball Club is an Android elimination game similar to candy crush, except you play with billiard balls and earn virtual dollars. 
The virtual currency you collect while unlocking higher numbers can be exchanged for real money. 
I am talking about hundreds of dollars that may be transferred to your PayPal account after meeting the cash-out condition. 
What's more impressive is that it takes just a few minutes of playtime to generate this revenue absolutely risk-free!
8 Ball Club has been installed over 50k times on the Play Store and becoming increasingly popular thanks to its massive marketing campaigns. 
Nonetheless, I would expect this app to have billions of installs if the money was real.
How Does 8 Ball Club Work? 
8 Ball Club is a 100% free application and doesn't require registration. 
After opening the game, you will see a treasure chest full of rewards and an "open" button.

This first page also entices players to collect $300 in order to cash out $300 via PayPal. 
The game starts after you press the button, but before playing, you will receive a notification saying you can cash out after 24 hours. 
Note the developer is using the PayPal logo to make the game more appealing and convincing to the audience.
But it doesn't mean PayPal supports the game. It probably doesn't even know 8 Ball Club exists! 
Your job is to swap and place at least three balls of the same number side by side.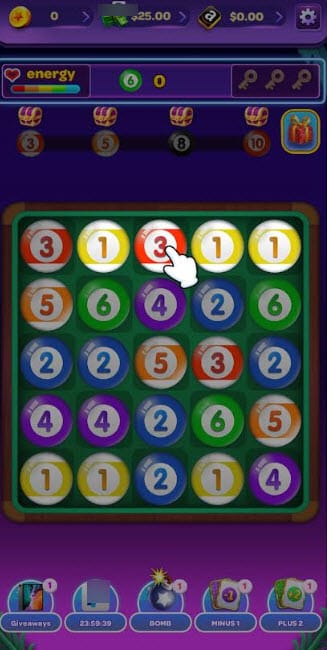 As a result, they will merge into a higher number ball and award you coins and a few pennies. 
You will occasionally get the chance to open gift boxes and collect higher cash prizes with the condition you watch the video. 
You will also receive generous cash incentives if you unlock specific numbers, collect three keys or burst the cash bubble. 
There are actually many ways to collect virtual currency with 8 Ball Club. 
How do You Get Paid? 
8 Ball Club awards you coins (tokens) and virtual dollars in the form of PayPal or Amazon rewards. Below is a list of cashout requirements for each option:
Collect 1,000,000 coins and redeem $500 Google Play, Steam, Playstation, and Walmart gift cards. 

Reach $300 and withdraw $300 via PayPal. 

Reach $300 in your Amazon balance and redeem a $300 Amazon gift card. 
Giveaways
As if cash incentives were not enough to lure the unwary players into watching videos, 8 Ball Club is also giving away Smartphones, Apple products, and more! 

To win one of the gifts in the giveaway section, you must collect 50 puzzle pieces by playing the lucky spin and watching videos. 
Is 8 Ball Club Legit? Does it Pay? 
No, it doesn't! Again, we are dealing with another clone money game that doesn't pay a dime! 
Every time you watch a video on this app, you reward the developer in the form of advertising revenue. 
That's why they entice you to reach certain milestones for the opportunity to withdraw your funds.
But, of course, the virtual dollars you hold in your game account are worthless because they will never be converted to real money. 
So, please do yourself a favor and don't believe there is even a glimmer of hope! 
Here is what will happen if you try to cash out: they will come up with an excuse and ask you to watch 30 videos.
After that, expect to watch more and more videos! 
They will cheat you every time you complete the requirement and demand more videos because that's how they make money for themselves. 

I checked the reviews on the Play Store and found so many complaints because the developer just won't pay anyone. So, of course, people are upset and spilling the beans! 
One person spent over a month trying to get the money and couldn't despite watching over 100 videos! 
It's just as hopeless as any other fake money game developed with the Unity platform. 
Verdict: AVOID! 
Final Words
Thanks for visiting my blog and reading my 8 Ball Club review. Don't hesitate to ask in the comment box if you have any questions. 
Also, please share your experience with this game by leaving your personal review below. 
Peace!