Welcome to my Crazy Zoo Carnival Review! 
The provider of Crazy Zoo Carnival is trying to convince players they can make a ton of money by tapping their phone screen. 
They advertise it as a game that really pays you in the end despite showing a small print with the saying:
"Result is not guaranteed. Amount paid to you is subject to rules in the app". 
Great, so that means you have a chance to win money if you follow the rules. Is that correct? 
I will expose this game and explain how it operates in this review. Are cash rewards fake, like in countless other money games? 
Let's find out! 
Before you leave this page, check out the step-by-step program that helped me to generate $2,000+ each month and quit my job in 2019.
Crazy Zoo Carnival Review
Name:

 Crazy Zoo Carnival

Developer: 

Selly Harper Alis

Availability:

 Worldwide

Price:

 Free (no in-app purchases)

Minimum Payout:

 No minimum requirements

Overall Rating: 0 stars
What Is Crazy Zoo Carnival? 
Crazy Zoo Carnival is an addictive idle and clicker game where you earn virtual currency redeemable for real PayPal money! 
It allows you to accumulate wealth by touching your screen and purchasing businesses that generate more revenue over time. 
The game is identical to Zootopia, with its corporate fox character and business upgrades. 
Heck, it even welcomes players to the world of Zootopia instead of Crazy Zoo Carnival. 
Just to show you how professional cloners these developers are!
How Does Crazy Zoo Carnival Work? 
Crazy Zoo Carnival can be installed and played free of charge on your Android device. 
When you start the game, you must go through a quick tutorial on how to grow wealth and collect cash prizes.
Touch anywhere above the fox to drop banknotes from the sky. The fox will collect the money and add it to your virtual cash balance.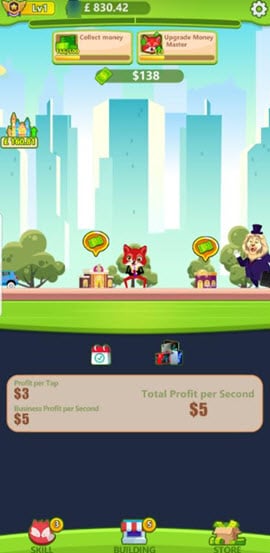 Remember that this is not the currency you will use to cash out! Another form of currency with the PayPal logo is supposedly redeemable to your PayPal account.
You can then use your virtual cash balance to purchase businesses that generate passive income. For example, you can get Dance halls, cinemas, supermarkets, and more! 

You can also upgrade your money master character to earn more cash passively. 
Whenever a business generates profits, you will find a cash icon at the top of the building. By tapping this icon, you will have the chance to win PayPal cash! 
When a company makes money, a cash icon appears at the top of the building, and you earn PayPal cash by tapping this symbol. 
Of course, you will be bombarded with adverts while playing Crazy Zoo Carnival because that's how developers turn a profit.
One of these videos promotes the popular JustPlay app, a legit gaming app for making money. 
How Do You Get Paid? 
The way you cash out using the Crazy Zoo Carnival app is a bit different than other money games! 
First, there is no obligation to achieve a particular cash amount to redeem. 
Therefore, you can immediately withdraw all the money you accumulate in your virtual PayPal balance within the first 24 hours. 
Then, you need to open your balance, fill in your account detail and press the cash-out button. Voila! 
A message of hope appears: "The order has been successfully activated, go and cash out now."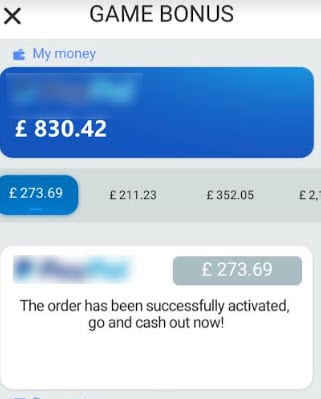 Wait for a second: 
What do you mean by "Go and cash out now?" if there is no option on my redemption panel? 

Additional amounts can be withdrawn after you log in for 1, 3, and 5 days. 
Is Crazy Zoo Carnival Legit? Does it Pay? 
No, it doesn't! Crazy Zoo Carnival would never send you hundreds of dollars via PayPal. Not even in your wildest dreams!
Once you submit your email, they encourage you to cash out but don't provide any option to do so. It's a trap because there is no money to be made! 
They tell people the transaction fee is $0.0, but still, there is no way to cash out! 

This reward platform is going viral! Cash out via PayPal, Visa, Gift Cards, and in-game currencies - Click here to find out how to generate an extra $10+ per day! 
The review section on the Play Store is full of people complaining about that, which proves my point that you won't receive your money. 
When you click the TOS link to learn more about rewards, it takes you to the Privacy Policy, which only addresses your personal data. 

I do not recommend people use applications that don't disclose the User agreement because transparency is key! 
Conclusion 
Crazy Zoo Carnival is a clone of Zootopia, an app that preys on your time with the false premise of giving cash rewards. 
They capture your email for unknown reasons and pay you nothing! 
Thousands of people are installing this app and becoming frustrated once they realize there is no way to cash out. 
The game itself is not even entertaining, so it only satisfies the developer, who gets paid by advertisers to bombard you with videos! 
Earn a Full-Time Income Online
Having an online business is one of the best strategies to earn a job-replacing income and achieving freedom.
For example, as a content creator, you are no longer limited by traditional working hours and a fixed location.
You can work whenever and wherever suits you best! That has inspired me to run this website since 2015 after discovering the correct techniques to succeed! 
Furthermore, setting up and running this type of business does not require big sums of cash.
This makes it easier for folks who wish to become entrepreneurs without breaking the bank.
I have walked the way and know what it takes to succeed. So, how do you even start this journey? Click here to discover the best step-by-step program – the one I used to build and grow this site. 
Final Words
Thank you for reading my Crazy Zoo Carnival review. I hope this post helps to save your precious time! 
Would you like to share your opinions about this app? Feel free to use the comment box below and let it shine! 
Peace!