Welcome to my Domino Big Win review!
I have seen an advert recently promoting a multiplayer domino game that claims to pay a ridiculous amount of money! 
The best part is that it's free to join and collect those virtual dollars!
The video presents a conversation between a disappointed girl and a guy who brags about earning $300 daily.
His secret? Download Domino Big Win, play with an opponent, and collect fantastic cash rewards! 
The advertisement promises they will directly pay the total amount of your winnings to your PayPal account. Heck, you can even win $1800 a day!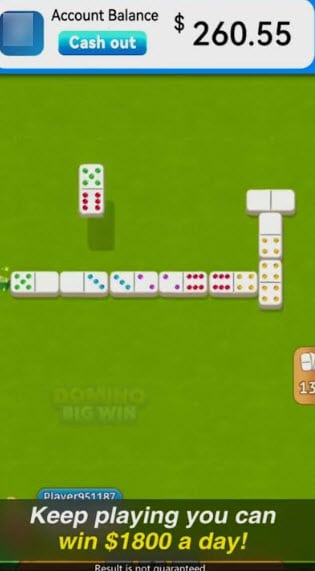 No wonder the idea of making easy money is attracting hundreds, if not thousands, of people to this game on a daily basis. 
But does Domino Big Win actually pay? Is it legit or fake? Read on to avoid big disappointment! 
Before we dive in, I would like to share with you the step-by-step system that helped me to generate $2,000+ each month and quit my job in 2019. So click here and build an online asset that pays you real money! 
Domino Big Win Review 
Name: 

Domino Big Win

Developer: 

BiuBiuBiu

Membership Eligibility:

 Worldwide

Type:

 Entertainment (no financial risk)

Price:

 Free 

Overall Rating:0/5
What is Domino Big Win? 
Domino Big Win is an Android multiplayer game where players compete against each other in domino matches. It's almost identical to Domino Party! 
In this classic domino game, players must match the tiles end-to-end.
The first person who manages to get rid of all their tiles wins the round and receives a generous cash prize!
You will also earn virtual dollars through gifts you collect while placing the tiles on the board. 
However, you can only withdraw the money after meeting the minimum cash-out requirement of $500. 
As if the cash rewards were not enticing enough, Domino Big Win allows you to collect puzzles and win lucky gifts, such as Samsung Galaxy S21, MacBook Pro, Apple iPad, and more! 
How Does Domino Big Win Work? 
Domino Big Win is available for download on Google Play for all Android devices.
Furthermore, there are no in-app purchases or registration requirements to participate in free matches. 
Right off the bat, you will receive a welcome bonus of $30 just by pressing the "OK" button. 
You can now click the first tab to start your first match with another player. 

Domino Big Win wants you to believe you are playing with an actual opponent, but I suspect it's just a computer program behind the scenes. 
I will tell you why in a second. But first, I want to show how to play this game and collect virtual dollars. 
After Domino Big Win matches you with an opponent, the game begins with a set of tiles containing two numbers each. 
You must drag and place your tile, so the numbers match end-to-end with another tile already on the table.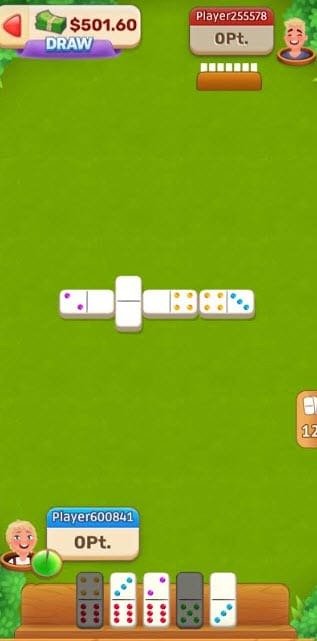 Continue this pattern until one of the players has no more tiles left to draw. This person is the winner! 
Now, as for the cash rewards, this is how it works:
Gift and banknote images will occasionally appear nearby one or both edge tiles.
When you place a tile over it, you will receive virtual dollars or puzzle pieces corresponding to specific prizes. 
However, they lure you into pressing the "collect" button and watching the video to get the reward. 
So, I believe opponents are not humans because whenever they put a tile over the gift, I never have to wait for them to watch the video. 
Instead, they immediately place the tile as if they don't care about the cash rewards. This is a big red flag! 
You will also win virtual dollars if you are the round winner! But oddly enough, the cash reward is much smaller than the gifts! 

How Do You Get Paid? 
You can supposedly withdraw your funds once your cash balance hits $500. 
Then, open the cash-out page, select the amount, and enter your email address connected to PayPal. 
In the next section, I will reveal what happens to all those who try to collect their domino earnings. 
Is Domino Big Win Legit? Does it Pay? 
No, it doesn't! Clearly, Domino Big Win is another classic game designed to tempt the player with fake dollar signs. 

This reward platform is going viral! Cash out via PayPal, Visa, Gift Cards, and in-game currencies - Click here to find out how to generate an extra $10+ per day! 
There is no chance of winning anything from this app except sorrow and frustration! 
After submitting your email, another popup message will ask you to confirm, only to tell you the order is under review. 

The catch? You must now watch 100 videos to activate the order or pay $0.99 to skip directly to the next page.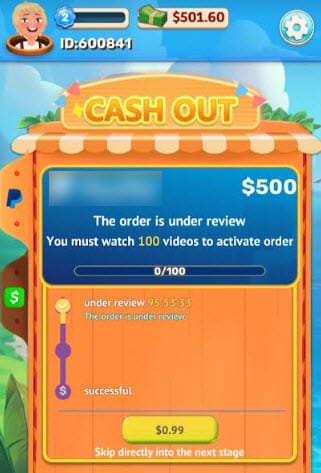 Note they didn't promise you would get paid after paying this ridiculous fee.
Instead, they ask for your money to proceed to the next page, and I can't stop laughing at this joke! 
Conclusion
Except for the fake money part, Domino Big Win provides a nice domino experience.
However, there are two main problems here. 
If you are playing with the expectation of winning actual money, you will be caught up in a sea of delusion. 
You may find yourself wasting hours trying to reach the 100 video challenge or losing $1! 
Now, even if you are playing just for fun, there is a good chance your opponents are actually AI algorithms instead of human beings. 
If that's the case, it's a shame because a multiplayer experience is much more exciting! 
Either way, I wouldn't recommend Domino Big Win, as the developer is causing lots of frustration with his ludicrous reward claims.  
Earn a Full-Time Income Online 
You can generate a full-time income from your laptop by building a content-based business, just like I do on this website. 
In other words, you will publish content targeted to a specific niche and attract an audience searching for information. 
The truth is that content is king in the digital world, and if you are prepared to be consistent, you can achieve remarkable results. 
Once you have enough traffic to your site or channel, you can benefit from different monetization methods, such as affiliate marketing and advertising. 
If you want to learn step-by-step how to start your online business from scratch, click here for my top recommendation. 
This superb platform that has stood the test of time has turned newbies into successful entrepreneurs for over 15 years! 
Final Words
Thanks for reading my Domino Big Win review. I hope it was eye-opening and saved you a lot of time!  
Please, share your thoughts on this game or ask any questions in the comment box below.  

Peace!