Welcome to my Charge Master review!
I was playing a mobile game recently when I stumbled across an advert that caught my attention.
The image depicted a smartphone with a cash balance that amounted to $1000 while charging and included the following script:
"Stop saying that charging your phone to make money is a lie. 
"That's because you haven't downloaded our app."
"Our app can be charged for 10 minutes on average, and you can get 10 dollars."
"The longer you charge, the more you earn."
Pretty exciting, right? The advert then revealed the app's name Charge Master and the tempting "get rich" button directing people to the Play Store. 
The idea of making passive income with a battery optimization app seems like a fairy tale coming to life! 
So, does Charge Master delivers on its promise or leaves you with that sour taste of battery in your mouth? Is it legit or fake? 
Let's find out! 
Before you leave this page, don't miss out on the step-by-step program that helped me to generate $2,000+ each month and quit my job in 2019.
Charge Master Review
Name: 

Charge Master

Developer:

FitnessLabs

Availability:

 Worldwide

Price:

 Free

Payout threshold:

 500 USD

Overall Rating: 0 stars
What is Charge Master? 
Charge Master is an Android app that claims to turn the simple act of charging your phone into an opportunity to earn real money. 
This is the latest creation by FitnessLabs, the same developer behind the popular Walking Fit app. 
The way the company promotes Charge Master conveys to users the possibility of earning passive income while their phone is plugged in. 
But after reviewing three similar apps – Super Charge, Lucky Charge, and Wonder Charge – I suspected this was another cheap clone with fake dollars! 
It turns out Charge Master is a battery optimization app where you supposedly earn cash rewards for watching their sponsored videos. 
How Does Charge Master Work? 
Charge Master is accessible for free on the Play Store and doesn't require registration. 
While the app is loading for the first time, it will test your battery for power, type, health, and charging status. 

Next, you will get a new user bonus of $10 just by pressing the "get" button! 
Charge Master will then encourage you to provide your name and real email address linked to PayPal. As a result, you will get an extra $0.01 for connecting your account. 
The dashboard features a battery with either a "Optimize" or "Get Rewards" button, depending on whether or not your phone is being charged.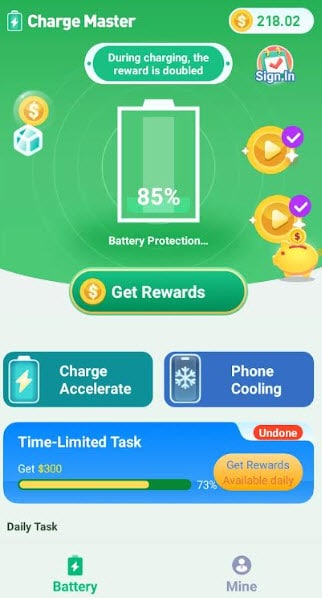 If your phone is not plugged in, it says there are three problems to be optimized.
Tapping the "Optimize" button will trigger a commercial and replace it with the "Get Rewards" button. 
To earn virtual cash, simply click this button and watch the video until the end. So, you don't even need to charge your phone to make money with Charge Master! 
The "Get Rewards" button is automatically activated as soon as you plug in your phone, allowing you to earn double the reward. 
Therefore, you are not earning passive income with Charge Master since you need to be actively touching your phone and watching videos. 
You see, the idea of making money while sleeping is a pipe dream until you build your own online asset! 
Just like the other three mentioned apps, Charge Master profits from users watching commercials.
So, the more videos you watch, the more revenue they get from advertisers!  
Charge Master has some optimization functionalities, such as charging acceleration and cooling down your battery.
Of course, always after watching the annoying advert that pops up whenever you touch your phone! 

Wanna make more easy money? Sure!
You can tap "Time-limited tasks," complete daily tasks, and play three games: the Lucky Wheel, Lucky Draw, and Lucky Snake. 
How Do You Get Paid? 
You can withdraw cash once your balance reaches $500. This limitation is a clever strategy to make users spend lots of time using the app before finding out whether it pays or not. 
Luckily, the internet is here to help people avoid potential traps that will waste their time! 

This reward platform is going viral! Cash out via PayPal, Visa, Gift Cards, and in-game currencies - Click here to find out how to generate an extra $10+ per day! 
Is Charge Master Legit? Does it Pay? 
No, it doesn't! This application doesn't pay a dime for charging your phone! 

The advertising is very misleading as it gives the impression users will earn money passively, but that's not the case! 
Charge Master will bombard you with advertisements because it's all about making profits from your video views. 
After watching countless overhyped commercials for get-rich-quick apps and reaching $500, you will be enticed to complete more tasks! 
Guess what they are all about! Yep… More videos that will drain your batter, data, and patience! 
Well, it doesn't stop there as those who fulfill all the requirements will be placed in a queue with thousands of people. 
Some people get error messages while trying to bind their PayPal accounts, but the outcome is always the same:
No one is receiving money from Charge Master, a useless advertising trap to benefit the developer. 
So, don't waste your time and battery trying to make this work, as it was not programmed to pay users as advertised! 
Earn a Full-Time Income Online
The internet provides endless possibilities for people who want to earn money online! 
However, one of the best strategies is to become a content creator and attract an audience to your platform and channels. 
I am talking about setting up a website and/or a YouTube channel to generate income through affiliate marketing, advertising, digital products, and merchandising. 
I have achieved remarkable success thanks to an excellent training program I joined in 2015. 
It helped me use the proper tools and tactics to rank high on Google and earn paid life-changing commissions!  
My online business allows me to work 100% remotely and have the freedom to travel whenever I want. 
If you want to follow in my footsteps to achieve success in the online world, click here and check out my top recommendation. 
Final Words
Thank you for visiting my blog and reading my Charge Master review. I hope it was enough to open your eyes and avoid a sneaky application. 
I look forward to hearing your thoughts on his game down below. 
Peace!