Welcome to my Magical Tree review!
The developer of Magical Tree is trying to make this app go viral with bold claims of paying thousands of dollars! 
This android game features a money tree that unleashes virtual dollars as you touch your phone screen and watch commercials. 
The advert couldn't be more tempting. It makes you feel like you just found a golden goose, and now you are one step away from getting rich! 
With sentences like: "I get $100 the moment I start" and "I play it for 10 minutes and earn $2000 a week", the developer takes you for a ride through a magical land where money grows on trees! 
Many people opt to stay lucid dreaming and press that shiny "download" button as if they were hypnotized. 
Thankfully, you decided to research Magical Tree before investing more time!
So, is Magical Tree Legit or fake? In this review, I will expose the truth about this application and give you my honest opinion! 
Before leaving this page, don't forget to check out the step-by-step program that helped me build my online business and generate $2,000+ per month. No special skills are required! 
Magical Tree Review
Name: 

Magical Tree

Developer:

 Didi Momo Vaser

Availability:

 Worldwide

Price:

 Free (no in-app purchases)

Payout Threshold: $500

Overall Rating: 0 stars

This reward platform is going viral! Cash out via PayPal, Visa, Gift Cards, and in-game currencies - Click here to find out how to generate an extra $10+ per day! 
What is Magical Tree? 
Magical Tree is a money-tree simulation game where players tap the tree and collect virtual cash. 
The goal is to grow (level up) your tree using the purple banknotes earned with every tap.
However, if Magical Tree were only about playing a boring game, this review wouldn't even exist in the first place. 
The crazy thing about it is that it also awards PayPal and Amazon bonuses redeemable for actual money. 
And what's even more surreal is that it takes less than 5 minutes to meet the payout requirements and press the "redeem" button! 
Magical Tree has been fully launched on the Play Store recently. Meaning is open for public scrutiny in the review section. 
How Does Magic Tree Work?  
Magical Tree is available for Android devices in all countries and is 100% free. 

 After loading this game on your phone, you will receive your first daily reward of $244.47, provided you tap "Collect" and watch the video. 
That's the first commercial among many others you have to embrace during your Magical Tree journey to wealth. 
The game is played by tapping the purple money tree and collecting banknotes with each tap.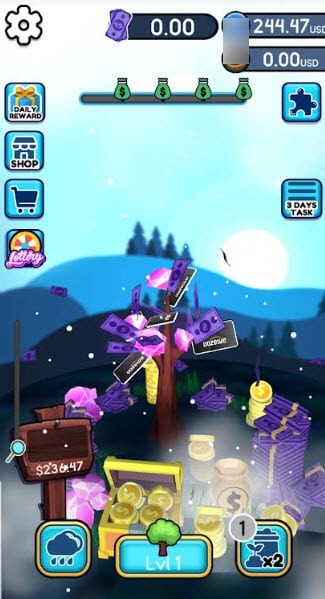 This virtual currency can be used to level up your tree and does not influence the amount of money you will get. 
As you collect the banknotes, the progress bar fills up and triggers bonuses when it reaches the gift symbol. 
These cash bonuses appear on your screen as either PayPal or Amazon rewards. However, they can only be added to your balance once you watch the entire video. 
You will also receive cash rewards when you upgrade your magical tree using the banknotes. 
Use the "rain buff" to activate the auto-click earning or the Manure Buff to get double-click rewards. 
 Withdrawing Funds
Once you reach 500 USD in your PayPal or Amazon balance, you can request your first withdrawal. 
Simply tap the "redeem" button and enter your email address twice. 
The next chapter will undoubtedly blog your mind, so stay tuned to find out the true colors of Magical Tree! 

Is Magical Tree Legit? Does it Pay? 
No. Unfortunately, Magical Tree won't send any funds to your Paypal account despite meeting all the requirements. 
The developer is "rewarding" players with virtual currency and simulating the cashout process used by legit reward platforms. 
This involves reaching a specific amount of cash or points before being able to withdraw the money. 
Of course, this condition is imposed as a marketing strategy to keep users engaged on the site or app for longer. 
Although the idea behind Magical Tree is the same, their end goal is to profit from you while keeping every dime for themselves.
The developer is indeed making money from the videos you watch. But it seems that they are more interested in your wallet! 
The reason is that after collecting $500 and pressing the redeem button, you will see the following statement:
"Wire transfer fee is required to initiate a withdrawal."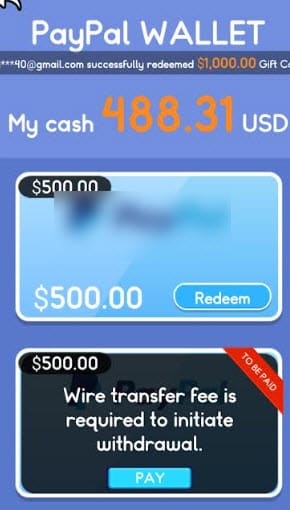 I was not shocked when I saw this because I have literally seen it all regarding "money games." 

By clicking "Pay," you will be redirected to the Google Play billing service, where you will be enticed to pay a fee. 
Before that, you must agree with the Terms of Service, which says you will lose your right to withdraw from the purchase. 
In other words, you won't be able to cancel or refund the purchase with Money Tree once it has been completed.
How much is it? The developers don't even mention the price before you agree. So, I am not the one spending my hard-earned money to confirm the obvious! 
You will never receive $500 from Money Tree or any other free casual game!
Conclusion 
Magical Tree is a get-rich-quick simulation that takes advantage of users who buy into the illusion of making easy money. 
The game's creator profits by asking people to pay a transfer fee, which is absolutely outrageous! 
It is disheartening to know thousands of people are tapping virtual money trees with the expectation of striking it rich. 
Meanwhile, the developer is laughing all the way to the bank with revenue generated from his lame creation.  
Earn a Full-Time Income Online 
Building an online business is one of the best strategies to create a full-time income online. 
Setting up your foundation is easier than you think! 
Once everything is up and running, you will publish helpful articles to attract a large audience searching for a specific question or topic on Google. 
That's how I operate my lucrative business and enjoy the freedom that it provides! Click here and start today! 
I couldn't ask for a better money-making system, as I don't have to deal with the risk and headaches of a traditional brick-and-mortar business. 
Moreover, I don't have to deal with shilling or customer support for any kind of service.
You see, my only "job" is to provide helpful content like the one you are reading and let the internet do its magic! 
Final Words
Thanks for reading my Magical Tree review. I hope it was eye-opening! 
Please, share your thoughts on this game or ask any questions you might have! 
Peace!