Welcome to my Farm Blast review!
Who needs a job these days when you can play fun casual games for real cash? 
The game Farm Blast features virtual dollars instead of points and allows players to cash out $500 and $1000!
It feels like daydreaming when you get all those insane $10 rewards with just a tap. 
I installed the app and wasn't surprised to discover the game offers incredible prizes like the iPhone 13, MacBook Air, and even a Tesla Car. Yes, I am serious! 
You have to eliminate fruits and watch the inspiring videos to hook you into another money-making scheme. 
With so many benefits, you may wonder if Farm Blast actually rewards players for time and effort. Is it legit or fake? 
Let's find out!
Recommendation: Join the step-by-step program that helped me to generate $2,000+ per month and become a digital nomad in 2019.
Farm Blast Review
Name: 

Farm Blast – Earn Cash Rewards

Developer: 

Ccx Games

Availability:

 Worldwide

Price:

 Free

Payout threshold:

 $500

Overall rating: 0 star

This reward platform is going viral! Cash out via PayPal, Visa, Gift Cards, and in-game currencies - Click here to find out how to generate an extra $10+ per day! 
What is Farm Blast?
Farm Blast is another fruit-matching game where players earn insane cash rewards just for eliminating fruits. 
The goal is to eliminate sets of three or more identical fruits by tapping on any group item. 
Once the board is clear of fruits, you will complete the level and receive a fantastic cash prize, which is always connected to an advert. 
Farm Blast is similar to countless games reviewed in this blog, such as Crop Blast and Mini Pet Blast. 
Their concept is the same: get unrealistic cash rewards for matching similar items and watching the sponsored video. Then, finally, accumulate enough earnings to get paid. 
How Does Farm Blast Work? 
Farm Blast is free to play for Android devices in all countries. 
After launching, the app entices players to cash out instantly by completing the game. Click "let's start," and you will get $50 as your first log-in bonus. 

The game board is filled with different fruits. To eliminate them, tap on a matching fruit adjacent to at least two others.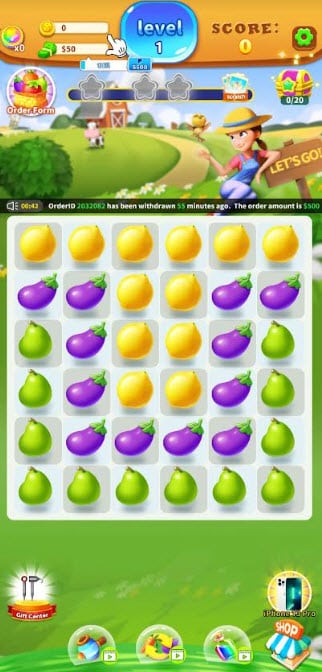 Furthermore, if you blast lots of fruits, they will be replaced with banknotes that can add virtual dollars to your cash balance. 
Blasting fruits may occasionally trigger the market day, with rewards comprising virtual dollars, coins, or puzzle pieces.
Therefore, the more fruits you blast, the greater your chances of collecting these rewards! 
It's important to note Farm Blast will always ask you to watch the commercial as a condition for giving your the market day prize. 
Despite declining the offer, they'll force-feed you an advertisement as if it were a rich and creamy milkshake.
This is because the developer is capitalizing on every video that flickers across your screen.
In just a few minutes of gameplay, you will harvest hundreds of dollars as if you were plucking gold bars from your land. 
I mean, it's very unrealistic! But people still believe that, somehow, these types of games are able to pay! 
And to make it even more attractive, Farm Blast also entices players with several mouth-watering products. 
For example, you can win the iPhone 13, MacBook Air, PS5, and even a Tesla car if you collect enough puzzle pieces. It's wild!
How Do You Get Paid? 
You need a minimum of $500 in your cash balance to withdraw your hard-earned virtual dollars. 

Those who dream bigger enough to overcome instant gratification can play more and cash out a whopping $1,000! 
Farm Blast provides two withdrawal methods: PayPal and Cash App. 
But what about coins? Well, these too, can be converted into cash once you accumulate 50 million coins ($50). 
Ditch all your reward apps! You only need this platform to make money from your online activities! 
Is Farm Blast Legit? Does it Pay? 
No, it doesn't! Instead, farm Blast is another joke of an app designed to lure players into an advertising trap. 
With the pretense of transferring the funds, the game lures people into dedicating hours to playing and video watching. 
This only benefits the developer, who profits from the glittering display of fake money games. 
Farm Blast is engineered to exploit the most of your time before you realize this is another pipe dream. 
After reaching $500, the app lords will subject you to an approval process in which you must complete level 30 within seven days to activate the order.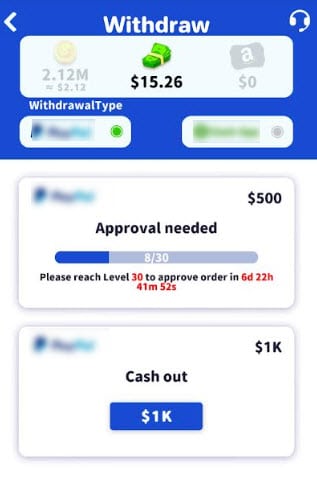 Considering Farm Blast has already ruined your trust with the first hidden requirement, I am confident you won't buy this! 
But unfortunately, many people will keep playing only to see the rug being pulled from under their feet. 
As a result, they will find themselves in a queue with over 16,000 people to receive the reward. There are only two options: wait for your turn or play the game to speed up. 
The truth? Everything is an illusion to keep you active in the game, generating revenue for the developer. 
Conclusion 
Farm Blast is another classic example of what you should not install on your phone!
The game is a clone of countless match puzzle games that spice it up with fake dollar bills and PayPal logos. Not to mention the Tesla! OMG, what a joke! 
No chance of earning money or prizes with Farm Blast or any similar app! So, save time and avoid the frustration of playing a game that doesn't deserve your attention. 
Verdict: Not recommended
Earn a Full-Time Income Online
Making an extra income online is great? But ultimately, who likes to spend hours on a reward app or site to earn a few pennies here and there? 
Well, I am living proof that with hard work and dedication, we can build online assets that covers our dreams. 
Because it's not only about money, but the peace of mind and freedom to enjoy our lives! 
I attracted many visitors by ranking helpful articles on Google, and as a result, money followed. 
Mind you, English is not my second language, and I had no previous internet marketing experience when I started this profitable site! 
Besides, Artificial Intelligence (AI) is here to help craft the perfect content to help your business thrive. 
If you want to learn how to set up this business, so you can start generating online income, check out my #1 recommendation! 
Final Words
Thanks for reading my Farm Blast review. I hope it was not only helpful but also enlightening! 
Please, don't hesitate to share your thoughts on this game or ask any questions you might have in the comment box. Your feedback is highly appreciated! 
Peace!