Welcome to my Jackpot Frenzy pusher review!
Thousands of people have been installing Jackpot Frenzy Pusher over the past few months with hopes of making at least $150.
This free arcade game allows players to drop coins using a virtual coin dozer and accumulate virtual dollars.
You can then withdraw the funds via PayPal and keep playing for more cash rewards.
Of course, the idea of playing a free game that pays you hundreds of dollars seems too good to be true.
This is why you should listen to the left side of the brain, always trying to steer you away from impulsive behavior.
Unfortunately, the need for quick money can blind us and activate our primitive instincts to make us act without reasoning.
So, is Jackpot Frenzy Pusher preying on people who dream of making money online? Is it legit or fake?
Let's find out!
Recommendation: Join the step-by-step program that helped me to generate $2,000+ per month and become a digital nomad in 2019.
Jackpot Frenzy Pusher Review
Name: 

Jackpot Frenzy Pusher 

Developer:

 AnotherCasualGame

Availability:

 Worldwide

Price:

 Free

Payout threshold:

 $150

Overall Rating: 0 stars
What is Jackpot Frenzy Pusher? 
Jackpot Frenzy Pusher is a free coin pusher simulation where players can supposedly earn real money for playing.
In this game, you touch the screen to drop coins over a platform. This platform has a dozer that keeps moving back and forth to push the nickels off the edge.
Whenever a coin slips off the platform, you will get tokens or virtual dollars, depending on their color and value.
The goal is to grow your balance until you have enough virtual currency or items to cash out.
Although Jackpot Frenzy Pusher was released over three months ago, it's still an Early Access application. Unfortunately, that means people cannot publish positive or negative reviews on the Play Store!
 How Does Jackpot Frenzy Pusher Work? 
You can install Jackpot Frenzy Pusher on any Android device via the Play Store.
After the game is loaded, you will receive basic instructions on how to play it. Then, you are good to go!
Just drop the coins onto the platform while the dozer pushes coins off the edge.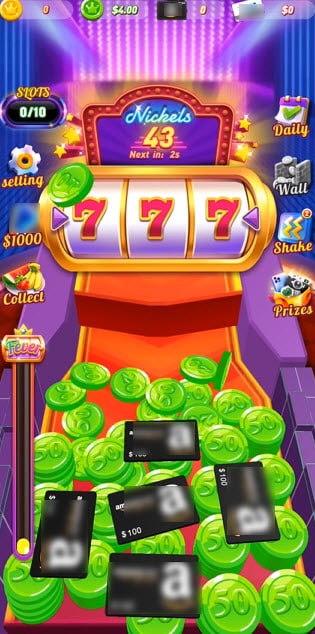 Here are a few things to keep in mind:
The game begins with 50 nickels. If you run out, watch a video to refill your supply with another 50."

Yellow nickels give you tokens, which you cannot convert to cash.

Green coins give you virtual dollars. For example, coins with a value of 50 will add $0.50 to your cash balance.

Coins may fall into the blue box, triggering the reels and awarding extra coins if there is a match.

By dropping virtual Amazon and Visa cards off the platform, you can collect items to redeem for real gift cards.

Wall and Shake are tools to help you easily push more coins and boost winnings.
Withdrawing Funds
There are different ways to withdraw funds from the Jackpot Frenzy Pusher app.
First, let's talk about your main cash balance, which you can grow with green coins.
Once you have reached $150, you can cash out via PayPal, WordPay, Ali Pay, or any other platform you choose.
You can also cash out $100 in Amazon gift cards, provided you collect at least 100 virtual cards.
As for Visa Gift cards, the minimum cash-out requirement is $1477
All these flashy in-game currencies don't mean a thing if they don't translate to real money in your pocket.
Is Jackpot Frenzy Pusher Legit? Does it Pay? 
No, it doesn't! Jackpot Frenzy Pusher is another clone game that only intended to profit from advertisements at the expense of people's time.
The developer preys on people's desire for quick cash by offering virtual currencies. 
By imposing withdrawal conditions, he hooks players and makes them play for extended periods.
Not only that, but he uses a bait-and-switch" tactic that makes users watch even more videos. 

The more sponsored videos you watch, the more income the developer generates!
So, what happens when players reach the $150 mark and try to withdraw their funds?
A pop-up window appears saying approval is needed. To activate the order, you should trigger the slots ten times.
Sadly, this is just an excuse, as the system will tell you there are thousands in front of you to receive your prize.
This queue number is supposed to be refreshed every minute, but the truth is that none of this is real, and you won't get paid.

This reward platform is going viral! Cash out via PayPal, Visa, Gift Cards, and in-game currencies - Click here to find out how to generate an extra $10+ per day! 
Conclusion 
Jackpot Frenzy Pusher is another classic arcade game that only works in the developer's best interest.

There are hundreds of similar games trying to convince you that your balance can magically appear in your bank account.
Unfortunately, no company can afford hundreds of dollars in cash prizes through a free mobile game.
So, don't waste your time and energy with Jackpot Frenzy Pusher! If you already did, at least now you are aware of how these games operate so that you can avoid future traps.
Earn a Full-Time Income Online
One of the most lucrative online marketing strategies is creating helpful content and attracting an audience.
The internet's fuel is content; if you can provide that, you can benefit massively from the digital economy!
You can succeed by publishing articles on your own platforms, such as a website or blog.
Alternatively, you can create informative videos on YouTube and grow a large following!
I make money exclusively with the first option, which is how I started my online business in 2015.
If you want to learn the exact steps I used to make this site generate over $2,000 per month, check out my top recommendation! 
Final Words
Thanks for reading my Jackpot Frenzy Pusher review. I hope it was informative and enlightening! 
Don't hesitate to share your thoughts on this game. Your feedback is highly appreciated! 
Peace!