Welcome to my Lucky Sort review!
I was testing a reward app when I found a logo for this game called Lucky Sort – Make Money Better. 
The name pretty much says it all. However, the app's marketing material on the Play Store goes above and beyond to persuade people to press the install button. 
With the PayPal logo and lots of banknotes falling from above, Lucky Sort is playing with your instincts for chasing easy money. 
They know how to exploit people's needs and use persuasive marketing strategies to grab your attention and profit from your time. 
But is it sharing that revenue with players? Is Lucky Sort legit or fake? 
Let's find out!
Recommendation: Join the step-by-step program that helped me to generate $2,000+ per month and become a digital nomad in 2019.
Lucky Sort Review
Name: 

Lucky Sort

Developer:

 Cong Long

Availability:

 Worldwide

Price:

 Free

Payout threshold:

$100

Overall Rating: 0 stars
What is Lucky Sort?

This reward platform is going viral! Cash out via PayPal, Visa, Gift Cards, and in-game currencies - Click here to find out how to generate an extra $10+ per day! 
Lucky Sort is a color-sorting puzzle game where players must sort colorful hoops in different pillars. The concept is identical to countless water-sorting games on the Play Store. 
Your mission is to arrange the hoops in the right sequence such that each hoop holds rings of one color.
Once you accomplish the objective, you will complete the level and be rewarded with either diamonds or virtual dollars. 
You can then withdraw the fund via PayPal or Gift cards in the exchange store, provided you have a minimum of $100. 
Lucky Sort has been installed over 100k times on the Play Store and received many compliments from players.
But I remain skeptical as those glowing reviews don't sound sincere to me.
How Does Lucky Sort Work? 
You can install Lucky Sort from the Play Store and play for free without registration. 
Right off the bat, they explain how to play the puzzle game by pressing and holding the screen to make the ring move. 

After sorting the hoops and completing your first level, you will receive $10.56. 
Next, Lucky Sort states that once you get up to a specific amount, you can cash out via PayPal and gift cards. 
Your job is to place all the rings of the same color in a single pillar to complete the level and earn virtual items.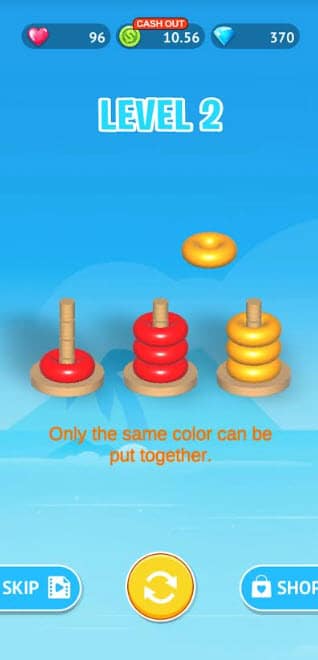 Rewards in Lucky Sort come in two forms – diamonds or cash, with the latter ranging from $1 to $10.
Remember that you will be forced to watch a commercial every time you click the "save in wallet" button. That's how the developer is generating revenue from his game! 
Although the gameplay is simple, it requires careful planning as you progress! The reason is that every time you move a ring, you will consume one heart. 
Besides, one wrong move, and you'll have to begin again, as you cannot undo your actions. 
It's important to mention that diamonds cannot be exchanged for cash. Instead, they are only used to customize the rings, pillars, and backdrop. 
How do You Get Paid? 
To cash out from Lucky Sort, you must reach a minimum balance of $100. 
You then have the option to withdraw funds using several platforms, including PayPal, Amazon, Xbox, Walmart, Target, and more.
Once you have enough cash, tap redeem and follow the prompts with your information. 

Is Lucky Sort Legit? Does it Pay? 
No, it doesn't! Lucky Sort is another fake reward app designed to trick people into watching endless adverts that benefit the developer. 
You need to reach $100 to cash out, but as you approach $70 – $80, it becomes tough to grow your cash balance. 
That's because Lucky Sort is engineered to gradually reduce your winnings over time, paying you less than $0.03 at some point. 
Therefore, you may never be able to reach $100, and even if you do, you won't get paid! 
It's important to mention most, if not all 5-star reviews on the Play Store are fake, meaning people are getting paid to "test" the game and publish their amazing reviews.
However, all the claims of making real money with this app are false!
It's not worth sacrificing your time and energy trying to find legit games that advertise unrealistic cash rewards. 
None of them will deliver, as they are just selling an illusion! 
Earn a Full-Time Income Online

The feeling of working from my laptop and making money online is truly unparalleled. 
Today, many people are searching for platforms and strategies that would help them supplement or even replace their 9-5 income. 
That's because of the convenience and freedom that a substantial online revenue can provide! 
One of the most solid strategies to build this type of business is to become a content creator and rank on Google's search results. This has been working like magic for me since 2015! 
If you want to learn how to grow an online audience and generate serious income, check out my top recommendation here. 
Final Words
Thanks for reading my Lucky Sort review. I hope it helps to raise awareness! 
If you want to contribute to the discussion, feel free to share your thoughts below. 
Peace!