Welcome to my Life Tree review!
Perhaps you found Life Tree and the fantastic opportunity to get rich just by touching the virtual money tree.
One of their advertisements depicts a man with many stacks of cash on the table and a game sample dishing out hundreds of dollars.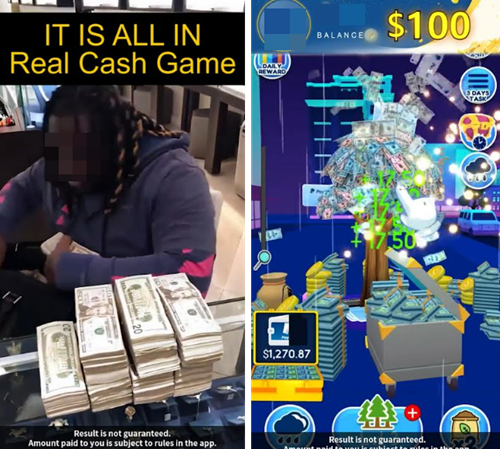 Over the last four years, I've investigated several get-rich-quick applications that have duped millions of consumers!
It all starts with a tempting advertisement and culminates with unreasonable cash-out requirements to activate the order.
In this review, I will examine this application from tip to toe and address the most urgent questions: Is it real or fake? Does it pay or not?
Let's find out!
My Top Recommendation: Discover the step-by-step program that helped me build an online business and generate $2,000+ per month. Join today and start the first ten free lessons here. 
Life Tree Review
Name: Life Tree
Developer: NoahBlock1
Availability: Worldwide
Price: Free
Threshold: $14,999
Overall Rating: 0/5

This reward platform is going viral! Cash out via PayPal, Visa, Gift Cards, and in-game currencies - Click here to find out how to generate an extra $10+ per day! 
What is Life Tree?
Life Tree is a game where you tap the money tree to accumulate virtual dollars and eventually cash out via PayPal.
Operated by NoahBlock1, the app went viral in the past few weeks thanks to its aggressive marketing campaigns.
The developer is recruiting thousands of players and luring them to watch countless videos in the hope of winning large sums of money.
To give you an idea, the minimum payout is $14,999 a goes all the way to $44,999. It's absurd!
Like most money games, Life Tree was created with Unit and has been downloaded over 100K times on the Play Store. It's very similar to iLike Tree, Sparkle Tree, and many others!
How Does Life Tree Work? 
Life Tree is compatible with all Android devices and is available for free download from Google Play.
The game features a money tree that starts small and grows after each upgrade.

Simply tap the tree to collect dollars and hit the level-up button when you reach a certain amount.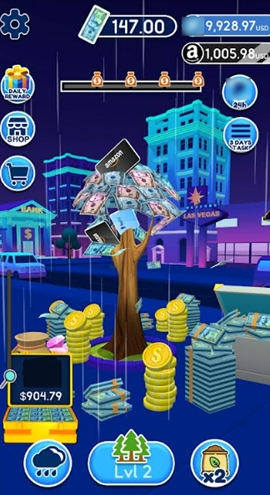 The progress bar advances as you touch the screen and eventually hit the gift sign.
As a result, Life Tree will offer you a PayPal or Amazon prize as long as you click "collect" and watch the commercial.
Understanding that you are helping the developer generate revenue by watching those videos is essential. And before we continue, I need to ask you a question:
Would you trust an unknown person on the street pledging to pay 1000 USD for looking at outdoor banners around you?
Obviously not! So, let me tell you, that is precisely what is happening here! Except this scenario takes place inside your smartphone rather than in the real world.
Your tree will start rewarding you with $0.50 for every tap, and each level increases the prize by $0.50. However, that "money" can only be invested in the game to upgrade your tree.
How do You Get Paid? 
You can only withdraw the money that accumulates on either the PayPal or Amazon balance.
If you open your PayPal balance, you will find this is a 24-hour exchange event.
Then, all the money collected during the event shall allegedly be redeemed to your PayPal account after this period.
Or, you can redeem immediately without waiting if you reach the payout threshold of $14,999.
Find out legit apps to earn money instantly! 

Is Life Tree Legit? Does it Pay? 
No, it doesn't! The money they suggest you can win is as fake as the virtual tree.
Your balance grows fast as you make over $900 after every video.
However, as you get closer to the goal, the cash rewards drop substantially and make you watch a ridiculous number of adverts.
Some people claim the countdown resets to 24 hours after one day. So, the money cannot be cashed out until your reach $14,999.
If you proceed, Life Tree will update its cashout condition and ask for 80 video views, only to come up with another excuse.
Next, you must watch an additional 100 videos to activate the order. That's a complete joke!
Truth be told. Life Tree won't transfer a single penny to your PayPal account, let alone thousands of dollars!
Many players are expressing frustration with Life Tree and other related companies for letting the developer make profits using obnoxious marketing tactics.
It's a shame people still have to deal with fake reward applications!

Conclusion 
Don't invest your time with Life Tree since they are just trying to sell you a pipe dream.
You won't get paid no matter how big your money tree is or how many videos you watched on your Android.
All the revenue generated through advertising goes straight into the developer's business account somewhere far away.
I strongly advise you to avoid any programs that adopt this approach since the outcome is always FRUSTRATION and despair!
Instead, you could build an online business that could potentially generate a full-time income over time.
So, how can you start? This exact step-by-step program helped me create a high-traffic website and achieve over $2,000 per month. 
Click here to learn more before joining! 
Final Words
I hope you found my Life Tree review useful. If you have any questions or comments regarding this app, please leave them in the comments section.
Peace!