Welcome to my Spin4Cash review!
Imagine being able to press the spin button of a lucky wheel and earning risk-free money on demand!
That's what the creator of Spin4Cash suggests you can do by downloading their app on the Play Store.
One of the advertisements offers players the opportunity to win excellent cash prizes through PayPal.
The commercial features the PayPal logo to make it appear authentic and reliable.
However, the game is not endorsed by PayPal, and there is no guarantee that it will transfer the money after meeting all the requirements.
In this post, I will explain how Spin4Cahs works and provide my honest opinions. Is it legit? Does it pay or not? Let's find out!
My Top Recommendation: Discover the step-by-step program that helped me build an online business and generate $2,000+ per month. Join today and start the first ten free lessons here. 
Spin4Cash Review
Name: Spin4Cash
Developer: Mega World Wide
Availability: Worldwide
Price: Free
Payout Threshold: $0.25
Overall Rating:

2/5
What is Spin4Cash? 

This reward platform is going viral! Cash out via PayPal, Visa, Gift Cards, and in-game currencies - Click here to find out how to generate an extra $10+ per day! 
Spin4Cash is a spinning wheel game operated by the same creators of Scratch Cards Pro, Gold Cash, Scratch4Cash, and Scratch Cash.
It's a straightforward game in which you tap the spin button in the center to collect coins and unlock great cash rewards.
At first, it seems that you will be able to exchange these coins for cash and make a ton of money.
But, and there is always a "but," only vouchers can be converted to cash and paid through PayPal.
Next, you will understand how to collect them and why it's not as easy as it seems!
How Does Spin4Cash Work?
Spin4Cash is an Android app you can get free from Google Play.
Like most money games, you can start collecting virtual items without opening an account.
Tap the red button to spin the wheel and wait for it to land on a specific prize ranging from 250 and 15,000 coins.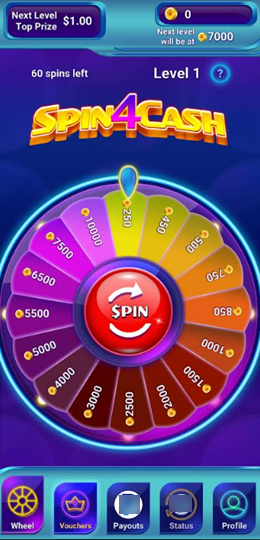 Of course, the higher the prize, the more difficult it is to win!
You will start with 60 spins, and you can activate the auto-spin by holding the spin button for 2 or 3 seconds.
After three consecutive spins, you will unlock the "super win," which is the maximum amount of money you can withdraw via PayPal for each level.
It's important to understand that coins can only be used to level up and increase the top prizes. So, for example, you will need 7000 coins to unlock level 2 and cash out up to $1.
Level 13 is the final one and has a top reward of $150! 
So, how can you cash out, considering the coins are not redeemable?
You must collect vouchers by downloading and playing games or using other applications.
First, the app requires you to permit usage access to monitor third-party applications running on your device.
It works like countless play-to-earn apps like Money Turn, Cash Giraffe, JustPlay, and Rewards Well.
Select Spin4Cash from the app list and toggle on "Allow usage tracking."
That's the only way Spin4Cash generates revenue since you won't see any advertisements while spinning the wheel.
Open the "Vouchers" section and select any app from the list. To maximize your earnings, give preference to games with the highest number of vouchers per minute.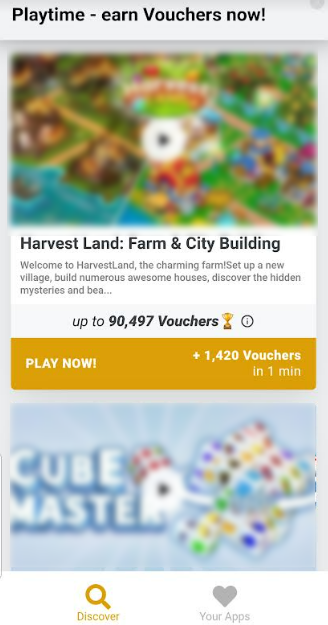 Then, open the application from the "Your Apps" tab and run it to collect the vouchers.
Keep in mind that the more you use a particular app, the fewer coupons you will receive until your earnings cease.
Monetize your gameplay with these top reward apps! 
How Do You Get Paid? 
The first payout is $0.25, which you can cash out as soon as you collect 27,000 vouchers.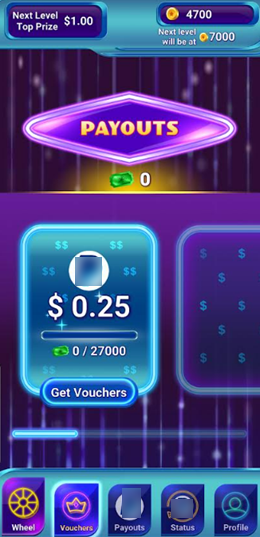 As you collect coins and level up, you will unlock increasingly higher prizes of up to $150 at level 13.
The higher the prize, the more vouchers you will need to redeem!
However, you can only redeem additional level prizes if you claim the previous cards. For example, you can only cash out $0.50 if you first withdraw $0.25.
Is Spin4Cash Legit? Does it Pay? 

Yes! Spin4Cash is a legitimate application! I know it's challenging to find reward apps that pay, but with perseverance, you can find honest developers out there.
Spin4cash transfers the money to PayPal in Euros, which may then be converted to USD.
At first, many people think they are accumulating cash rewards just by spinning the wheel.
However, coins cannot be traded for cash rewards, so it's not as easy as it seems!
Instead, you must earn enough vouchers by downloading and playing third-party games.
It doesn't take long to accumulate enough coupons for the first payouts of $0.25 and $0.50.
But earning the bigger prizes becomes incredibly challenging, considering the target gets higher and higher!
Furthermore, you will eventually run out of opportunities and get stuck since Spin4cash doesn't have too many games available.
Conclusion 
If you are playing games with just the money in mind, I bet you will be very disappointed with Spin4Cash.
You have to play several games for hours on end only to settle for a few pennies!
Many users wished they could be transparent about how everything works before they invested their precious time.
The truth is that developers will always put profits first! So, for example, if they told you how long it would take to make a dollar, most people would probably not even start!
To make matters worse, some players claim they didn't receive the vouchers for their playtime.
Unfortunately, most reward apps are prone to glitches that fail to credit them appropriately. What's funny is that platforms never fail to benefit users!
I consider Spin4Cash a hit-and-miss opportunity to earn pennies. But only you can decide for yourself if this platform is worth your time.
My Top Recommendation For Making Money Online
If you want to learn how to make hundreds or even thousands of dollars a month, here is my advice:
Build your own online business to attract a large audience and monetize it using proven marketing strategies!
It's not so complicated, but it will require some effort to build your foundation.
So, how can you start? This exact step-by-step program helped me create a lucrative site and achieve over $2,000 per month. 
Click here to learn more before joining! 

Final Words
I hope you found my Spin4Cash helpful. If you have any questions or comments regarding this application, please leave them in the comment box below.
Peace!