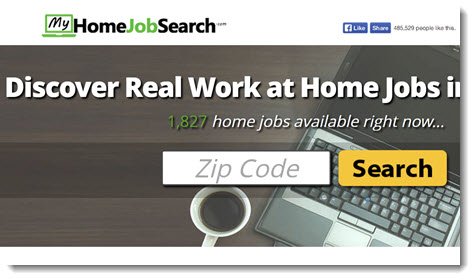 The benefits of being able to work from home are undeniable. A work from home job can give you an incredible flexibility in life. But how can you find these positions and finally land a legitimate home based job? That's where My Home Job Search comes in.
My Home Job Search is promising to connect you with employers and boost your chances of landing a dream job by 94%. Considering the sheer number of internet frauds, you may be very skeptical about this site. So, is My Home Job Search a scam or can it really put you on the fast track?
Read my thorough review and understand why you don't need to pay $29 to start making money online. 
My Home Job Search Review
---
Product Name: My Home Job Search
Website: myhomejobsearch.com
Price: $0 or $29 (Platinum Membership)
Recommended?

No

Score:

3/10
Ready to Work For Yourself and Build a Lucrative Online Business? >> Check Out My #1 Recommendation
What is My Home Job Search? 
My Home Job Search is a platform that gives you access to a database of companies and work-from-home jobs. They are so confident about the quality of their service that they consider themselves a safe haven for genuine job seekers.
The payout offered by these jobs is so attractive! They say you can earn from $14 to $56 PER HOUR, which can be more than enough to pay all your bills and work just a few hours per week.
For $29, they are offering exclusive access to the database, which will supposedly boost your chances and get you ahead of the competition. This caught my attention because finding a high-paying job that you can perform 100% online is rare and always extremely competitive! 
Here you can see they are really promising little competition to no competition. Too good to be true, don't you think?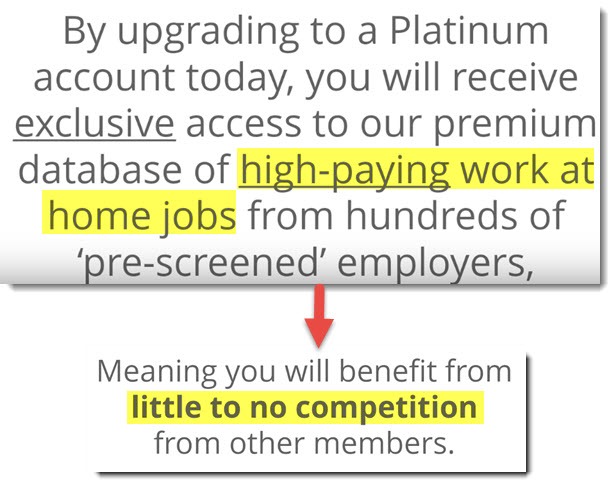 Fake Testimonials and False Identity
My Home Job Search acquired pictures from Shutterstock.com, which makes me think the testimonials are fake.
Just take a look at Kim and Candy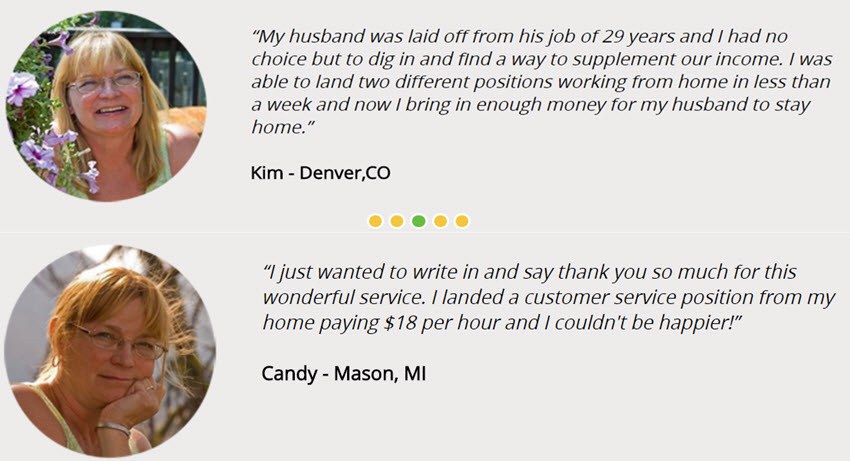 They look a bit different but they're exactly the same person. Look at the same green top!
Here you can see the pictures for sale on Shutterstock.
And here you can see Michael Anderson's picture, also for sale on the same website.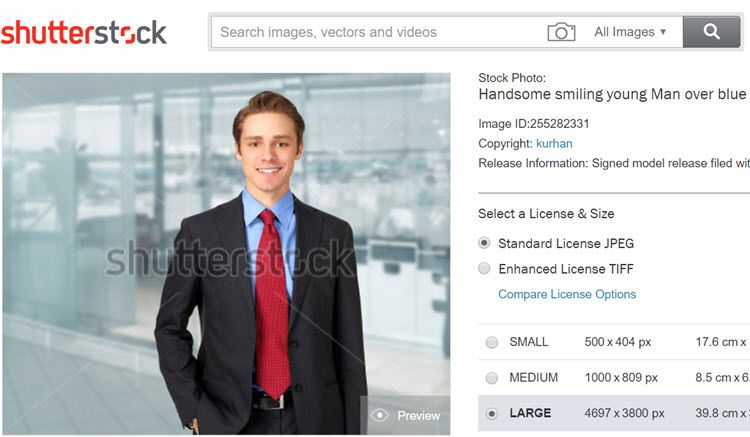 Not a Good Start! 
After you insert your postcode and answer some simple questions, you will see this page.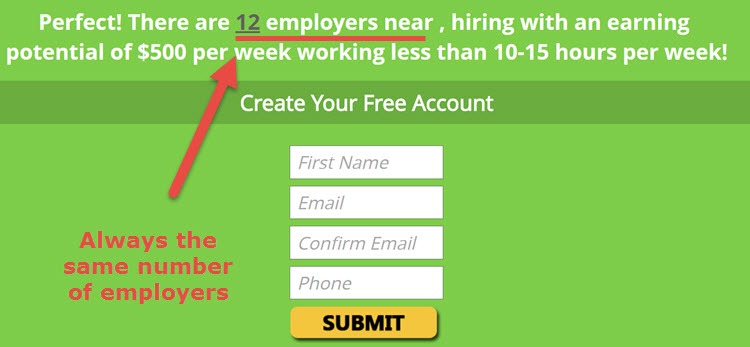 Note that it doesn't matter your postcode or your other answers, they will always display 12 employers nearby. It's very weird, it looks like a fake job search engine.
After you create a free account, the sales pitch presentation will try to sell you this fantastic database!.It really feels like this program will give you a great advantage over other people.
You have the option to visit the platform as a free member or pay $29 to get full access. I decided to check out for free first and what I found was discouraging!
Make Your First $100 Today?
The entrance page will entice you to follow 3 steps so you make your first $100 on the same day. Quick and easy! Right, so let's see…

Step 1 – Sign up for online survey sites
Are you serious? Are they claiming you will make $15 to $25/ hour with online surveys? That's completely unrealistic! I have reviewed over 20 survey platforms and the average is around $3-$4/hour.
The first step is to sign up to 3 online survey companies: Toluna, Survey Downline, and i-Say.
What happens is that when you click on those links and take surveys, My Home Job Search will earn a commission for every dollar that you earn.
Step 2 – Download "The Ultimate Guide to Working From Home" ebook
The eBook offers some useful information on how to find freelancing jobs in sites like Upwork, FlexJobs and Fiverr. These are OK!
However, I found 5 links directing people to sites that I don't recommend. This is the blacklist you should avoid like the plague:
Take Surveys For Cash
Earn at Home Club
Step 3 – What the Video and Learn How to Find Jobs
This is a walkthrough video explaining how you can find jobs using My Home Job Search.
Unrealistic Pay Rates
If you check the other unlocked sections of the website, you will be directed to more online survey sites and a few other membership sites.
When they talk about online surveys, they are always providing unrealistic pay rates. For example, by saying that you can earn up to $50 per survey or up to $1000 per month.
By the way, these are another three sites you should avoid:
Writing Jobs Online
Paid Social Media Jobs
Game Loot Network
The Platinum Membership
I didn't pay for the platinum area because I thought it was not necessary. After I watched that video at step 3, I just knew what it was all about.

Indeed, the "companies" section is a big directory of companies that offer work from home jobs. You can find well-known companies such as Amazon, About, Google, Netflix and many others.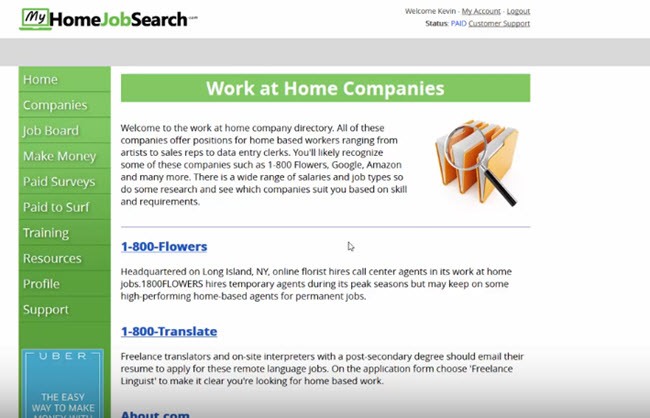 I am not criticising the list, I think it's completely legitimate to compile a list and make people's life easier. However, I'm still wondering why having this will help you stay ahead of the competition. It won't! 
Strong competition will always be there, trust me. With a bit of research, it's possible to find many companies that offer this kind of opportunity. You don't need to buy any list, as it won't guarantee you a job!
Besides, the "Job Board" section is the exact job board from the freelancing platform called Upwork. So, when you click on any position, it redirects you to upwork.com, from where you apply for any job.
So, all you have to do is visit Upwork.com and create your freelancer account completely free!

This reward platform is going viral! Cash out via PayPal, Visa, Gift Cards, and in-game currencies - Click here to find out how to generate an extra $10+ per day! 
Conclusion
My Home Job Search will give you some information about where to find home based jobs. However, it will never boost your chances of landing a job.

Of course, the more positions you apply for, the more your chances. But they will not give you a secret list that only a few people can take advantage of.
The opportunities are available to anyone and can be found completely for free on the internet.
Verdict: Not Recommended!
How I prefer to Make Money Online – My Advice to You! 
If you've been trying to make money online it's probably because you hate the 9-5 grind and you want more free time. Guess what? An online job can actually be even worse because you are still getting paid by other people. If you don't work, you don't get paid, and if you do a bad job, you will suffer… it's simple as that!
So why don't you become a business owner once and for all? Why not build your own online business and instead of waiting for companies to hire you, you go after the money with your own feet!
That's what I decided to do last year. I built an online business, which is nothing more, nothing less than this very website. Yes, my business is made up of words…
I just sit down, research the topic and write down my thoughts and opinions! Then, I get paid commissions for promoting quality services that I truly believe in, so the more people visit my site, the more money I make.
The income potential for those who have a website is unlimited. I currently earn $300/ month, and it's increasing month after month.
The good news is that building a website is very easy these days. You don't need to learn technical stuff as before. Once your site is set up, all you have to do is write helpful articles to your audience. You get to choose the topic (niche market) that you want.
If you want to start your online business as I did, check out my #1 recommendation. This is the exact platform that I use to get the best training, support, and tool to build my site.
>> Check Here and Read My #1 Recommendation Review
Thanks for reading this article, and I hope you learn something from it. If you have any questions, just leave me a comment below, and I'll help you as soon as possible.
Your friend
Stefan