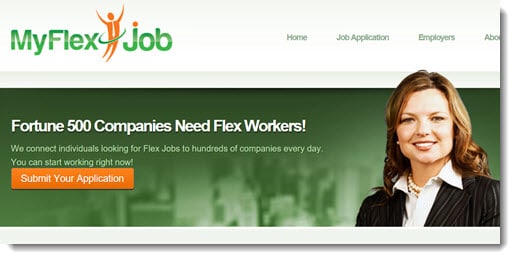 Have you ever heard of My Flex Job? They are offering the kind of job everybody only finds in their dreams. Who wouldn't want to earn $23.75 for simple data entry and email verification that takes only 20-30 minutes? Is My Flex Job a Scam or legit?
Let's find out!
By the way, if you are serious about making money online, check out my #1 recommendation and discover a proven method that earns me over $900 per month.
My Flex Job Review
---
Product Name: My Flex Job
Website: http://myflexjob.com/
Business Type: Trial Offers
Price: You have to purchase a software for at least $7.95
Score: 0 out of 10
My Flex Job is now closed! 
What is My Flex Job?
---
My Flex Job is a website that claims to provide easy and Flex Jobs to individuals by connecting them with hundreds of renowned companies (Fortune 500). But as you will see, the concept of "job" they are using is nothing like the kind of job you would expect. The reality is that you will be asked to accept offers, which is very different from a real job.
As they are acting like a third party to connect you with those companies, you may think they are a recruitment agency. Not really! My Flex Job is simply an affiliate website.
By the way, what is a Flex Job?
It is any job that offers a higher level of flexibility, which differs from the traditional 9-5. It can include part-time, temporary or freelance jobs, as well as any work from home opportunity.
What They Want You to Believe + THE TRUTH! 
---
Basically, they want you to believe you are applying for a real job opportunity. In reality, the companies they are connecting you with are not hiring you at all.
The job and the money
The title of your "dream" job is Trial Offer Processor. 
They say you will process free trial offers for their clients and get paid up to $23.75 for just 20-30 minutes of work. This would supposedly turn you into an independent home worker with incredible advantages.
Work as much as you want! – there is no limit to how many offers you can process in a day because of the high demand!
Work wherever and whenever you like! – you just need a computer with internet connection and a beautiful software (I will explain that later)
Benefit from tax deductions
All the many direct and indirect benefits of working from home
If this type of "job" was reliable and paid me very well, I would probably be processing offers in a beach resort in Greece right now.
The trial offers are said to be simple data entry and email verification. Something that doesn't require any skills or knowledge. Why don't they provide any practical example of how this works before you have to spend your money? It is so simple!
I will tell you more, the person on the promotional video contradicts himself a lot. In one slide, the payment is written "up to $23.75″ but he says you will earn an average of $23.75. On the other slide, it is written you will earn from $10 to $30.
Weird!
The Truth – What exactly is a trial offer?
The trial offer processing is nothing more than accepting trial offers from these companies. This means that the companies will pay you for trying out their products, but the pay rate is not even close to what they are claiming.
As I live in the UK, the examples of offers I get here is given in Pounds Sterling (£1 is around $1.50). So, I really apologize if you are from another country. However, the idea is the same.
Just take a look at some offers you will be dealing with (taken from inboxpounds.com):



You earn £5, but then you need to pay £3.90 for the postage. Profit: £1.10 – What a deal!


You earn £1.50 and get free access to a selection of audiobooks for 30 days. However, you have to provide your credit card details and if you don't cancel your membership before the trial, you will be billed £7.99 per month.
Be very careful with the terms and conditions, because you may end up losing money with subscriptions you don't really want. 

Earn £12 but deposit £10. Profit: £2
I personally haven't found a single offer with a profit of more than £5. It is very rare!
And what about the data entry and email processing? This is your personal data, including your credit card data and your email in order to fill up a subscription form. So, in reality, you are not acting like a worker, you are acting like a potential consumer.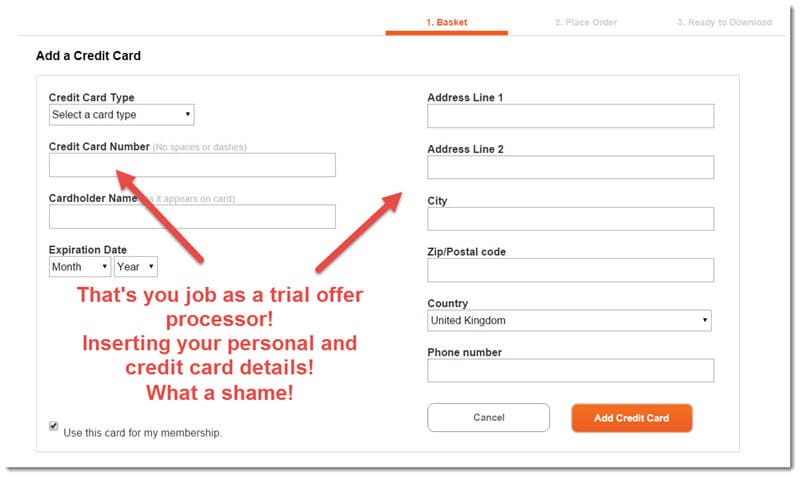 What is My Flex Job earning from these offers?
It is really simple! Every time you accept an offer, the owners earn a commission. They are acting like affiliates of those companies and this is a very lucrative business for them.
But take a deep breath because this is not the only way they earn commissions. This is just the tip of the iceberg, my friend.
The Certification Process 
---
In order to start "working" for My Flex Job", you will have to go through a certification process. What is that?

You will have to download a software called My PC Backup, which they say, will be used to save and protect all the files you will be working with.
Considering you will not deal with any files, I was wondering what would be the real use of this software.
The software has a free version, but they want you to upgrade your membership and purchase any package that gives access to a larger storage capacity. So, you will have to commit to any of those packages:

So, if you go for the cheaper one, you have to pay £7.95. However, to offset the cost of the software, they will credit 25000 points in your My Flex Job account, which is the same as $25 (100 points=$1).
So, are you left with a profit? Well, you cannot redeem your points for money until you reach 50000 points, or $50. Considering the low payout of each offer, you can struggle to get this money back.

This reward platform is going viral! Cash out via PayPal, Visa, Gift Cards, and in-game currencies - Click here to find out how to generate an extra $10+ per day! 
The guys also say in the promotional video that the longer you commit to My PC Backup, the more offer you will be able to complete. This is another contradiction because, in the beginning, he was saying there was no limit on the number of offers you could get.

My PC Backup
---
Why are they asking you to download My PC Backup?
It has everything to do with the affiliate program offered by the MyPCBackup software. If you don't know what an affiliate is, I will explain briefly.
Most of the companies that sell products and services online have their affiliate programs. This means that they will pay commissions to anyone responsible for bringing a customer to their online store, provided that they take an action. This action is usually a sign up for a free trial or a purchase.
So, My Flex Job makes you sign up and install the software. If you do, they will earn a big commission from My PC Backup. Not big, MASSIVE! Take a look: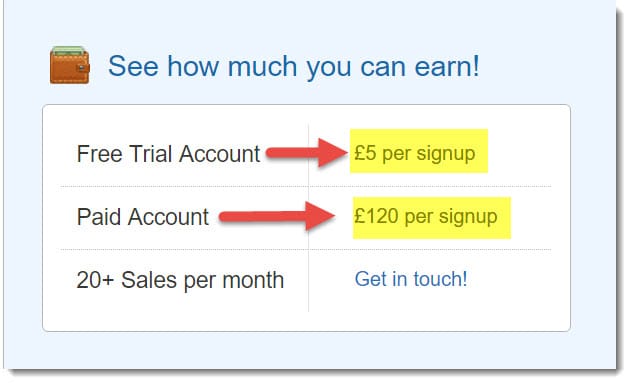 Have you noticed how disproportionate these commissions are? It means that if somebody pays £7.95 for a 1-month membership, the affiliate still earns £5 + £120 because of that.
How is it possible? It is surreal to earn 1500% in affiliate commissions. Whether they pay their affiliates or not, I don't really know! Either way, it is very strange!
Appart from earning commissions to My FLex Job, I don't why you would need a backup software to apply for trial offers. No other legit site like Prizerebel.com or Swagbucks asks you to download any software.
Is My Flex Job a Scam? Conclusion
---
Difficult question. I have no proof to make such a claim. However, what I can say is that you will be led to complete offers, which is not a proper job.
Verdict: 

Not Recommended
There is no such thing as good money without effort! If you stumble across something that looks too good to be true, it probably is!
I never trust any website that promises me an easy life. However, I found a place where I could learn to build an online business and work hard to earn a full-time income online!
I tried this amazing training called Wealthy Affiliate, which gave me 10 free lessons and 2 free websites to start with. I was so amazed by the possibility to grow a real business that I decided to give it a try. Almost one year later, I am making great commissions that will soon cover my living costs.
Do You Want to Know More About My #1 Recommendation to Build a Real Online Business and Earn Money Online?
Have you tried My Flex Job or download the suspicious software? Do you have any questions or comments about this particular website and the serious allegations? Please leave me a comment below! I will be more than glad to help and talk to you.