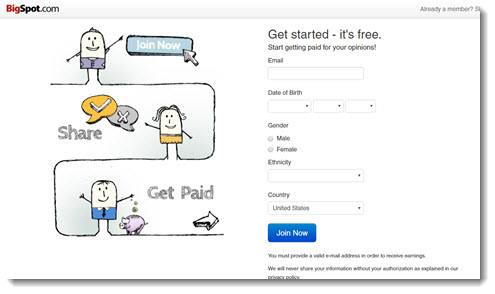 You have probably discovered Bigspot while searching for opportunities to make money online.
However, you are probably skeptical of this website as it doesn't offer much information on the main page.
All you know is that you can get paid for your opinions and that it's free to join.
So, Is Bigspot a Scam or a legit website to earn money? Let's find out!
By the way, if you want to learn the same method that earns me $1,000+/mo from my laptop, check out my #1 recommendation!
BigSpot Review
---
Product Name: BigSpot
Website: bigspot.com
Money Making Strategy: Online Surveys
Price: Free
Score:

2.5/5
What is BigSpot?
---
Bigspot is a survey website similar to Survey Compare, SurveySpotter, and Survey Hub.
The site allows you to complete online surveys administered directly by them or by marketing research companies such as GlobalTestMarket, Opinion Outpost, and Toluna.
The owner of BigSpot is a company called VarsityPlaza, LLC located in Ashburn, VA. The site is not BBB (Better Business Bureau) accredited but has been running since 2008 without any serious complaint so far.
The interesting fact about BigSpot is that it was advertised on TV. Here is the commercial:
They say marketing research companies pay millions of dollars each year for survey takers.
Yup! But considering they have thousands of survey takers, don't you agree there is only a tiny fraction of this money left for each person?
Let's face it, online surveys are very time-consuming and will always pay very little for your efforts.
Pros and Cons
---
Pros
Legitimate marketing research partners.
Free to join.
Cons
Low-income potential.
Very few survey panels.
Not much information on the main page – No FAQ
How Does it Work?
---
The sign up is free, and all you have to do is provide your email, date of birth, gender, ethnicity, and country.
They will match marketing research companies with your country and show you a list of legitimate sites to sign up to.
In my case, I got only one company on the list (GlobalTestMarket), which is a shame because there are tons of survey panels out there.
I suppose people from the US are able to get more opportunities, though.

After you click the "Join Now" button, you are taken to the official marketing research website where you should sign up and start filling out surveys.
You Will Be Sharing Your Personal Information
---
Bigspot is mostly a platform that collects your personal data (through the form) and connects you with marketing research companies.
If they were just interested in making commissions from these companies, they'd have simply provided the list without any signup form, right?
So why is there a signup form? Well, because they want you to agree with their Privacy Policy. The Privacy Policy states that they will collect your email,  username, password, survey responses, IP address, browser data, and cookies.

This means they will keep a record of your demographic information and web histories for market research purposes.
Time VS Reward
---
Online surveys gives you the opportunity to make easy cash from home, but the issue is that people always get paid very little for their time and effort.
Not only you will get paid a low rate ($2-3/hour average), but you will also waste significant time with unpaid pre-screening questions.
I used to fill up surveys in the past, and I believe more than half of my time was lost for not meeting the requirements.
Tired of earning pennies online? Check out my #1 recommended program to make money online! 
Conclusion – Is BigSpot a Scam?
---
No. BigSpot is definitely not a scam.
It's just a platform that connects you with marketing research companies and gathers personal information.
For many people, this is not a big problem. But if you are paranoid about your privacy for some reason, you may want to avoid Bigspot or any other reward site.
If you still want to make money with surveys and other easy tasks, check out my TOP recommended GPT site here!
Verdict: Legit
Yes, the extra cash can help, but you could use the same time for something more lucrative in the long term.

It takes time and dedication to make big cash, but wouldn't you be motivated enough to quit your job and have the power to work whenever and wherever you want?
That's my fuel! Once you know the path and are really motivated to succeed, you will move mountains to get there!
So, How Can you Make a Full-Time Income From the Internet?
---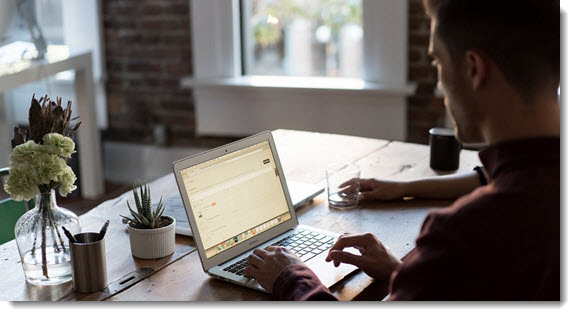 Well, you could work for other people and offer your services at freelance platforms like Fiverr.com or Upwork.com, for example.
Although you get a better payment compared to online surveys, you will still be trading your time for money. Meaning if you stop working, the money stops flowing…
Besides, the competition is harsh, clients can make you work for free and the payout can be ridiculous!

This reward platform is going viral! Cash out via PayPal, Visa, Gift Cards, and in-game currencies - Click here to find out how to generate an extra $10+ per day! 
Instead of working for other people, I recommend building an online business as it gives you significant passive income over time.
In the beginning, you won't make a dime, but if you take action and give it time, you will achieve your financial goals and beyond.

The foundation for any online business is a website. You have little chances of success without it. The good news is that you don't need to know about coding or be an expert in any field to set up a website. Anyone can do it! 
By building a website, you can make commissions for promoting other people's products. This is called affiliate marketing.
If you are interested, check out my #1 recommendation. They have a free starter membership that will guide you step by step from scratch. The platform to build your website is also included, so you have nothing to lose if it doesn't appeal to you.
> Click Here to Read My #1 Recommendation Review
So, what your opinion about BigSpot or surveys in general? Feel free to leave your thoughts and questions below. Thanks for reading!
Your friend
Stefan