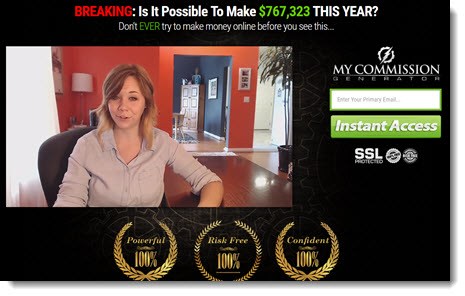 Can you image working 5 hours per week and making over $10,000 per month? My Commission Generator is claiming you can achieve just that using their automated system. Too good to be true, I suppose. So, is My Commission Generator a Scam?
Check out my review and discover all you need to know about this opportunity.
By the way, if you are serious about making money online, check out my #1 recommendation and discover a proven method that earns me over $900 per month.
My Commission Generator Review
---
Product Name: My Commission Generator
Website: www.mycommissiongenerator.com
Price: $47 (basic membership), + $147 (NinjaSquad), + $24.95/month (Traffic Club)
Owner: Andrew Decosta
Recommended? NO
Score:

1/10
What is My Commission Generator? 
My Commission Generator is a platform that allows you to make money using pre-made landing pages. These pages are designed to get the visitor's information and entice them to buy something. This is called affiliate marketing as you will earn a commission whenever a visitor buys what you are promoting on that page.
Affiliate marketing is profitable, but the method My Commission Generator will probably make things harder. Also, it sells the idea of lots of money with little effort, which is not a good start.
Every successful online entrepreneur agrees that it takes time and significant effort to achieve a full-time income from home.
Pros and Cons 
Pros
Easy to follow video training
Cons
Overhyped
No free membership
The training is not in-depth.
No community – You can't learn from other people.
Focus on paid traffic – risky for beginners
Upsells
Using Fake Testimonials 
It's a shame they haven't found a single genuine testimonial about their system. All the faces you see in the video are actors hired from fiverr.com.
Do you remember this one?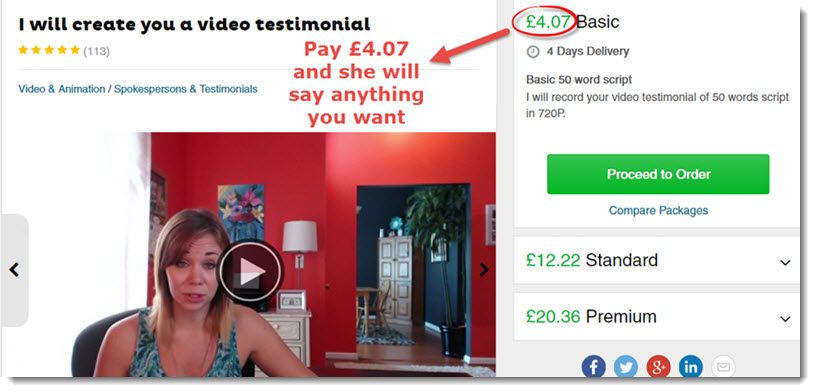 I'm sure they wouldn't pay for actors if their system really worked the way they claimed. People would flood the internet to show how the system changed their lives.
Upsells
My Commission Generator promises to change your life for $47, but once you buy it, a new video pops up. Then, you discover that what you bought was actually the basic membership.
For an additional $147, you will get the Ninja Squad membership and an opportunity to multiply your commissions by 10! They will make more promises.

If you reject this offer twice, the price will drop to $49. After you pay for NinjaSquad, you will watch another sales pitch video pushing you Traffic Club for $24.95/month.

This upsell promises hordes of visitors to your site (traffic) on complete autopilot. I don't even need to buy this offer to say that the traffic is not of good quality. There are many fraudulent systems out there where visitors are actually bots, which won't purchase your offers.
How Does it Work? 
Once you buy the basic and NinjaSquad membership, you will get 15 landing pages like these: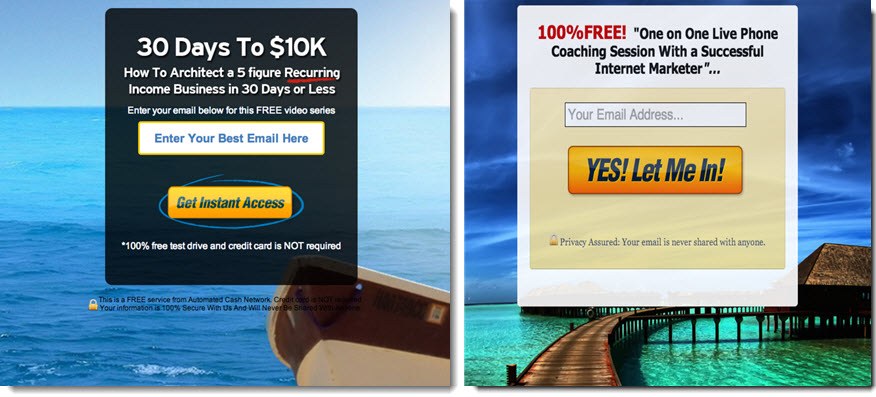 They will teach you how to sign up for affiliate programs like Clickbetter and embed your affiliate links to these landing pages.

One of the main products they recommend you to promote is Millionaire BizPro.So, when people visit one of these pages and provide their email account, they will be redirected to MillionaireBizPro.com or another product. As a result, you will make a commission if the person purchases the product.
They will also teach you how to integrate an autoresponder (GVO) so you keep promoting to your subscribers. You are basically taught to spam and hope that some people will believe in a get rich quick opportunity.
That's not the right approach to building an honest and long lasting business.
Where is the Traffic? 
The more traffic to your landing pages, the more money you can make. But how are people going to find your pages? The strategy recommended by MCG is paying for solo ads.
Solo ads allow you to promote landing pages to an email list owned by a solo ad vendor. You can expect to pay over $80 per 100 clicks! That's a lot of money to put at risk, because sometimes you need more than 300 clicks to find only one single buyer.
If you are just starting out as an internet marketer, I don't recommend you invest in solo ads.
The Training
The training is focused on the landing pages, autoresponder and solo ads. Pretty basic! They are only teaching how to use the tools provided.
Here is a screenshot of the platform. You can see all the video training on the left column: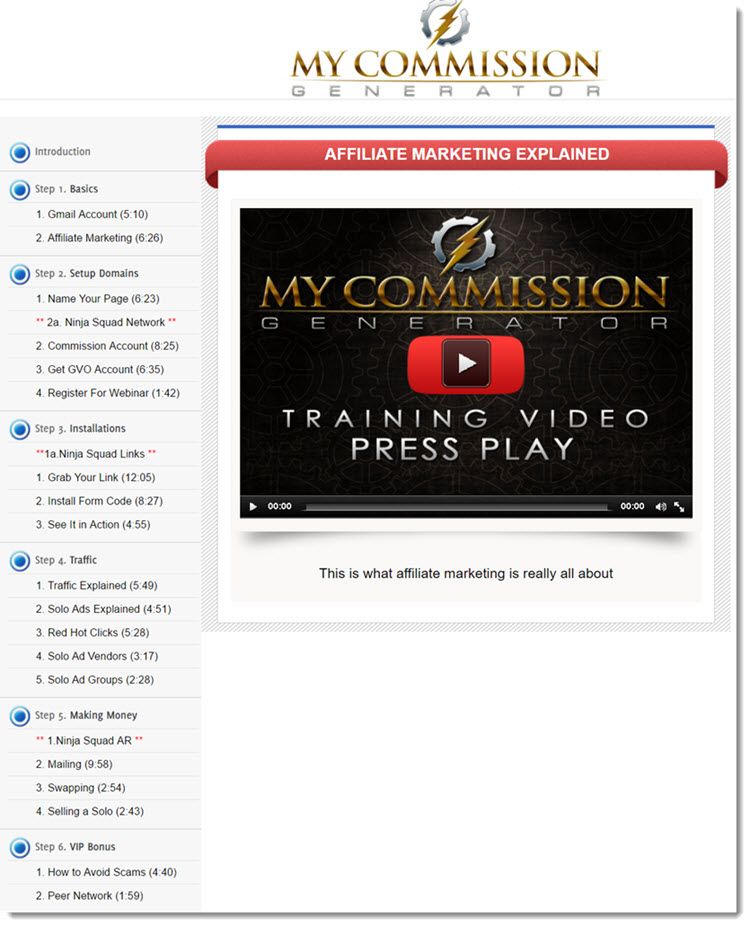 Internet marketing is much more than that. In fact, they ignored completely the most powerful and free source of traffic: Search engines like Google, Bing, and Yahoo (Organic Traffic).
95% of my website traffic is people looking for information on Google. They search for a topic and find my articles on the first or second page. Thus, I don't have to pay anything extra, and my traffic only increases the more content I produce. As importantly, organic traffic is the most effective for my business, so I need fewer clicks to make more money.

Any Support?
The only support you get is via email. There is not a forum where members could help each other.
Final Thoughts – Is My Commission Generator a Scam? 
A lot of people invest their hard earned money in a system and think it will do all the heavy lifting. You can have 1000s landing pages, but you will get no commission if you have no traffic.
MCG doesn't give you the knowledge and the necessary platform to get free quality traffic. Instead, you have to pay for solo ads and hope you make a profit and not a loss.
I am not calling My Commission Generation a scam because you are actually getting a product, so they are not leaving you with empty hands. But it's not something I recommend.
Verdict:

Not Recommended! 

This reward platform is going viral! Cash out via PayPal, Visa, Gift Cards, and in-game currencies - Click here to find out how to generate an extra $10+ per day! 
If you are serious about building an online business and work from home, Wealthy Affiliate is my #1 recommendation. This is a superb training, community, and platform that I use to build my own website.
What is awesome is that you can join for free and have the first 10 lessons, 7-day support, and 2 websites. When I say "websites" I mean fully functional WordPress websites that get free traffic from Google. Not simple landing pages!

They will walk you step by step and teach you only the most current and relevant strategies to build a lucrative online business.
If you want to learn more about Wealthy affiliate, click on the link below to read my full review and personal achievements.
Thanks for reading! If you have any questions, feel free to drop me a message below and I will get back to you asap. 🙂
Your friend
Stefan