Welcome to my Bingo Jackpot review!
I came across a commercial for Bingo Jackpot making some unbelievable claims.
The woman sitting in a chair with a bingo scorecard on the right said players could win $300 per day!  
In addition, she claims the app has no limit to withdrawing, and you can directly get a $100 prize bonus.
Of course, I was very skeptical since all the bingo games I reviewed were utterly fake!
Besides, apps funded solely by ads cannot generate enough revenue to pay generous cash rewards.
The only exception is when apps organize sweepstakes, which is not the case with Bingo Jackpot.
So, is Bingo Jackpot Legit or fake? Will they transfer the money to your PayPal account? Let's find out!
Are you tired of fake money games? This step-by-step training helped me generate over $2,000 per month online and quit my job three years ago.
Bingo Jackpot Review 
Name: Bingo Jackpot
Developer: Amofun
Availability: Worldwide
Payout Threshold: £400
Price: Free (no purchase required)
Type: Entertainment (no financial risk)
Overall Rating:

0/5
What Is Bingo Jackpot?
Bingo Jackpot is an addictive bingo game you can supposedly win cash rewards and excellent gifts. Yes, I am talking about the real thing!
What's crazy about it is that players can use tokens in the game to play free Bingo as many times as they want.
So, they are selling the fantastic idea of easy, unlimited, and risk-free money!
No wonder Bingo Jackpot has been installed over 500,000 times and quickly approaching the 1 million mark.
Despite that, the developer still classifies the app as "Early Access" or in development. The problem is that players can only leave reviews if they remove this classification.
But it seems they don't want your opinion!
How Does Bingo Jackpot Work?
You can install Bingo jackpot on your Android and play right away with no registration.
This is one of those apps with ridiculous permission to read, modify and delete contents on your device.
Yes, I am talking about your pictures, personal messages, and anything you store on your phone.

I don't think it's worth the risk, especially after knowing what I will share with you later.
How to Play Bingo Jackpot?
The game will call 25 balls with random numbers, and you have to mark the places where you find them on your scorecard.
You have a chance to add three balls at the end of the game by watching a video.
By completing all the numbers in a vertical, horizontal, or diagonal line, you will get "BINGO."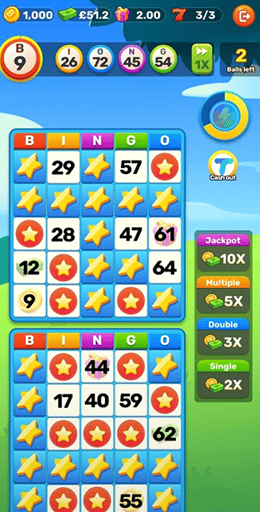 Here is a list of benefits when you hit a single or multiple Bingos:
Single Bingo: Double your card rewards
Double Bingo: Multiply prizes by 3
Multiple Bingo: Multiply rewards by 5
Jackpot Bingo (daub all numbers on the card): Multiply rewards by 10.
Your energy progress bar will advance whenever you mark a number on the card.
Once it completes a full circle, Bingo Jackpot will add cash coupons, coins, and treasure chests in some places.
For example, you will get cash rewards if you mark a number with a green banknote.
When the game places chests on the card, you can click them straight away and collect a big reward.
However, it will only be deposited into your account if you view the sponsored video all the way through.
Bingo Jackpot also triggers the slot machine at the end of the game so you can collect more cash rewards.
You can use coins to play with 1, 2, or 4 scorecards. As you may assume, playing with four cards at once will result in faster account balance growth.

If you want to get paid for playing games, check out legit reward apps!  
How do You Cash Out?
The minimum payout threshold is £400, and you can withdraw the money via PayPal, Cash App, Coinbase, Inter, and more.
Tap the cash out icon to open the withdrawal page. Then, select the payment method and the cash amount and enter your account details.
Is Bingo Jackpot Legit? Does It Pay?

This reward platform is going viral! Cash out via PayPal, Visa, Gift Cards, and in-game currencies - Click here to find out how to generate an extra $10+ per day! 
No, it doesn't! Bingo Jackpot is no different than other hundreds of fake money games on Google Play.
In fact, it uses the same tactics to prolong your gameplay and make you watch an insane amount of advertisements.

You will never get paid regardless of how long you play or how many conditions you meet.
In other words, they will make you jump through hoops with the pretense of giving cash rewards.
But once you meet a requirement, they come up with another one.
It's like psychological warfare because people don't want to give up on the prize they have been chasing for hours.
So, they stick to the game and try to achieve other goals in hopes they will finally get paid.
It goes like this. Once you try to cash out for the first time, Bingo Jackpot will tell you to get 40 Bingos within seven days to approve the order.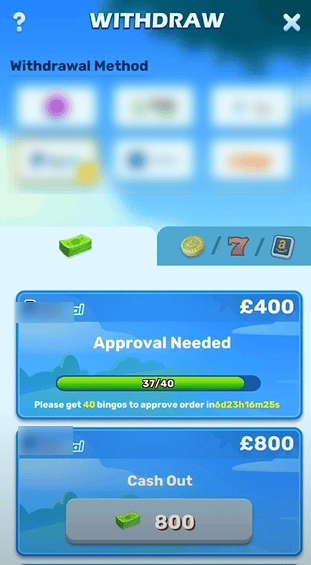 Those who meet this condition will be told there are over 9,000 people in front of them to get rewarded.
Your position in the queue will be refreshed every minute as if they were paying everyone.
What a joke! Don't wait your turn because it's completely fake you won't get paid!
Conclusion
The advertiser promotes Bingo Jackpot as an opportunity to win $300 every day as if it could print money out of thin air.
However, this game will trick you into completing multiple requirements in exchange for nothing.
You will waste hours of your life because they won't pay you a dime!
Avoid Bingo Jackpot at all costs unless you enjoy playing for fun.
How I Make Real Money Online
Would you like to make money on your own terms and achieve the laptop lifestyle?
In my opinion, there is nothing better than operating an online business where you are the boss who works whenever and wherever you want.
By running a website and ranking valuable content on Google, you have the potential to make a good income.
That's the exact strategy that brings me a full-time income month after month!
Thanks to this excellent step-by-step training, I quit my job at the coffee shop and operate a lucrative site as a digital nomad.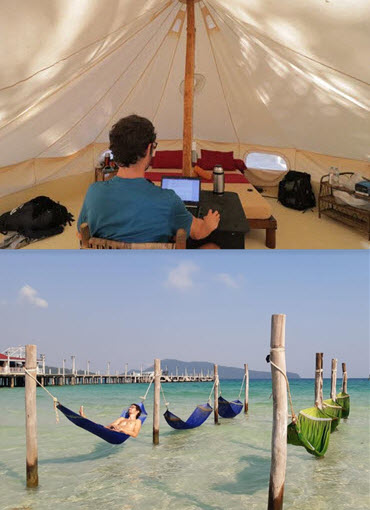 You can enroll today and start the first ten lessons completely free!

The starter membership will give you a good understanding of what is required to succeed and a clear action plan.
Final Words
Thanks for reading my Bingo Jackpot review! If you have any questions or thoughts about this game, please leave us a comment below.
Peace!