Welcome to my Tile Matching app review!
Imagine making thousands of dollars by playing an addictive and free casual game on your phone!
What would your life be like with such a money-making machine on your hands?
Well, that's what Tile Matching is all about!
The developers promote the game by showing a woman placing stacks of cash on top of a Louis Vuitton bag.
They want you to believe you can cash out $1000 via PayPal as if your playtime was worth gold.
Don't you think this is too good to be true? What's the catch? Is Tile Matching legit or fake?
Let's find out!
This step-by-step program helped me create a lucrative site and reach $2,000 per month. Join for free and start your first ten lessons here!
Tile Matching Review
Name: Tile Matching
Developer: Glitter Fun Studio
Availability: Worldwide
Minimum payout: $100
Overall Rating:

0/5
What is Tile Matching
Tile Matching is a triple-match puzzle game that gives you virtual dollars once you complete every level.
Your job is to eliminate all the tiles by clicking and matching three tiles with the same fruit.
Once you clear the stage, you will receive cash rewards that you can withdraw via PayPal.
That amount of cash that Tile Matching is giving at every level is too high.
So, it's really hard to believe the developer is transferring the money to every player who meets the requirements.
Tile Matching has been installed over 100,000 times and rated 4.6 stars on Google Play.
The excellent overall rating gives the impression that everyone is laughing all the way to the bank. But it's just an illusion, and I will tell you why shortly.
How Does Tile Matching Work? 
Installation 
Tile Matching is available for Android smartphones, so you can download it for free on Google Play and start playing.
Note the developer has access to contents on your device, including photos, media, and files.
What's even more concerning is the fact that it can read, modify and even delete them!

Therefore, I assume the app can read your messages and use your data in a way you disagree.
You should always be careful with the apps you install on your phone because you never know what they are up to.
How to Play Tile Matching? 
When you start the game, you will see lots of tiles with different fruit pictures.
Tapping the tiles will place them on a rectangular container that fits seven tiles side by side.
They will be eliminated whenever you place three identical tiles in this box.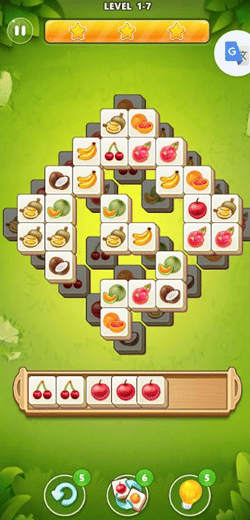 The goal is to match all the tiles on the board by always having space to fit three tiles.
As a result, you will complete the level and earn a generous amount of cash and coins. Well, at least after the first few levels!
You can restart or watch the commercial to revive with full stars and three tiles recalled if you fail.
Using three different tools will make it easier to achieve progress with Tile Matching.
Tool A takes back the last tile from the box. Tool B resets all the tiles on the board. As for tool C, it auto matches a set of tiles.
You can collect more rewards by opening the treasure chest every five levels. Then, just tap the button and watch the video to collect coins, virtual dollars, and tools.

How do You Get Paid? 
There are three different methods you can supposedly withdraw money from Tile Matching.
Accumulate 599999 coins to redeem a $5 Amazon gift card.
Get $100 (£80) in your cash balance to cash out $100 via PayPal.
Collect 10 PayPal fragments to redeem $1000 via PayPal.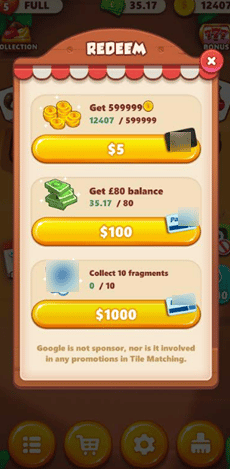 These PayPal fragments can be obtained by matching special tiles during the game.
Ironically, they criticize other games for having high payout requirements, yet they want at least $100 to cash out.
Is Tile Matching Legit? Does it Pay? 

This reward platform is going viral! Cash out via PayPal, Visa, Gift Cards, and in-game currencies - Click here to find out how to generate an extra $10+ per day! 
No, it doesn't! You won't receive any money for playing Tile Matching and watching hundreds of videos.
I had a look at the review section on Google Play and found lots of negative comments. People are furious because they didn't receive any money despite playing for days!

It's not difficult to understand what's going on here.
Once you start the game, it will give you generous cash incentives that will keep you engaged and excited about the opportunity to win $100.
But as you complete the levels, the game becomes more challenging, and cash rewards dwindle.
Those persistent gamers who keep playing will eventually get stuck before reaching the $100 mark.
Many people expressed frustration at not being able to reach the payout threshold.
There are lots of positive reviews. But most of them are from people who enjoy the game and didn't realize the rewards are fake.
Conclusion
Tile Matching is another game trying to capitalize on people's desire to make easy money.
Don't waste your time playing casual games that use cash rewards and PayPal logos as bait.
It's only an illusion to hook you in the game for a long time and make you watch hundreds of videos that only pay the developer.
Verdict: Not Recommended
Earn A Full-Time Income Online
One of the best ways to generate online revenue is to create niche sites around specific topics to help people.
You can earn thousands of dollars per month by attracting and monetizing a large audience.
But the financial aspect is secondary. As an online entrepreneur, you get the freedom to work whenever you want and live wherever you are happy!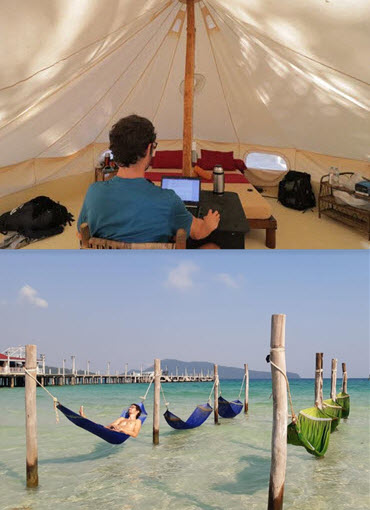 Many people become digital nomads, exploring different countries with the money they generate with their online businesses.
If this lifestyle appeals to you are prepared to put in the work, this step-by-step program will show you how! 
Final Words
Thanks for dropping by and reading my Tile Matching review. I hope it was informative!
Have you played this game? Kindly share your thoughts in the comment box below.
Peace!